RIT professor co-authors research on biochar accelerating pathway to global decarbonization
First-of-its-kind data highlights material's potential as win-win for people and the planet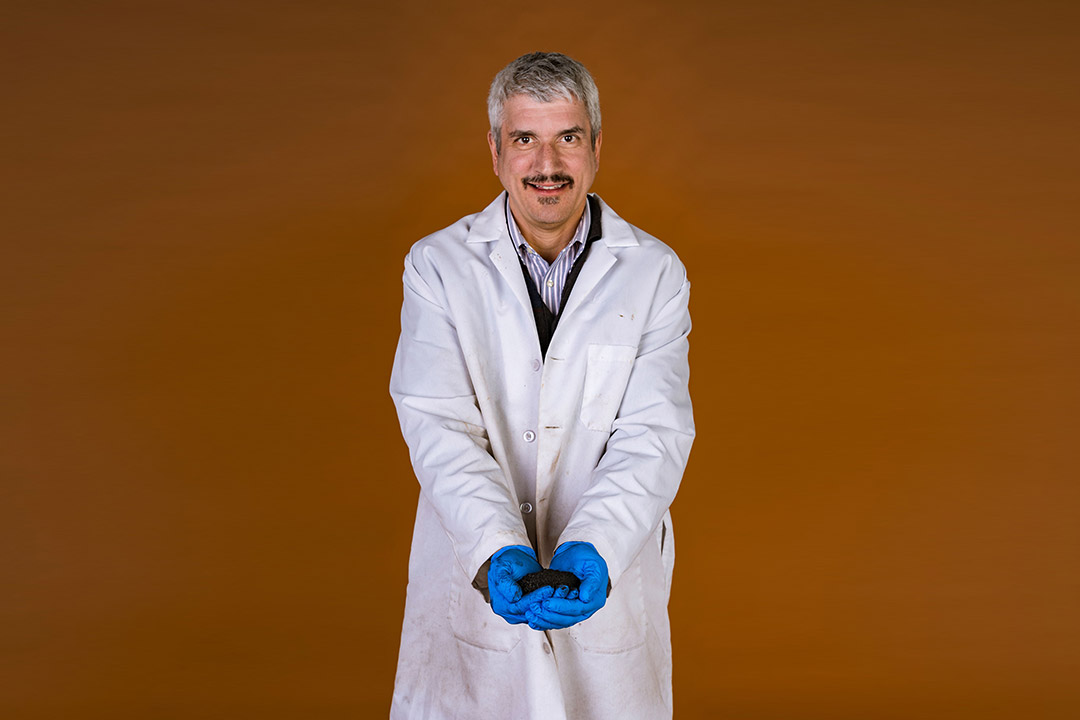 Groundbreaking new research published this month—co-authored by research faculty at RIT's Golisano Institute for Sustainability—shows that carbon-removal solution biochar can play a significant role in emissions reductions at the global and national levels.
The ancient farming practice can help countries mitigate climate change threats and decarbonize at scale while also adapting to the effects of climate change and unlocking economic and social benefits, according to Thomas Trabold, research faculty in the sustainability department at GIS.
"This is the first research to quantify the significant role biochar can play in worldwide climate action and carbon-removal strategies, at the level of individual countries," Trabold said. "To scale biochar to its full potential, we now have a starting point of what is possible at the country level. By considering the climate impact of co-benefits such as fossil fuel displacement, improved crop yields, and healthier soil, we can also go farther, getting a better picture of biochar's complete climate solution potential."
First developed by Indigenous communities in the Amazon thousands of years ago and now a rapidly expanding global industry, biochar is a material created by heating organic materials—such as forestry and crop residues—that would otherwise release emissions when decomposing. By converting these materials into biochar instead, carbon is locked for centuries to millennia. When used as a soil amendment, biochar can improve soil health and increase water and nutrient retention in soils, helping to both mitigate against and adapt to the effects of climate change.
Among the research's key findings:
Biochar can potentially remove up to 6 percent of global emissions annually—the approximate equivalent of 3 billion tons of CO2 or the total emissions of 803 coal-fired power plants in one year.
Biochar also has a minimum removal potential of 10 percent in over 25 countries, concentrated in Africa, South America, and Eastern Europe, and can potentially reduce carbon emissions by over 30 percent in Eswatini and more than 20 percent in Malawi, Argentina, and Ghana.
The greatest carbon dioxide removal (CDR) potential rests with the world's biggest emitters—including China, the United States, Brazil, and India—who can chart a pathway for sustainable emissions reductions through biochar.
Published in the peer-reviewed journal Biochar and commissioned by the International Biochar Initiative, the research quantifies biochar's carbon dioxide removal potential across 155 countries—with net removal potential on a national and global scale—assuming a sustainable supply of no purpose-grown biomass quantities. Currently providing the vast majority of delivered carbon credits, biochar is an affordable, scalable, and readily available solution that, unlike other CDR methods, also provides environmental and social co-benefits like improved soil health leading to increased crop yields.
The report's consideration of small-emitting countries is particularly significant. Though many small-emitting countries have contributed the least to climate change, they are experiencing its impacts disproportionately—from soil erosion to extreme weather. Biochar offers a circular and sustainable approach to climate change mitigation, giving these countries the opportunity to maximize carbon removal while increasing national and local revenues.