RIT professor named to IAspire Leadership Academy
Program helps under-represented STEM faculty attain leadership roles in universities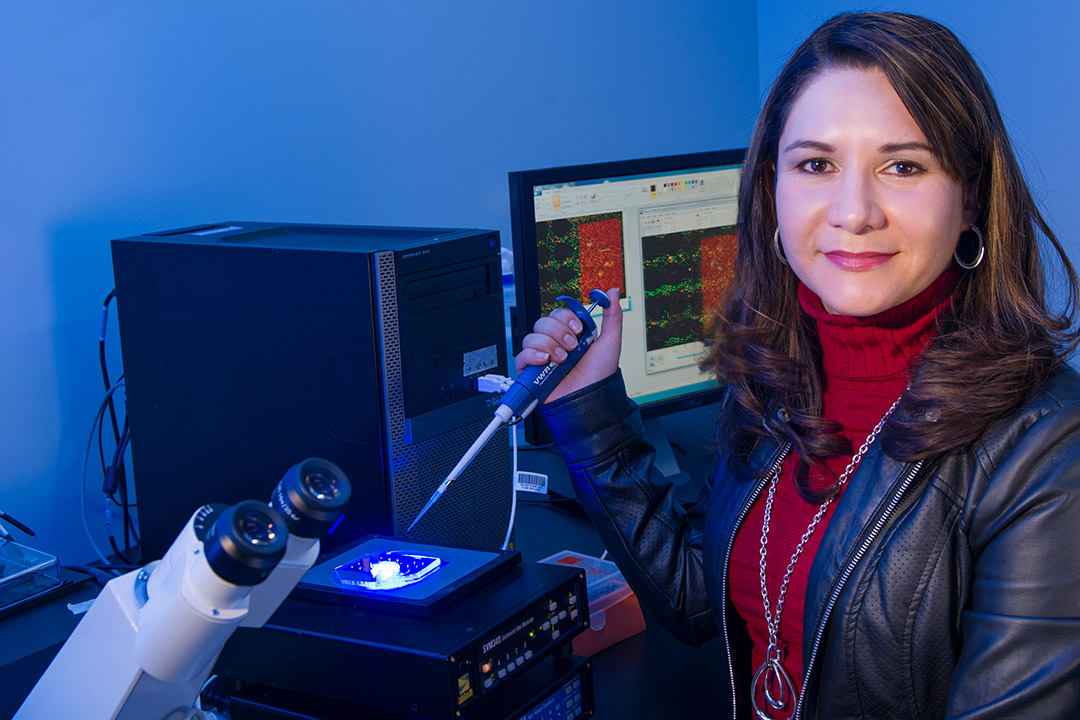 Blanca Lapizco-Encinas, a faculty member at Rochester Institute of Technology, was named a Fellow in the inaugural cohort of the I Aspire Leadership Academy. This leadership program aims to help STEM faculty from underrepresented backgrounds attain leadership roles at colleges and universities. The program, part of the Aspire Alliance's Institutional Change Initiative, helps address the national need to broaden diversity and increase inclusion in STEM fields and within higher education leadership.
Lapizco-Encinas, a professor of biomedical engineering in RIT's Kate Gleason College of Engineering, will begin service with the organization in September and will continue in her teaching and research roles at RIT.
"I am very excited to be a part of the IAspire program. It will be an honor to contribute to my college as the inaugural chair of the Diversity and Inclusion Committee. I am also very grateful for this unique and valuable opportunity to grow my leadership skills," said Lapizco-Encinas, who has been with the university since 2012 and is an expert in lab-on-chip devices and dielectrophoresis—an application to separate and analyze particles in biofluids using the novel devices. She has numerous academic and community achievements, most notably as director of the Microscale Bio-Separations Laboratory at RIT, editor-in-chief of the journal Electrophoresis and councilor for the American Electrophoresis Society.
IAspire Leadership Academy is a one-year program. Participants meet during three one-week, in-person sessions for peer coaching and work toward an institutional action project specific to the individual's institution. Over the year, participants can 1) gain leadership skills; 2) explore group dynamics and interpersonal relations to enhance leadership capabilities and influence; and 3) understand the broader educational system, public leadership and institutional change.
RIT's engineering college has been one of the campus leaders in its diversity efforts, increasing its faculty recruitment and retention efforts as well as increasing AALANA—African American, Latino American and Native American—student numbers and services over the past several years. Lapizco-Encinas will further these campus—and university—initiatives through the development of a broader diversity program for the engineering college. She will become the inaugural chair of the Diversity and Inclusion Committee of the Kate Gleason College of Engineering. It is part of an action plan within the college to further its culture of inclusion.
"As part of the inaugural cohort of IAspire Leadership Academy fellows, Professor Blanca Lapizco-Encinas has distinguished herself as a leader in STEM, and we're thrilled to have her as a participant," said Howard Gobstein, co-director of the Aspire Alliance and executive vice president at the Association of Public and Land-grant Universities (APLU). "Diversity starts with faculty and university leadership, and this academy will help cultivate inclusion and diversity in the next generation of university faculty and leaders."
The academy is targeted at mid-career individuals from traditionally underrepresented groups currently serving in college or university leadership roles in STEM fields. Nearly 60 faculty members in STEM fields at two- and four-year institutions across the country applied for IAspire Fellowships. The 20 participating faculty and administrators were selected through a competitive application process.
IAspire is one pillar of diversity and inclusion work underway through Aspire: The National Alliance for Inclusive & Diverse STEM Faculty, a National Science Foundation-backed alliance.