RIT requires flu shots for students and employees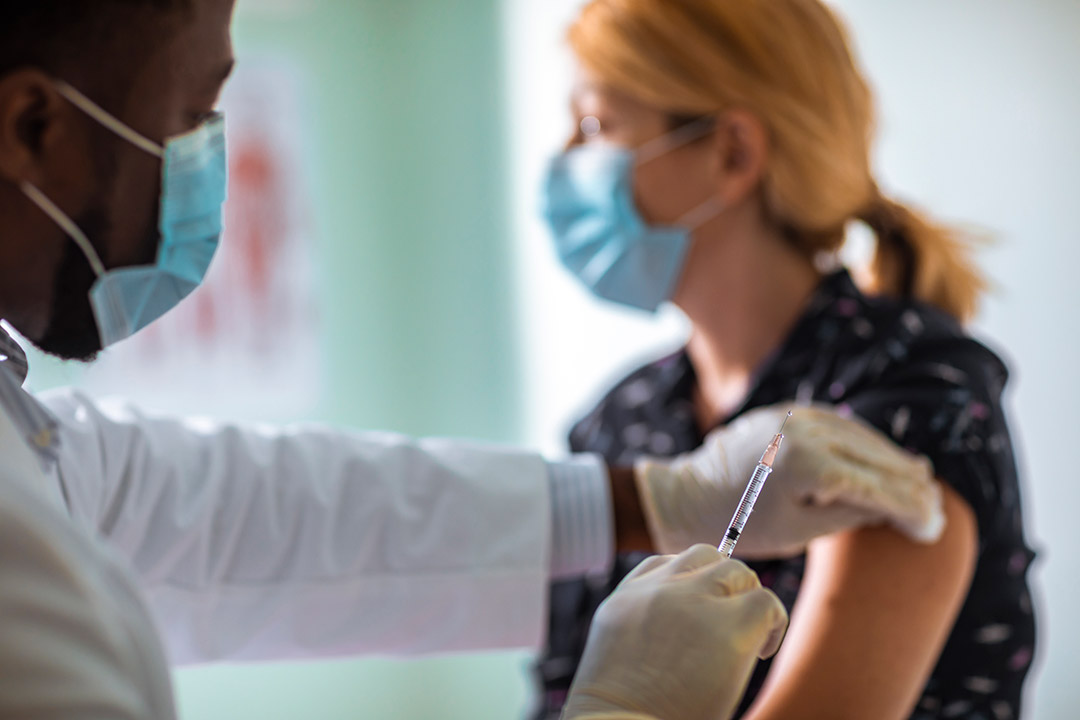 The prevalence of seasonal flu and COVID-19 makes it more important than ever to take extra precautions to remain healthy this fall and winter. This year at RIT, that means wearing masks, keeping physical distance, washing hands, and getting a flu shot.
For the first time, RIT is requiring students, faculty, and staff to receive a flu vaccination by the start of spring semester, if they plan to be on campus. RIT is partnering with Wegmans to offer flu shots by appointment at student and employee clinics.
"Getting a flu shot is one of the most important medical interventions we can take this year," said Wendy Gelbard, RIT associate vice president of Wellness. "Widespread flu immunization is crucial to saving thousands of lives and keeping society open—and the RIT campus—this winter when we start spring semester."
The Centers for Disease Control and Prevention warns that healthcare systems could be overwhelmed treating patients with flu and/or COVID-19. Flu vaccines have been shown to reduce the risk of catching influenza, complications of heart disease, hospitalization, and even death.
RIT students and employees are required to provide proof of their flu immunization, including name, date, and documentation of the flu vaccine. Students will submit documentation to the Wellness Portal. Faculty and staff will provide proof of immunization by using the RIT Employee Self-Serve portal. Medical or religious accommodations may be requested through RIT's accommodation process.
RIT is making it easy by partnering with Wegmans to offer flu clinics for students and employees. This year, flu shots are given by appointment only. Appointments can be scheduled online through Wegmans. (Look for "RIT Flu Clinics" on the list.) Flu shots are free for students and employees with RIT ID and health insurance cards. If students do not have insurance, they may receive the flu vaccine at the Student Health Center for $20.
Student flu clinics on the RIT campus
Oct. 2, 1-5 p.m.:  Bamboo Room 2610
Oct. 14, 10 a.m.-4 p.m.: Bamboo Room 2610
Nov. 6, 1-5 p.m.: Bamboo Room 2610
Nov. 13, 2-5 p.m. :Bamboo Rooms 2610/2650
Contact the Student Health Center for more information.
Employee flu clinics
On the RIT campus:
Sept. 29: Campus Center (CPC/003), Room 2610
Sept. 30: TBD
Oct. 2: Global Village (AED/400), Room 2290
Oct. 28: Global Village (AED/400), Room 2290
At Wegmans:
Oct. 3: Wegmans, 3701 Mt. Read Blvd.
Oct. 22: Wegmans, 3195 Monroe Ave.
Details are available on the RIT Human Resources website, Flu Shot Information and Schedule.
Employees who are working remotely may attend a clinic on campus, by appointment. Sign language interpreters will be provided for on-campus clinics only, upon request and subject to availability. Please make your request at http://myaccess.rit.edu. Questions can be sent to betterme@rit.edu.