RIT students, faculty and alumni take Manhattan for stellar Design Week
School of Design programs display creative wares at ICFF and on Sesame Street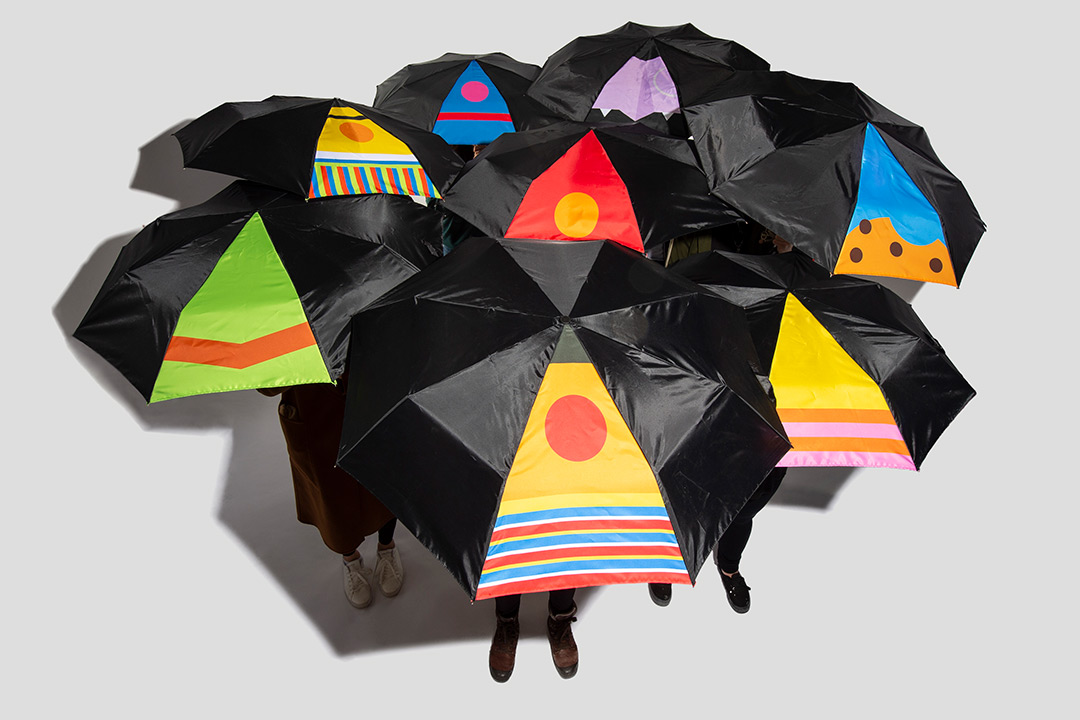 Students, faculty, staff and alumni from RIT's College of Art and Design descended on Manhattan last week for NYCxDesign—New York City's annual celebration of design that attracts hundreds of thousands from across the globe—that included a memorable celebration on the iconic Sesame Street.
RIT showcased two projects highlighting months-long collaborations involving interior design and industrial design students in the college's School of Design.
At the International Contemporary Furniture Fair (ICFF), held inside New York City's Jacob Javits Center May 19-22, RIT's installation highlighted the "mobile kitchen," featuring modular units that pushed the boundaries of traditional kitchen experiences. The exhibit engaged scores of curious visitors over three days with a fun-yet-functional approach that showed how food can be prepped with greater ease.
The exhibit's modular units, designed by interior design and industrial design students, were divided into work zones for cooking and cleaning. The modules demonstrated both universality and flexibility for improved user experience and functionality—particularly for people with physical challenges.
"Working in a kitchen is not very accommodating or practical for those with mobility issues," said Mary Golden, assistant professor and program chair of interior design. "The students created a series of prototypes and scenarios to make the kitchen experience more inclusive, participatory and functional for those with physical challenges."
Golden noted that Will Tracey, an instructional support specialist in the College of Art and Design, was instrumental in helping the students realize their visions. Key project partners included AccessAbility @ RIT, Autodesk, BACE Build, Herman Miller, Mastro Graphics, Nexis3 and Waldron-Rise.
Golden said the goal is for it to become a "legacy project" within the School of Design. The modular units will now move over to RIT's Effective Access Technology Research and Development Lab for further experiential study, data collection and advancement in anticipation of future production.
Metaproject goes to Sesame Street
All 15 industrial design students who spent the academic year designing modern products around the theme "Urgency of Play" for Sesame Workshop—the global educational nonprofit behind the beloved Sesame Street—were invited to a May 18 reception at the organization's New York City headquarters that included an appearance by the beloved Muppet character Elmo.
The invitation-only event marked the culmination of Metaproject 09, the industrial design program's annual studio course pairing students with an industry partner. This year's collaboration presented the unique opportunity to work with RIT alumna Theresa Fitzgerald '84 (graphic design), who serves as vice president of brand creative at Sesame Workshop.
"We connected very quickly with Theresa in the spirit of RIT design and the Vignelli 'Design is One' ethos embedded in this project," said Josh Owen, professor and chair of the industrial design program and founder of Metaproject. "Because the work was so strong across the board, all of the students were invited to come to Design Week and display their creations."
Owen, who taught the Metaproject course with fellow College of Art and Design Professor Lorraine Justice, added that Fitzgerald and her colleagues had the keen insight to request Jeremy Saucier, assistant vice president for Interpretation and Electronic Games at The Strong in Rochester, N.Y., join in the final critique of student projects back in December.
Fitzgerald said she was "honored" to work with RIT after initial talks to collaborate on Metaproject began two years ago. Working with a university noted for innovative leadership at the intersection of design, art and technology presented an exciting opportunity for the Sesame Workshop.
"It was clear to me from the moment I heard about this project, that it was extraordinary," Fitzgerald said. "Personally, I found this opportunity to partner with RIT and the Vignelli Center meaningful. Professionally, as a design leader, maker, speaker and educator, I found this semester to be rewarding to engage and inspire young talent."
Student designs addressed such characteristics as simplicity, functionality, beauty and cleverness. Projects ranged from a "Birdbath"—a hybrid kinetic sculpture and portable bird fountain—to a "Stick Connector" and a "Peek-a-Bowl" set featuring Sesame Street characters.
One of the student designers, Sumin-Petal Oh '19 (industrial design), of Toronto, created the "Cloud Sweeper"—a series of umbrellas, each with an abstract Sesame Street character design. She called her experience at Design Week "unbelievable."
"I never imagined that I could ever step foot into Sesame Street's headquarters," she said. "It means a lot that my work and 14 other classmates' work is displayed there, especially during Design Week. It's like your first introduction to the world as a new graduate."
Topics