RIT's Golisano Institute for Sustainability names first-ever economic and policy analyst
A native of the Cayman Islands, Chelsea Gulliver learned effects of climate crisis from an early age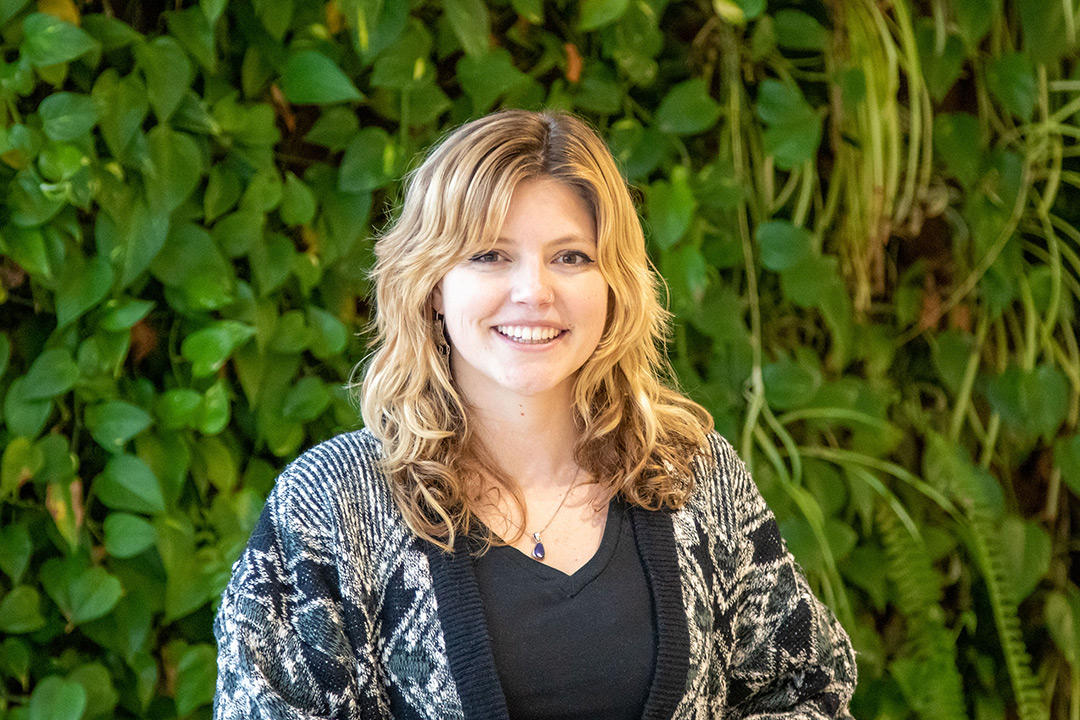 Chelsea R. Gulliver was recently named economic and policy analyst at RIT's Golisano Institute for Sustainability (GIS). The first-ever to hold such a role at GIS earned her bachelor's degree in economics from St. Mary's College of Maryland and a master's degree from Appalachian State University, with dual concentrations in sustainable development and interdisciplinary studies focused on environmental governance and planning. She plans to pursue a Ph.D. in sustainability, working on local responsiveness in environmental policy implementation.
Welcome to RIT. What are your primary responsibilities as an economic and policy analyst for GIS?
To look at the brilliant technological and process innovations developed within GIS and determine how to best implement them given current policy frameworks and economic constraints. Innovation, in and of itself, means something new, however, so that may not always fit neatly into the existing frameworks developed based on prior knowledge. If current policy structure isn't conducive, that may mean that I help in developing alternatives to the framework. Similarly, if the innovation's economic costs currently outweigh the benefits, that may mean I help find cost-cutting measures to rework the innovation until it can be monetarily justified.
What drew you to the sustainability field?
I was born on Grand Cayman in the Cayman Islands. If you ever wanted a crash course in the intricacies of the climate crisis and the necessity for sustainability, look no further than any small island or developing state. As a young child growing up, we were taught how to do a lot with very little, and we were very aware of climate change. That meant respecting the boundaries of the resources we had, only taking what we needed, and appreciating everything we were given. Frustratingly though, that wasn't always enough. Because of the global interconnectedness of all things climate, lasting power imbalances caused by British imperial legacies, and geographical threats and constraints, the climate crisis has left its mark on the Cayman Islands. Technological and capacity building was needed sooner than it was granted because it was often decided by politics and money. I was drawn to study economics and policy as a means to help communities like mine access those resources sooner. So realistically, I was born into this field and it's a core part of who I am.
This is a first-ever role at GIS. How do you plan to take it on?
En force. I hope to apply my area of expertise to the world of knowledge possessed by those in GIS so that we can produce fully viable project concepts that can be easily replicated and acted upon. The innovations coming from this department are really exciting and have a lot of potential. The biggest hurdle in any implementation is always getting past the political and economic decision-makers though. Success in this role will entail helping make the case for these innovations to become realized by working around or removing that hurdle altogether.  
Are there particular research areas on which you will focus?
I am currently assisting on a UNEP (United Nations Environment Programme) project studying circular economy potential of consumer-electronic products in Ghana and the U.S. Electrical and electronic equipment waste is one of the fastest growing waste streams worldwide. It contains hazardous materials that are harmful to human health and the environment, but is also often comprised of equipment that is still capable of reuse, refurbishment, or remanufacturing. Even the non-serviceable waste contains precious metals and other materials that could be recovered for use in other products. Currently, a lot of consumer-electronic products are disposed of before their end-of-life and done so improperly, unfortunately generally making their way to landfills in developing nations that don't have the technological or waste management capacity to properly process their components. This project explores the alleviation of that issue through process and technological innovations that can recapture the lost potential in end-of-use consumer electronics, allowing for new product markets and potential income streams.
What do you like to do in your spare time?
I like to do a lot of photography, hiking, paddle boarding, exploring, and hanging out with my dog, Mojo, and my cat, Bob. I'm usually always planning my next travel adventure, and it's usually guided by photo opportunities. Right now though, I'm looking forward to seeing everything Rochester has to offer!
Topics