Rochester Prep students participate in spring capstone that will last throughout March
Program prepares underclassmen to partake in larger capstone event next school year by working in groups with RIT faculty from various colleges and departments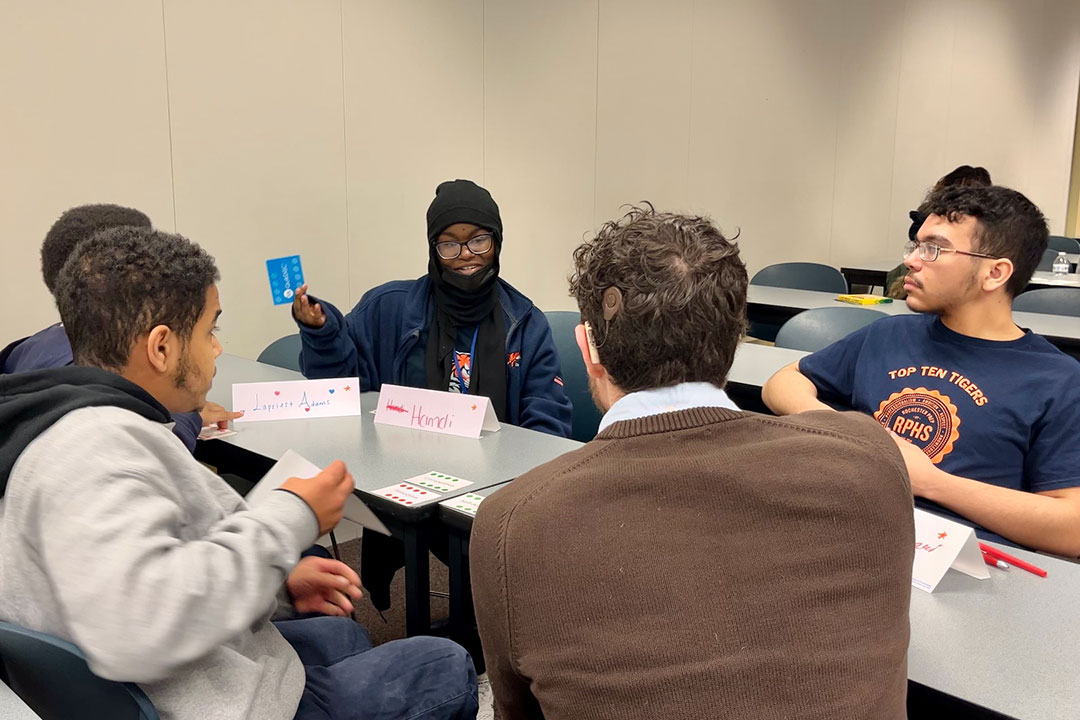 For some students at Rochester Prep High School, participating in the spring capstone program at Rochester Institute of Technology has exposed them to information and an environment outside of their comfort zones that also just so happens to benefit them in and out of the classroom. It's also arming them with an experience that may help determine the next phases of their lives.
"I've been really interested in this capstone experience and learning about different things," junior Taymar Roman said. "I really liked philosophy because it made us think outside the box and be open-minded, but also bring that to other aspects of school and life. We think about things we might not have considered to think about before and it's nice to have open discussions with our friends on those topics."
For Roman, this was her first time on a college campus. Like many of her peers, it also introduced her to something that was previously foreign, and is now helping her decide some of her interests that could determine her future.
Rochester Prep students have been participating in the spring capstone program throughout March. It's an annual opportunity – facilitated by RIT's K-12 University Center – meant to help foster a relationship among the Rochester-based charter school and the university, in a partnership that began about a decade ago.
The first course started March 5 and goes each week throughout the month. Among many goals, the aim is to prepare the students – all underclassmen – to partake in the fall and winter capstone program next school year that offers a more in-depth agenda, where selected students split into groups to work with faculty from one college or department on campus. By the end of the course, students are then tasked with publically presenting about their research.
This school year's main capstone invited 16 high school seniors to work in one of various areas of study – chemical engineering; antibiotic-resistance bacteria; energy and public policy; and STEM learning from Women in Science, also known as WISE. In February, they presented their final research projects in a formal showcase on campus. News media from RIT and the Rochester area covered the event on multiple platforms.
Dr. Andre Hudson, interim dean of the College of Science, said he submitted a research paper for publication that highlighted information collected during the capstone class, titled, "Isolation, Whole-Genome Sequencing, Annotation of Two Antibiotic-Producing and Antibiotic-Resistant Bacteria Pantoea rodasii RIT 836, and Pseudomonas soli RIT 838 Collected from the Environment." The Rochester Prep students who were part of his course this school year were included in the article as co-authors. They are seniors Leila Aden, Zacchaeus Greene, Chanei Nixon and Wade Shaw.
"The students isolated the bacteria that were integrated into this study and did the preliminary work showing that the strains were resistant to antibiotics and produced antibiotics," Hudson said. "They are co-authors on the paper that is under peer review. … They did a fantastic job, and I look forward to participating in this program again."
For the spring capstone, the more than 20 students have spent the month working with each other in four subject areas starting with a marketing class arranged by faculty from the Saunders College of Business. That was followed by philosophy and political science lessons from faculty at the College of Liberal Arts; and an upcoming design-and-build competition hosted by the Kate Gleason College of Engineering.
"It's a lot of fun," junior Jordan Welch said. "I think the spring capstone is really about learning what is and isn't for me. I love that we have the opportunity to think about things we might not normally get to think about in the classroom, so it's been very thought-provoking."
During the first class, students worked with lecturers Rick Lagiewski and Molly McGowan from the Department of Management to learn more about various business fields. It started with an icebreaker activity that helped students understand their peers and that differences often allow teams to prosper based on various strengths of others – something that will translate to the real world. The class ended with student marketing demonstrations that permitted them to work in groups to create new products for existing businesses that's profits would support a charity.
The past two classes after that were hosted by the College of Liberal Arts with a philosophy session by lecturer Colin Mathers, followed by dueling explanations from two political sciences professors about how "The Walking Dead" prompts patterns of interaction and community development. The next course will be held March 23 with an interactive class about how engineers use science and math to design products.
For students on the fence about joining the capstone program in the future, junior Kevin Robinson who is participating in the spring event, suggests trying it and then committing to the experience.
"It has allowed me to think differently and see how professors teach that differs from high school," he said. "Going into it, you need to have an open mind. That's definitely important because you might realize as you're going through different topics that it's something you might end up really liking."
Topics