With safety in mind, variety of activities planned for RIT students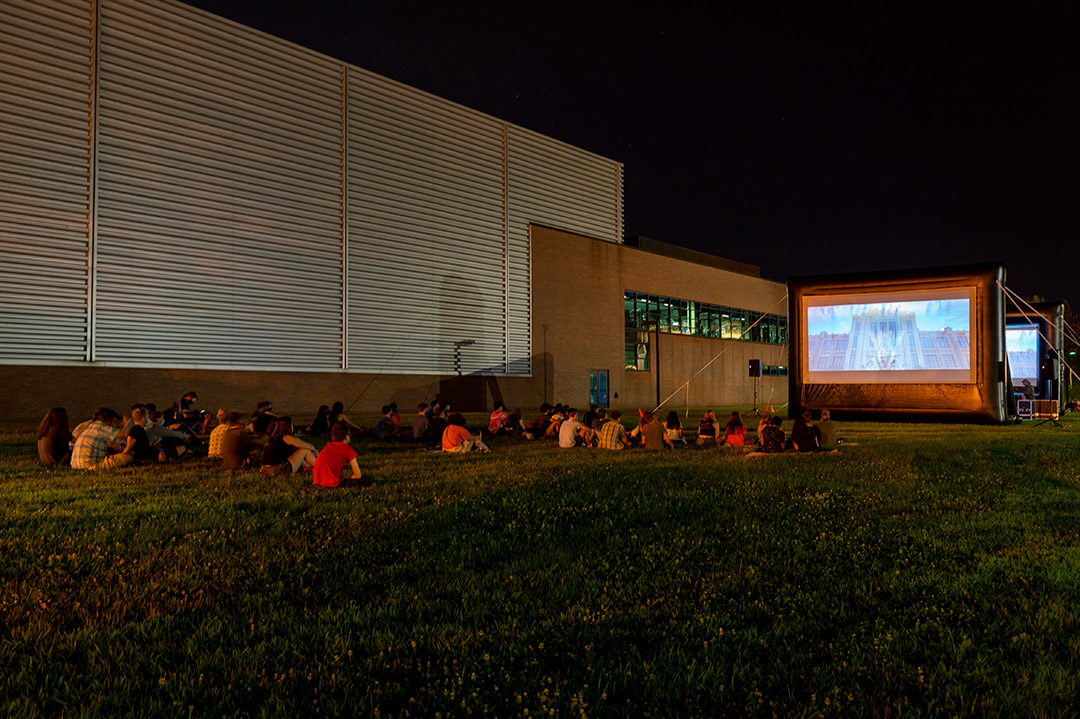 Outdoor movies, fireworks, outdoor fitness pods, community engagement, and volunteer opportunities are just a few of the experiences awaiting Rochester Institute of Technology students on campus this semester.
Although COVID-19 precautions have meant some annual events such as the Tiger Walk and convocation won't be held as they traditionally have been, plans have been thoughtfully made to give students as many memorable experiences as possible.
"Our team and the university as a whole has spent a tremendous amount of time and effort to come up with ways RIT students can enjoy enriching experiences on campus and become as engaged as they choose to be while working within the constraints presented by national, state and local officials to ensure their experiences can be done as safely as possible," said Sandra Johnson, senior vice president for Student Affairs.
Orientation for new students —both in-person and online —is underway for new students and will continue over several days.
Although many plans are still being evaluated, and activities could further be changed if regulations change, here is an idea of what students can expect this semester:
Outdoor venues
State guidelines cap private home events to no more than 50 persons. But more people are allowed to gather—following distancing and masking precautions—for outdoor, low-risk amusement and entertainment up to 33 percent of occupancy.
A 24-foot outdoor stage has been set up near the Gordon Field House for the fall semester, where performing arts, local artists, comedy, and more will be entertaining up to 500 students at a time. Student organizations can also request time on the stage, including small groups involved in performing arts. Local artists, comedians, and speakers will be rotating throughout the fall semester.
Two 13-by-20-foot inflatable screens will also be used to showcase movies, trivia, video games, and more from dusk to dawn for up to 150 students at each location. At least one of the screens will be between the Student Life Center and Gordon Field House for the College Activities Board's weekly movie series—with multiple showings for each movie. A video game tournament with the MAGIC Center is also scheduled.
Clubs
Guidelines for the approximately 300 RIT student clubs have been developed to ensure members can continue to plan and execute activities and events that are meaningful and engaging, whether they continue virtually, in-person, or a combination of the two.
Student Life Center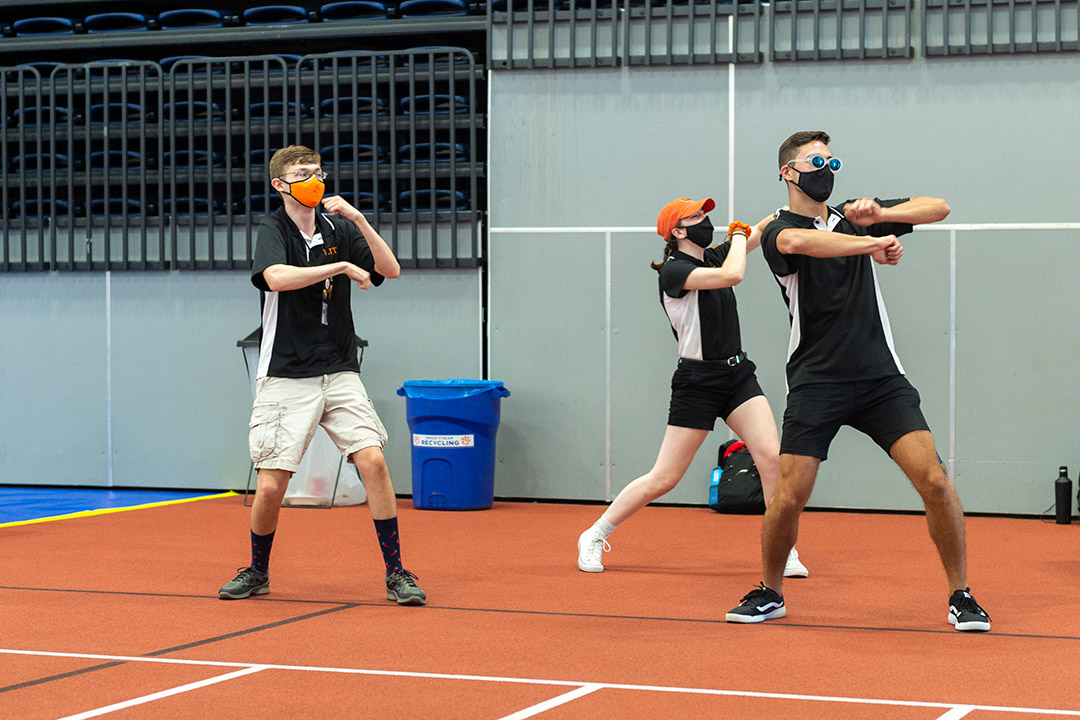 Elizabeth Lamark
Currently, fitness facilities—including the Wiedman Fitness Center—are not allowed to open in New York. This does not impact intramurals including golf, softball, sand volleyball, and tennis, but limits some wellness opportunities. Intramurals will take place outdoors if the weather allows and virtually this fall and will incorporate several safety modifications and protocols.
And although details are still being confirmed, there are plans to establish individualized outdoor fitness pods and exercise areas available to students, faculty, and staff by reservation. The units will likely be in tents and may contain an assortment of fitness equipment such as a spinning bike, rowing or elliptical machines, adjustable weight dumbbells, bands, steps, and a jump rope. The equipment will be sanitized after each use.
In addition, students, faculty, and staff can stay engaged with RIT's virtual walking, running, and cycling community through Strava.
Events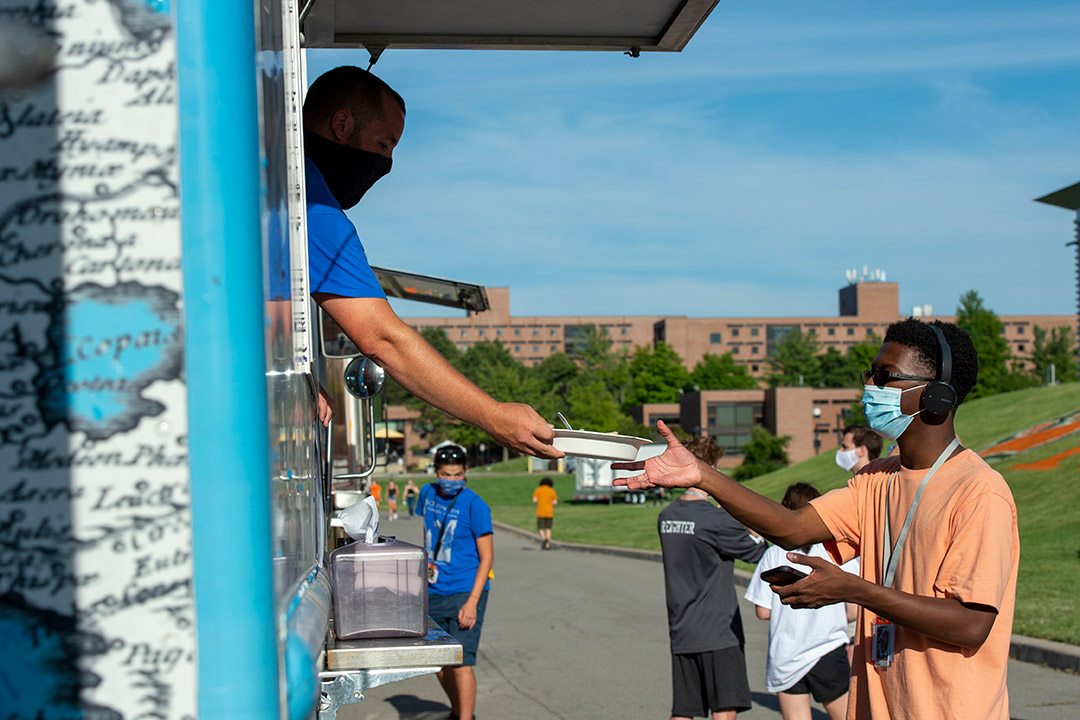 Elizabeth Lamark
Several events are being planned this semester. The FallFest, Aug. 27-30, is expected to feature recurring annual events such as Build-A-Buddy and an event similar to The Amazing Race. And the College Activities Board is planning a BBQ event with food trucks and local and regional music acts on Labor Day, Sept. 7.
RIT has at least 20 groups participating in this year's virtual 2020 KeyBank Rochester Fringe Festival held Sept. 15-26, with videoed and captioned performances shown on campus.
And this year's Brick City Weekend won't feature alumni or parents coming on campus, but several programs including Dueling Pianos, movies, broadcasts of past men's and women's athletic games and a virtual 5K race will be held on weekends in October, beginning Oct. 9-11.
Community experiences
From local nonprofits that support our senior population to organizations that feed families globally, there is no shortage of ways to get involved.
Into the ROC gives students the opportunity to explore the unique challenges and cultural treasures in the Greater Rochester community through three types of trips involving "people, places, and possibilities." The trips involve exploring what the community has to offer, as well as offering volunteering opportunities to give back to the local community. Transportation is provided for trips planned on Saturdays or Sundays with various organizations including CP Rochester, Flower City Pickers, ARTISANworks, and the Rochester Museum and Science Center.
The Center for Leadership and Civic Engagement has compiled an extensive list of local and global volunteer opportunities for students to explore, from local nonprofits that support senior citizens to organizations that help feed families globally. The center also tracks and reports on community service hours and philanthropic giving to measure RIT's impact on the local community. They provide departments, student organizations, and individual students with an opportunity to quantify their volunteering and philanthropic accomplishments, and reports overall involvement trends to students, administrators, alumni, and the public.
And "momentum" —a multi-level experiential leadership development program—will introduce students to challenges impacting communities around the world and can develop the skills and competencies they need to address those challenges.
Alternative Break
The Alternative Break program gives students the opportunity to engage in direct service in collaboration with communities around the world. This spring, students will be teaming up with regional area nonprofits to learn about some of the critical challenges facing our communities. Students will spend three to four days interacting with local leaders, performing short-term projects that support long-term goals, and reflecting on their own role in community development.
The trips will take place in the spring 2021 semester, but recruitment kicks off in the early fall. Interested students will need to attend an information session in September to be eligible to apply. 
ROAR the Vote
Register to vote, apply for an absentee ballot, change political affiliation, or learn more about the election process in general online or at one of the many registration drives that will be held throughout the semester. Debate viewing parties will also likely be held leading up to Election Day on Nov. 3.
And, new this year, a deliberative dialogue series called "Horizons" will help participants consider their roles in creating an inclusive campus community. The first forum will be on Freedom of Speech and Expression.
Making connections
The Center for Spirituality and Religious Life is offering many programs in-person and virtually. Chaplains are available for one-to-one meetings either virtually or in-person. All chaplains serve the needs of any student, regardless of religious, secular, or spiritual background.
And although still being considered, pumpkin carving may be offered in October, followed by a controlled pumpkin smash as a way to relieve stress.
New programs offered through Health Promotion include The Tigers Connect: Embrace the Awkward program to help students improve their one-on-one communications skills, make connections, and feel more confident in their ability to meet new people. Tigers Connect will be a robust five-week long program for small groups of four to six students. Bystander Intervention programs will help students develop the skills to intervene and hold their friends accountable. In-person and virtual programs will be available.
In addition, Health Promotion will continue to host virtual and in-person events that support wellness, well-being, and our community of care at RIT.
A photo gallery of events from orientation is available.
Topics