September 14, 2022
by Rich Kiley
Saunders College will honor Susan R. Holliday with 2022 Vanden Brul Award
Former 'Rochester Business Journal' leader to be recognized along with entrepreneurial students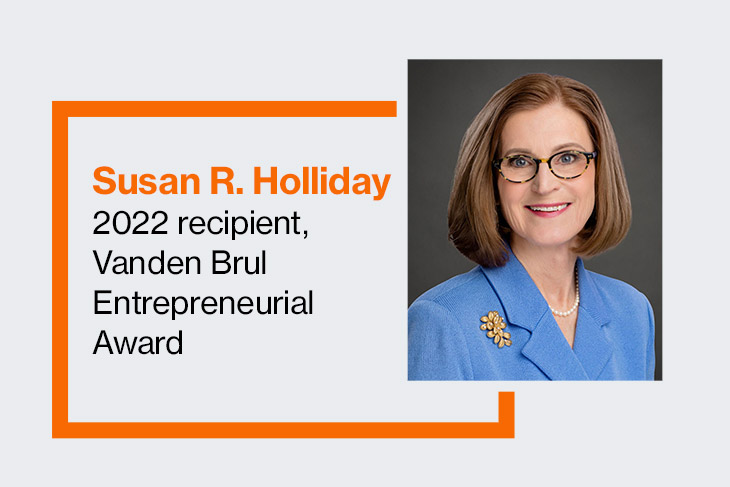 Susan R. Holliday '85 (MBA), who led the turnaround and growth of the Rochester Business Journal during nearly three decades as president, publisher, and owner, has been named the 2022 recipient of the Herbert W. Vanden Brul Entrepreneurial Award, presented by Saunders College of Business at Rochester Institute of Technology.
The award, established in 1984, is given annually to a successful individual or individuals who developed a business that improved the Rochester economy or whose innovative management skills changed the course of an existing business.
After spending 10 years in agricultural finance, Holliday switched careers and purchased the RBJ in 1988, orchestrating the company's financial turnaround and expanding the scope of the operation with the addition of contract publishing and an extensive events division. Under her leadership, the newspaper was highly respected for its integrity in reporting and thoughtful analysis of community issues affecting business in the metropolitan Rochester, N.Y., area. The newspaper was consistently recognized with numerous national awards for outstanding reporting, photography, and design. After 28 years at its helm, Holliday sold the company in 2016.
"I was very proud to work with a wonderful group of professionals—whether they were in the editorial, production, circulation, or advertising department—who worked together to produce a news product that earned a reputation for high-integrity journalism, as well as events that were well attended," she said.
The Chili, N.Y., native learned about business from an early age. "My dad was an entrepreneur and so business was a frequent topic at the dinner table," she recalled. "It was something that I have always been drawn to."
Holliday graduated from Saunders College's MBA program in 1985 after obtaining her undergraduate degree from Cornell University. In 2013, she established the Susan Riedman Holliday Graduate Endowed Fellowship, to provide scholarship support to Saunders College graduates who are staying at RIT to pursue a graduate degree from Saunders College. 
She also continues to offer her time and expertise by serving on RIT's board of trustees since 1999, currently as vice chair, and by actively participating in various university events, including Power Your Potential, a women-in-business leadership conference.
Last year she was named chair of the board of directors of Financial Institutions Inc. and its subsidiary, Five Star Bank. In addition to serving as a board member and former chair of the University of Rochester Medical Center, and board member of Complemar Partners Inc., she is board chair of Healthcare Trustees of New York State. Holliday also is a trustee of the Riedman Foundation and a former member of the American Hospital Association's Committee on Governance.
She was selected as RIT's Outstanding Alumna of the Year in 2010 and named Saunders College of Business' Distinguished Alumni Award winner in 2000. Holliday also was recognized with an honorary Athena Award in 2011.
She will be honored at the Vanden Brul Entrepreneurial Award Luncheon at Genesee Valley Club in downtown Rochester on Sept. 16.
"The Vanden Brul award is a Rochester tradition honoring the region's top business minds, and Susan Holliday is certainly an exemplar of this recognition as an innovative and entrepreneurial leader who changed the course of the RBJ," said Saunders College Dean Jacqueline Mozrall. "We are extremely proud to honor Susan's transformational career instilling quality and innovation in publishing as well as her inspiring commitment to the Rochester community."
Saunders College also will honor RIT students with the Hebert W. Vanden Brul Student Entrepreneurial Award. This award recognizes outstanding RIT undergraduate or graduate students who have demonstrated the potential to become successful entrepreneurs.
Three student finalists will be recognized this year: Harrison Canning, a neurotechnology major in RIT's School of Individualized Study from West Granby, Conn.; Peter Hogya, a computer science major in the Golisano College of Computing and Information Sciences from Bayville, N.Y.; and Pritam Poddar, an engineering Ph.D. student in the Kate Gleason College of Engineering from Kolkata, India.
Past Vanden Brul recipients include Mark Davitt, founding CEO of ConServe; Dutch Sommers, CEO of Graywood Companies, Jasco Heat Treating and Jasco Pharmaceuticals LLC; Joseph Lobozzo, former CEO of JML Optical; John Smith, IT serial entrepreneur; Ronald Ricotta and Michael Nuccitelli, co-owners of Century Mold Inc. and Parlec Inc.; the late Ernest J. Del Monte Sr., E. J. Del Monte Corp.; William K. Pollock, Optimation Technology; Kitty Van Bortel, Van Bortel Group; Thomas Bonadio, founder and chief executive of The Bonadio Group; the late Robert Wegman, Wegmans Food Markets Inc.; and E. Philip Saunders, Saunders Management Co. Inc.
"This award has recognized such an array of successful individuals whose companies have played such an important role in our region," Holliday said. "I am very humbled to have been chosen for this recognition."
More information about the Vanden Brul award is available on the Saunders College website.
Topics