Student group wins award for sustainable shaver
Recyclable materials used could help eliminate volume of waste in landfill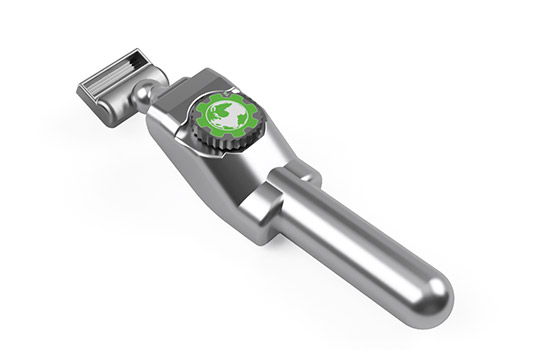 RIT's student chapter of Engineers for a Sustainable World (ESW) won an award for their model of a sustainable razor that could help decrease the environmental impact of billions of disposable razors that are discarded each year.
The undergraduate team won the Best Use of Fusion 360 category, part of the national Cradle to Cradle Challenge sponsored by AutoDesk, and received a $2,000 stipend for the campus chapter. It was the second year an ESW team of students was recognized for its sustainable product concepts. Last year's group took top honors for its design of a recyclable broom made of biodegradable materials.
The Cradle to Cradle Challenge is a national design competition where teams from companies and universities detail how new products can be produced, manufactured, used and recycled. All products must have a business plan that includes remanufacturing and recycling processes as well as environmental impact analysis.
More than 2 billion disposable razors are thrown away each year, according to the Environmental Protection Agency. The difficulty and danger associated with recycling stainless-steel blades means the majority ends up in landfills.
RIT's team designed a multi-part system made of aluminum and recyclable plastic with a removable head that can be replaced to allow recycling companies the ability to process both the blade and housing as one component. This would also allow for the blades to be safely recycled.
Using AutoDesk, a 3D CAD-modeling software platform, the team was able to show how they minimized material waste to produce the razor. Stainless-steel is 100 percent recyclable, and consumers would have the option to recycle blades through their own community services or return used blades to the company. The team included a return package option with discount incentives in its business model plan.
"We wanted to find a product that had a pretty large impact on the market and the environment. Even small changes would make a huge impact," said Daniel Rouleau. He and ESW co-project manager, Morgan Mistysyn, are both going into their third year in the industrial and systems engineering program in RIT's Kate Gleason College of Engineering.
Each year, the ESW group has four to five projects running simultaneously, from building a sustainable greenhouse to creating biodegradable clay pigeons for skeet shooting. All projects incorporate information learned from coursework, such as materials processing, and focus on products made with environmentally safe materials that can be reutilized and manage energy usage as well.
"There are still a few kinks that need to be ironed out, but I think we have a very strong base for a product for the future," said Rouleau, who is from Trumbull, Conn. He is currently on co-op at BIC Consumer Products USA in Milford, Conn.
Topics