Student team develops plans to help make campus child care center more energy efficient
Proposal to help reduce energy consumption will be part of national design competition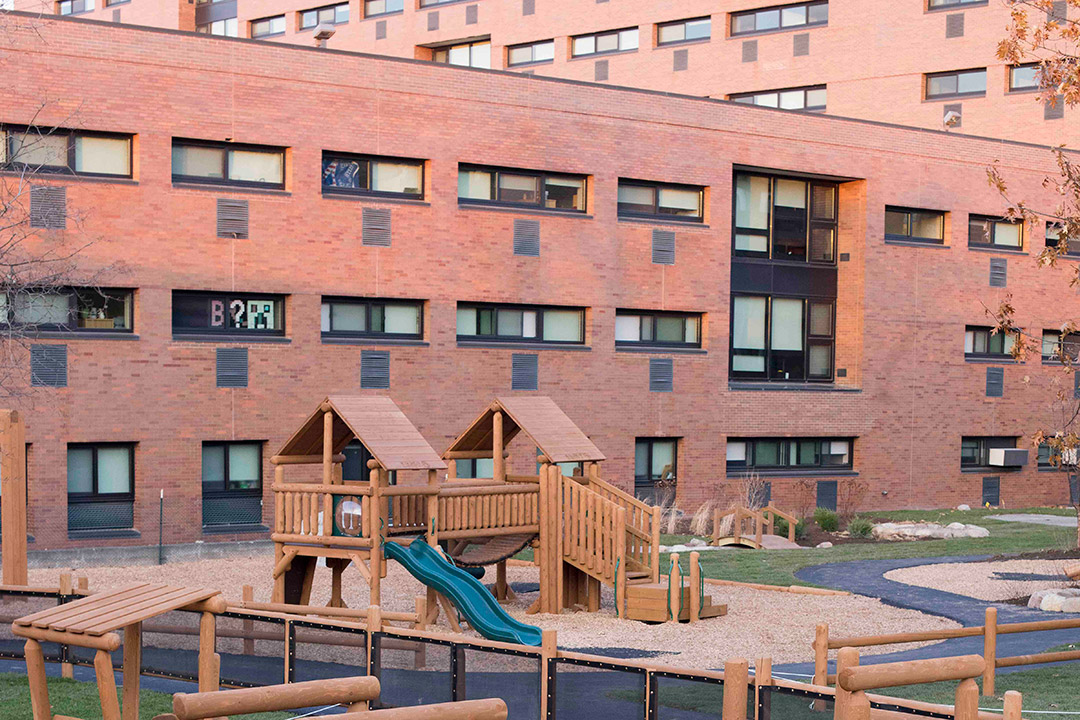 A. Sue Weisler
Undergraduate engineering technology and computing students at Rochester Institute of Technology found ways to reduce energy consumption at the university's Margaret's House Child Care Center.
Members of RIT's student chapter of National Electrical Contracting Association (NECA) worked this spring with child care staff as part of the annual NECA Green Energy Challenge, an annual student design competition sponsored by NECA. Teams from universities across the country build plans to reduce energy usage and integrate alternative energy solutions. This year, student teams were asked to develop plans for an energy upgrade for a facility that provides community services, such as shelters, food pantries, child care centers, libraries or houses of worship.  
"There are students doing these types of projects all over the country," said Jon Walton, a fifth-year electrical engineering technology major from Rochester, N.Y., and team project manager. "You use a place as a basis for designing a building as close to net-zero as possible, typically with the installation of solar panels, wind power, things like that. We settled on a campus location because this building serves the community." 
Margaret's House is a child care facility located on the residential side of the RIT campus. Built in 1996, the site has multiple rooms for small and large group activities, and early childhood education classes for infants, toddlers and pre-school age children. Over the summer, the center also hosts Kids on Campus, a summer camp program.
Team members spent time with Margaret's House staff, particularly its directors, Deanna LaManna and Jennifer Tills, and Harold Fields, director of Residence Life, to review building plans. The original work was done more than 25 years ago, and although there have been upgrades to facility systems and fixtures since that time, the team recommended several quick but important fixes, said Walton.
"The building still had some of those fluorescent tubes from back in the day. Just replacing some of the current lighting with more LED of bulbs can reduce energy consumption by one third," Walton estimated. "We also recommended solar panels on the roof and increased sensor technologies for room lighting. And we wanted to find a way to tie our plans to the main building system."
That tie-in was a challenge the team needed to address. Student design competitions are as much about showcasing new, alternative energy solutions as they are about showing how student teams overcome real-world problems.
"At every part of the project we have to share information about why we made decisions," said Walton. Margaret's House is part of the larger campus residential system, a common operational process. "Getting the actual load, specific to this building, like how much electricity that building actually consumes, it was difficult. We had to look at all the devices and estimate as best we could through some manual calculations to arrive at workable data."
Walton developed a lighting analysis to indicate both the exact location of lights and how many foot candles—light intensity—are being produced for each surface.
"We wanted to show that our solutions are within the Illuminating Engineering Society's guideline for a given space, and we also looked to the EPA energy benchmarks to ensure our work is benchmarked against other buildings in the area," he added. Additional support and mentoring by staff of O'Connell Electric, a regional powerline and communications contractor, contributed to details of the project.
RIT's NECA team is based in the College of Engineering Technology. Students have participated in the design competition since the student chapter was established in 2013. Projects have ranged from on-campus facilities such as the university's Student Alumni Union to community sites such as the Irondequoit Town Hall and Bishop Kearney High School.
"Design challenges such as this are a way to improve and connect student learning," said Walton, who expects to graduate next year. He has participated on several co-op experiences with local building design firms and this experience helped him guide the team's work toward a solution that can keep the children in a well-lit and energy efficient facility.
"If only you could harness the natural energy of 3-to-5-year-olds in day care centers, that could have made for a great alternative energy solution," said Dave Krispinsky, laughing. The professor in RIT's College of Engineering Technology has been the team's faculty adviser since the student chapter began. "Each team gets stronger, the projects get tougher, and the way they incorporate what they learn in a classroom can be seen very clearly in the results. Their ideas and recommendations can go easily to just about any design firm to implement."
Walton's teammates are: Josh Bentivegna '20 (electrical mechanical engineering technology); Brent Burgess, a second-year computing security major in RIT's Golisano College of Computing and Information Sciences. They will submit their final plan and documentation in June, and winners are announced at the NECA annual meeting and convention expected to take place in October.