Students create assistive products for community
Hands-free navigation for the blind, assistive ski lift and glucose sensing patch among the ideas exhibited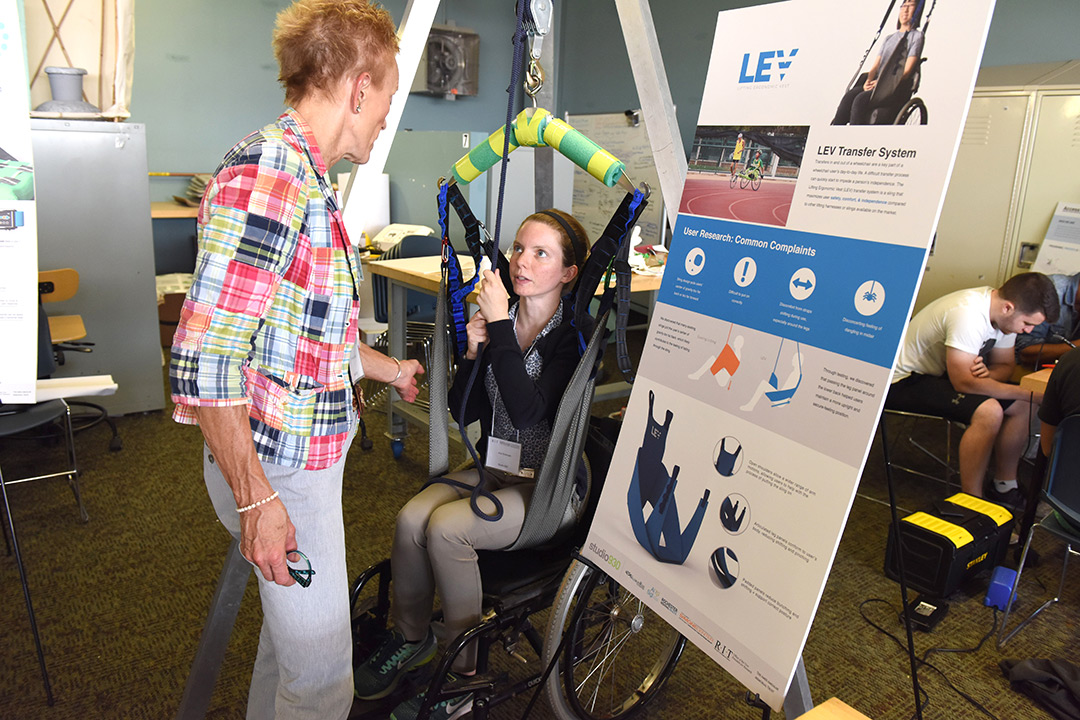 A. Sue Weisler
Rochester Institute of Technology student Kevin Farnand has been part of the Studio 930 Design Consultancy since its inception three years ago. But this summer is particularly special for Farnand, who proudly announced that a product he has been developing will soon be used by children with attention disorders at CP Rochester, a local organization serving individuals with and without disabilities.
On Aug. 7, Farnand joined 29 other students at the exhibition of the summer consultancy, a 10-week long multidisciplinary studio experience focused on the design and production of access and health technologies products. The program was created by Stan Rickel, associate professor of design at RIT and director of the industrial design graduate program. This summer's products included an automated toilet paper dispenser, a hospital bedside table for optimal use by patients, and a secure and ergonomic sling for lifting individuals, to name a few.
"We are very proud of the achievements of our students over the last 10 weeks," said Dan Harel, adjunct professor of industrial design and Studio 930 manager. "These achievements include the implementation of design thinking that we are promoting at RIT, which includes research, ideation and prototyping. They learned the value of continuing the process until they got it right, and that is critical for the success of the projects. They also learned to work in multidisciplinary teams, which is an industry requirement."
The program is supported by RIT's Simone Center for Innovation and Entrepreneurship, industrial design Master of Fine Arts program, College of Art and Design, Kate Gleason College of Engineering, College of Engineering Technology, Saunders College of Business, and the Waldron Rise Foundation. Community agencies included in the project research were Al Sigl Community of Agencies, Rochester Regional Health and CP Rochester.
Farnand, a third-year mechanical engineering major from Fairport, N.Y., says that his experience developing a haptic-feedback rock climbing wall for children with attention disorders was a lot of fun, "with some extra incentive to make it work because it's not just a project, it's a product that people want and are going to use."
Michael Cocquyt is the supervisor of the SportsNet program, a collaboration of Al Sigl Community of Agencies, CP Rochester and Rochester Rehabilitation, which provides adults and children with disabilities the opportunity to explore adaptive sports and inclusive recreation. Cocquyt worked closely with several RIT student teams, including the developers of an assistive ski lift, which will be used this winter at Swain Resort.
"It's been exciting to give these students real-world purpose," Cocquyt said. "The students enjoy coming to see people using their products, able to be engaged in their communities and to be recreating independently. I'm delighted to bring that piece into the equation. There are a lot of products that aren't produced for people with disabilities because there isn't enough economy-of-scale to justify the initial investment."
Cocquyt said that RIT breaks down that barrier.
"As an example, there is no other assistive lift on the market that we can transport to the mountain and utilize safely. As it is now, we have to lift people out of their wheelchairs. But with this assistive lift, they will be able to use it on their own."
Siqi Xu, an industrial design graduate student from China, worked closely with the Al Sigl Community of Agencies to develop an automatic toilet paper dispenser. The project was first introduced in 2015, and now, Xu is able to explain how the product will cut, dispense and fold toilet paper without it even being touched by the user. She's hoping to see her product used in health centers and one day in private homes.
"We spent a lot of time visiting the Al Sigl Center and talking with them about our design," said Xu. "I am a problem solver and from the beginning my goal was to solve the problem in the simplest way, while making the user process better."
This summer's Studio 930 teams were:
Bedside Table: designed for optimal use by hospital patients
Blind Assist: a hands-free navigation system for blind or visually impaired people  
Clean Bio Bag: a bio sample bagging system that avoid cross-contamination
EZTP: an automated toilet paper dispenser for individuals with mobility or behavioral issues
LEV: a secure and ergonomic sling for lifting individuals
Focused Grip: a method to instrument a rock climbing wall to provide therapeutic prompting for individuals with focus or mobility impairments
Rwanda Wheelchair: a robust, low cost, sustainable, repairable wheelchair for children in Rwanda with mobility impairments
Secure Glucose Patch: a secure glucose sensing patch system
Wheelness: an activity and effort monitoring add-on for wheelchair use
Cushion Development: a novel cushion system that can monitor motion/pressure and adjust to minimize discomfort
Mobile Toilet: a mobile toileting system that can move to the user, mitigating fall risks in clinical and long-term care environments
Start Exam Room: an exam room that leverages technology to enhance the patient-doctor interaction and information exchange
One-Site Transportation: a transportation system that optimizes the movement of wound care patients between hospital entrances and wound care clinics within hospitals        
For more information on the Studio 930 Design Consultancy, go to
www.rit.edu/research/simonecenter/studio-930-industrial-design-consultancy.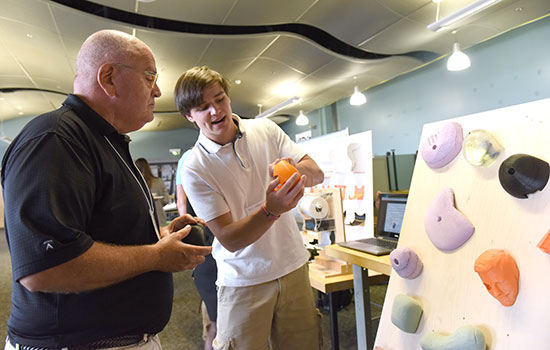 A. Sue Weisler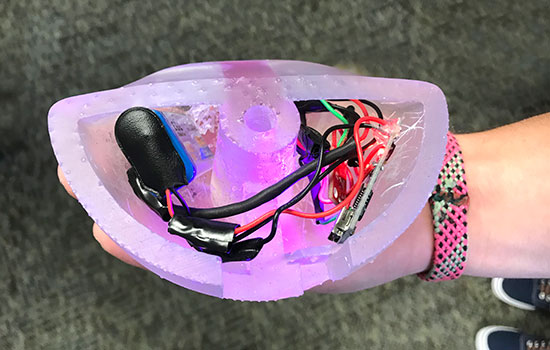 A. Sue Weisler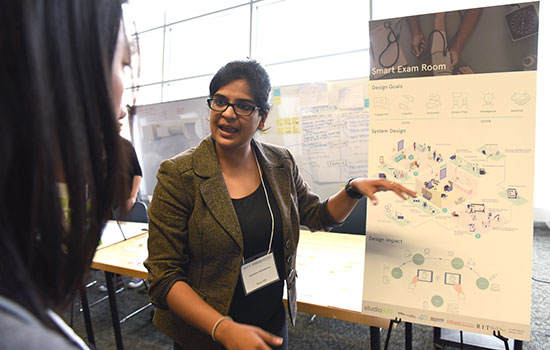 A. Sue Weisler
Topics