Team completes international aural heritage research and sound capture
Three faculty-researchers record aural histories to preserve unique sounds of classic environments and improve sound technologies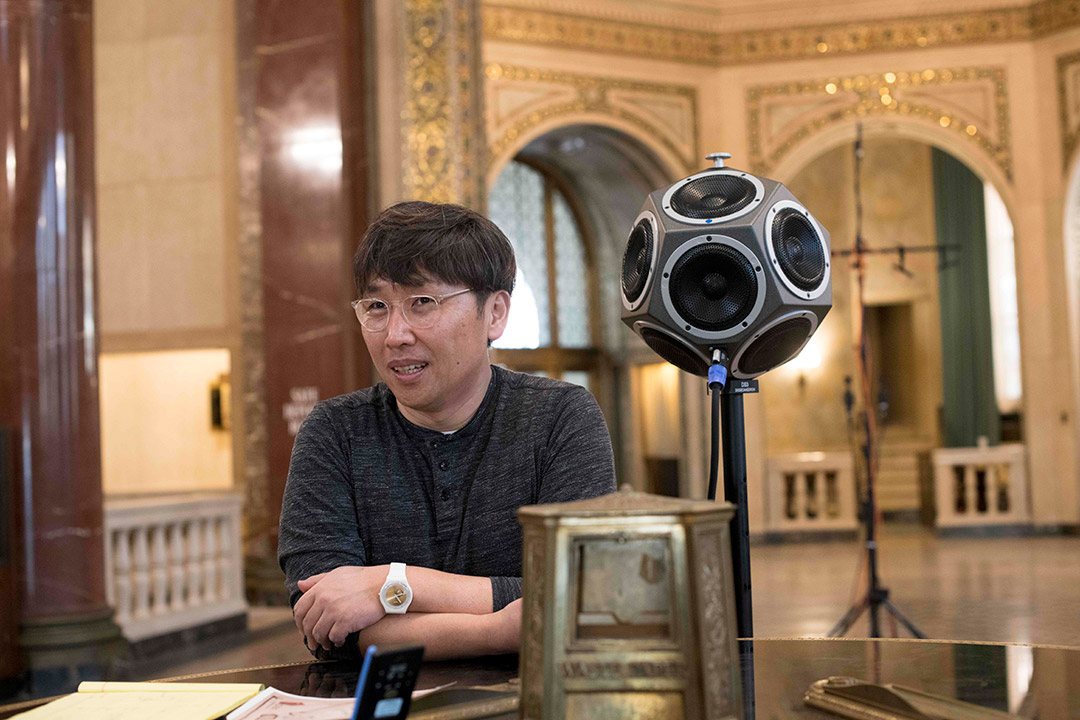 The researchers "excited the room."
The room was the ornate, vaulted lobby of Rochester Savings Bank, one of the city's most historic buildings. "Exciting the room" was an engineering process to capture unique sound characteristics of rooms and buildings.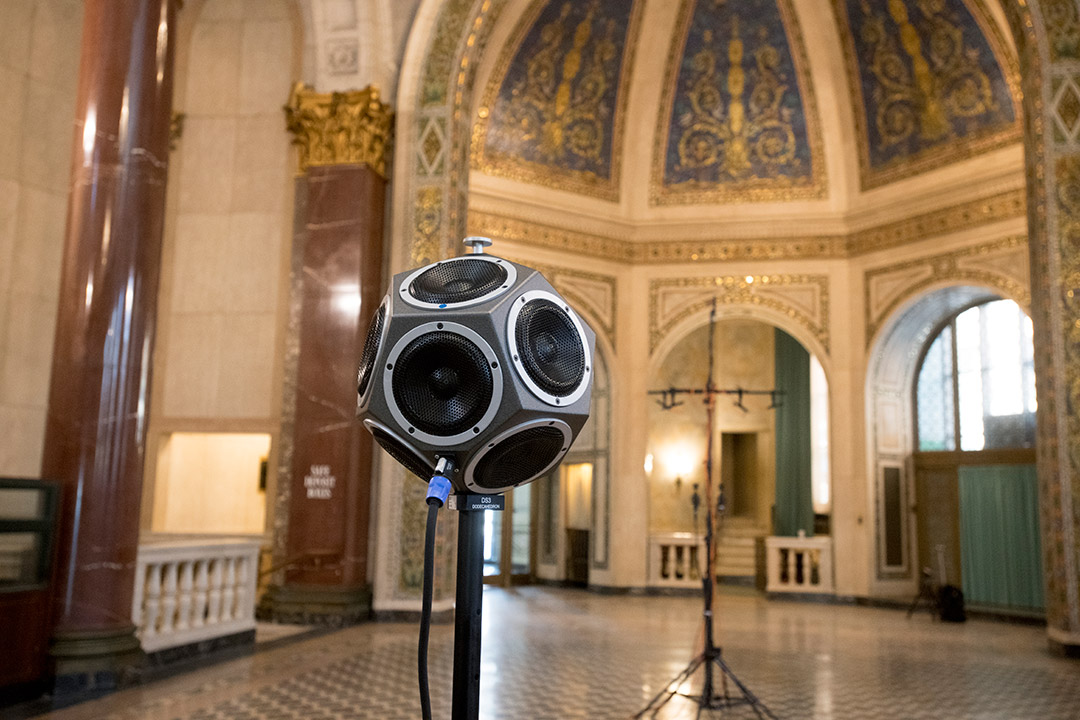 A. Sue Weisler
The researchers are Sungyoung Kim, project leader and associate professor of electrical and computer engineering technology at Rochester Institute of Technology; Doyuen Ko, associate professor of audio engineering at Belmont University in Nashville; and Miriam Kolar, visiting professor at Amherst College.
Through the project, the three developed a set of tools using advanced augmented and virtual reality technology to preserve and replicate acoustics of historical venues. Their work was part of an international project bringing attention to the overlooked work in preserving aural heritage.
Working in this area since 2020, the three faculty-researchers had received a three-year grant from the National Endowment for the Humanities to focus on spaces considered culturally, architecturally, and temporally distinct examples of rare aural heritage:
American recording studios in Nashville's Historic Music Row, designated in 2015 by the National Trust for Historic Preservation—an example of a small room venue;
The former Rochester Savings Bank located in Rochester, N.Y., and listed on the National Register of Historic Places with historical significance for art, architecture, and commerce—an example of large and public space acoustics; and
The 3,000-year-old UNESCO World Heritage Site at Chavín de Huántar, Peru, one of the best-preserved examples of pre-Columbian architecture in the Americas—an intersection of archaeology, ancient American prehistory, and interior architecture
While several aspects of the project were postponed during the pandemic, the team had worked in Rochester before international travel was curtailed. Once they resumed work, they compiled results that include technology methods to capture sound and to assess how sound impacts human experiences. Their protocols for the aural preservation can be a model for future aural heritage data collection and preservation.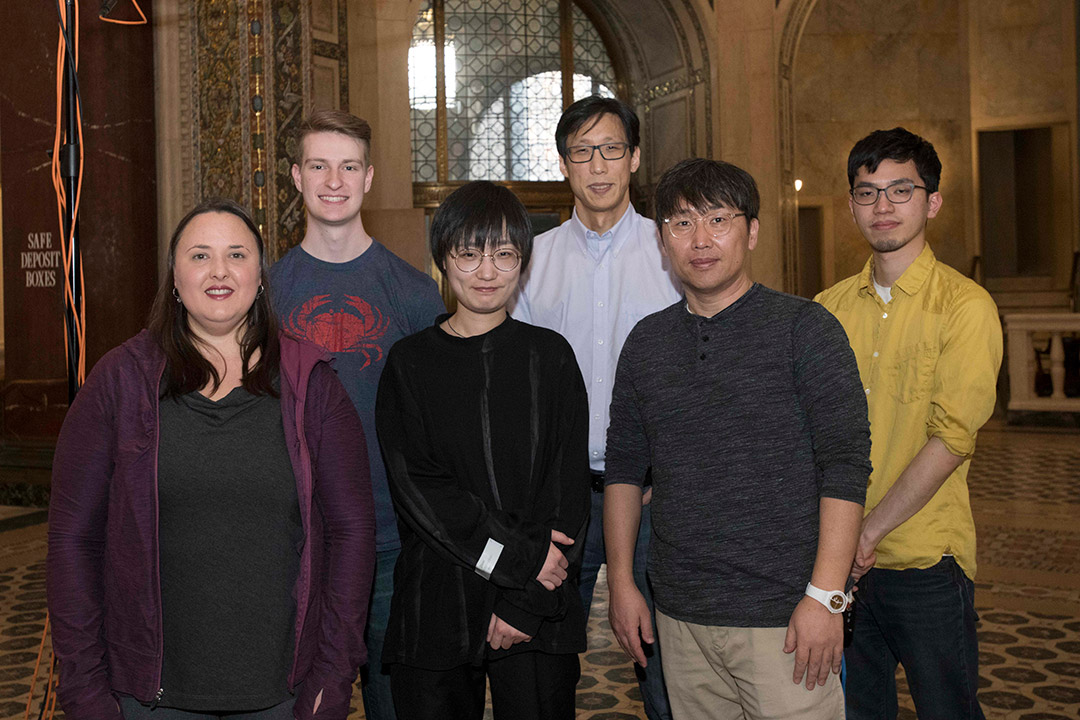 A. Sue Weisler
"Concert halls and auditoriums need this technology to provide performers with various acoustic settings for specific purposes," said Kim. "The technology can 'transform' an auditorium into a preserved church or concert hall venue virtually and instantly. Since, it can be applied for existing spaces, many choose to renovate their acoustics using this technology so that those spaces can be multi-purpose and multi-functional."
Ko agreed. "We wanted to 'excite' a room as much as possible and the room would give us back the information it has. We want to capture those characteristics. We have sophisticated ways to mimic the process with the signals Sungyoung was explaining. We have those kinds of tones we broadcast all over the place and then capture the response of the tones coming back from the walls and ornaments and balconies."
The project focused on auralization rather than visualization of soundscapes so that people can experience the target space even if that space is one day damaged or decommissioned.
Auralization is a process to simulate a unique acoustical environment, or a sound field, in a virtual or physical space. Currently, preservation of images and visual information is a research trend, yet without appropriate auditory information, visual representation of cultural heritage in any format could mislead users. Auralization is equally important to visualization for the seamless re-creation of environments, Kim explained.
"Different sound impressions can be heard — but acoustics also shape behavior in a setting, and we have been looking at some of the reasons why structures are built in certain ways," he said. "Acoustical information shapes experiences. And part of our work is to enhance those experiences and to be able to replicate them should there be a loss."
More results of the preservation work can be found in a recent paper by the researchers.