Team of RIT designers, architects collaborate on Bethel Woods installation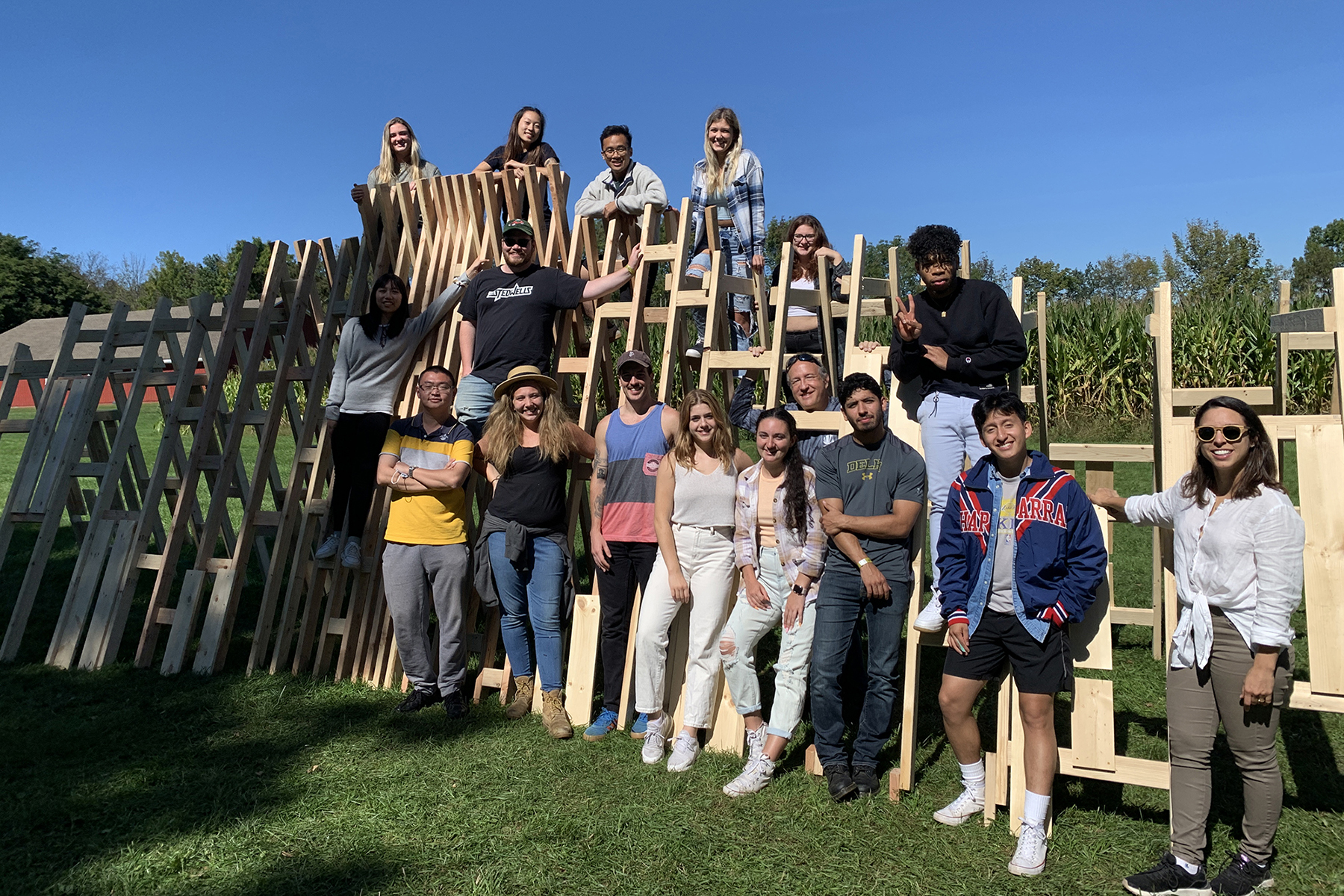 A large installation representing unity during a chaotic time was aptly built by Rochester Institute of Technology students on a site famous for an event espousing peace and love 52 years earlier. 
Last month, a multidisciplinary team of 14 RIT designers and architects trekked out to Bethel Woods Center for the Arts with the task of constructing a large-scale sculpture as part of a Hello Wood USA event. Hello Wood is a global initiative that promotes sustainable design, innovation and the exchange of knowledge through the creation of site-specific installations made of wood. It originated in Budapest, Hungary.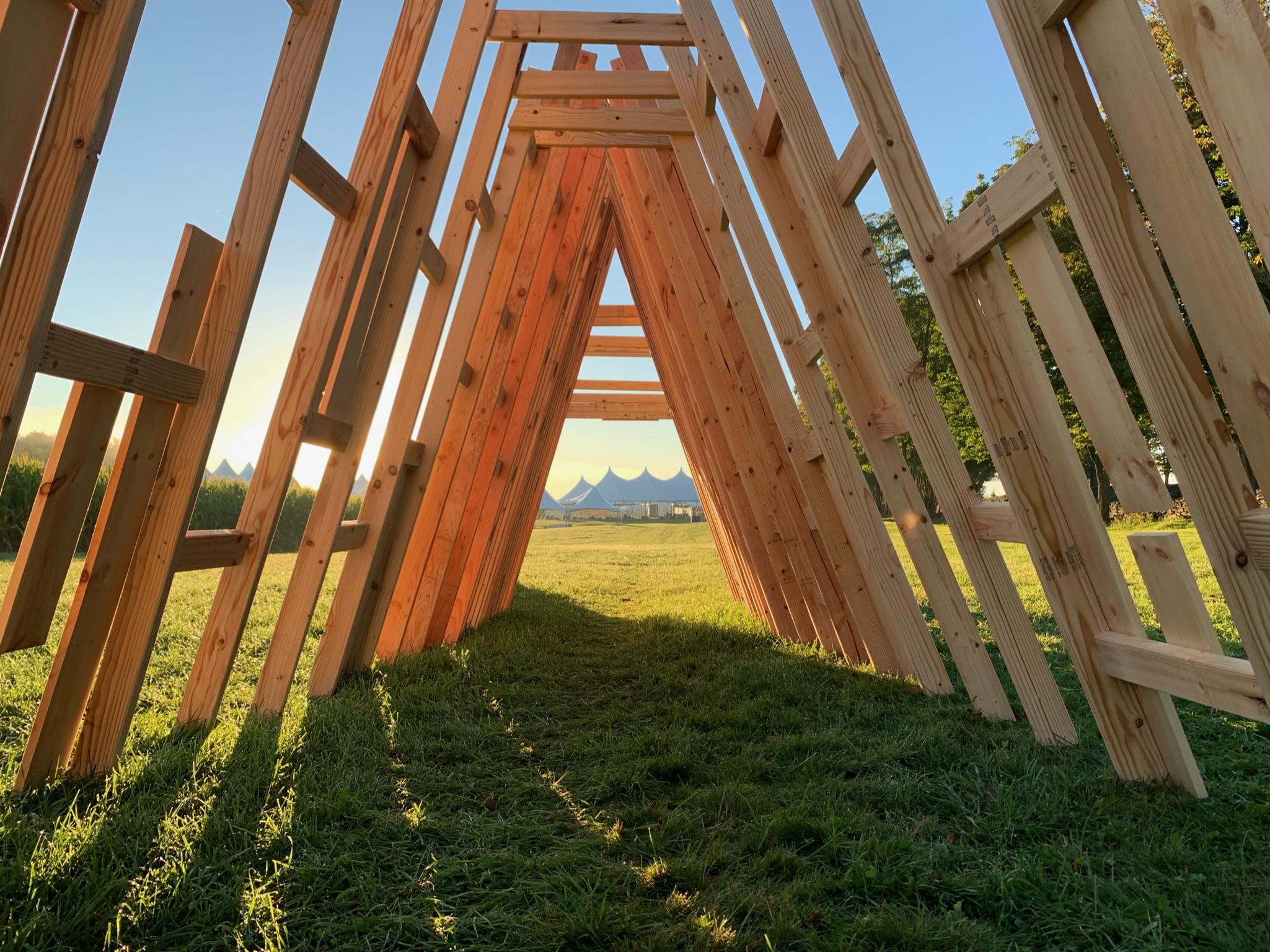 Neal Lucas Hitch
The students from RIT's Industrial Design (BFA and MFA), Interior Design and Master of Architecture programs spent four days on the hallowed grounds of the 1969 Woodstock music festival conceptualizing, planning and installing "Crossed Path." 
The temporary installation — composed of two-by-fours fabricated into side-by-side nail-laminated timber walls connected at the top — illustrates hurdling COVID-19 barriers to communicate and the return of in-person interactions. The triangular structure was on view for part of Bethel Woods' fall festival season, welcoming visitors to walk through the length of it via A-frame entrances. 
Ariel Meltser '22 (Industrial Design) said the interactive design was influenced by the historic festival. A stroll through the Bethel Woods museum, Meltser said, educated the group on the sense of community built during the 1969 event.
"(Woodstock) was always at the forefront of our thinking when it came to the concept of togetherness within our piece," Meltser said. "The more literal translations from the concert can be found in the center section of the installation where the wooden slats cross mimic the silhouette of the tents a lot of people stayed in during the festival. The panels on the outside and the horizontal pieces are meant to mimic a sound wave."
Neal Lucas Hitch
The project was led by Lara Goulart, visiting lecturer in the School of Design, and Kate Johnson '20 MFA (Fine Arts Studio), adjunct faculty in the College of Art and Design. 
RIT Board of Trustees member Andrew Jacobson '90 (Hotel Management), '96 MS (Service Leadership and Innovation) sponsored the project, which also featured a second installation by Syracuse University students and faculty. 
The RIT team found it paramount to address a lack of communication caused by COVID-19. Its design solution was a structure that encourages human interaction — even if it is as simple as people physically crossing paths.
"With everything shifting toward Zoom and people working from home, it has almost become unnecessary to interact with others," Meltser said. "This isolation contradicts human nature as social creatures. Our group saw this as an opportunity to create an interactive structure meant to initiate a situation where people will have to interact. Two people can start at opposite ends of the walkway, but once they meet the center there has to be some interaction."
With such a large group of designers and architects working on a tight deadline, Meltser said there were many different concepts considered. But one common thread existed in all of the ideas.
"The ironic part was that, as we were all struggling to explain our different concepts, the overarching theme everyone was trying to communicate was about creating a space for communication itself to occur," Meltser said. "As we were able to build a strong conceptual foundation and recognize where our lines of thought intersected, the physical representation of that idea came much easier, and what seemed like complete chaos turned into an organized group of people working toward one goal."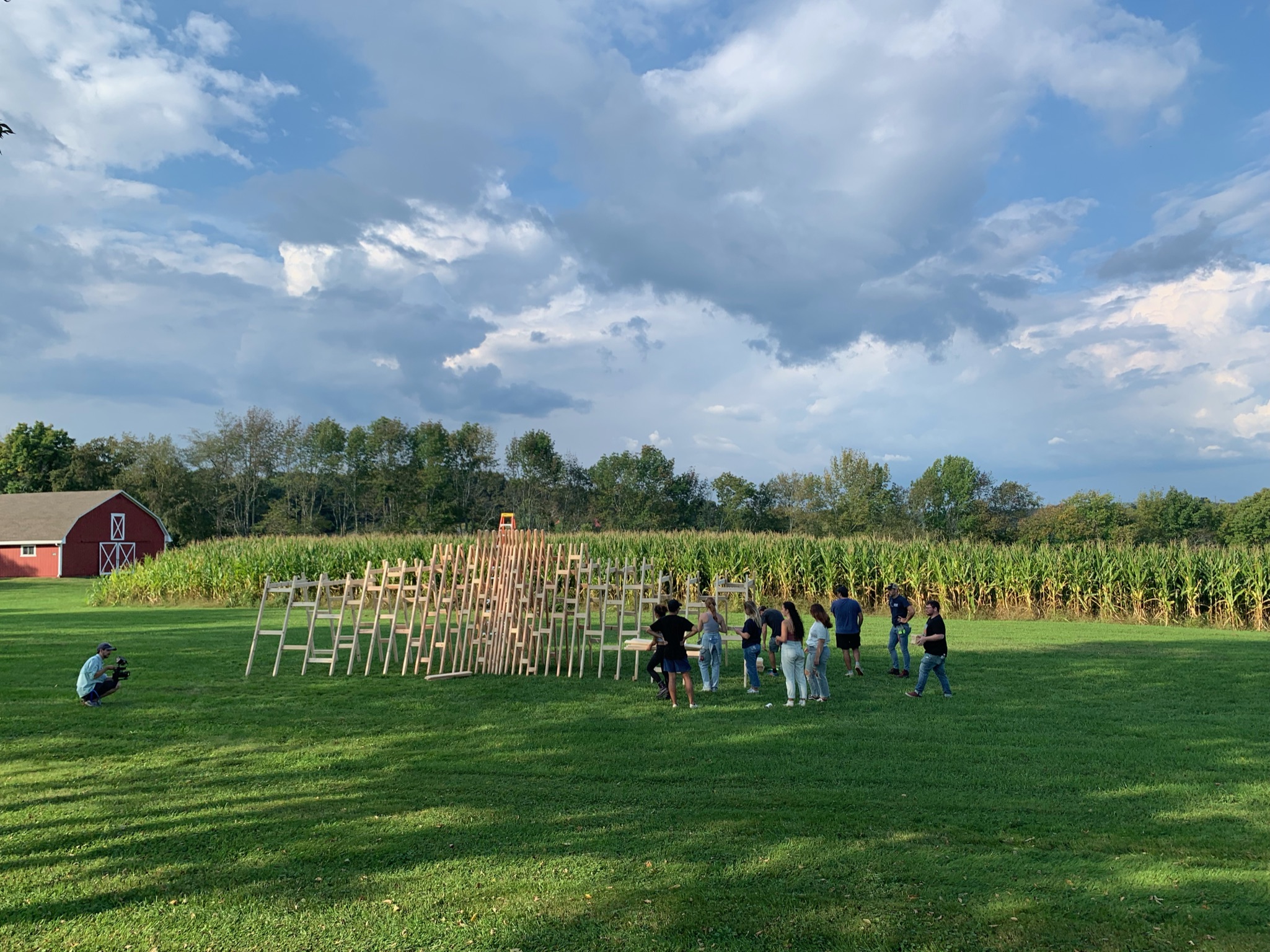 Neal Lucas Hitch
Jacobson said Neal Hitch, senior curator of the Bethel Woods museum, pitched the project idea to Bethel Woods CEO Eric Frances. Hitch and his son, Neal Lucas Hitch, were inspired by their attendance at Hungary Hello Wood events in 2015 and 2016. 
The success of a previous collaboration between RIT and Bethel Woods prompted Frances to engage Jacobson about involving RIT in the Bethel Woods Hello Wood project. 
In 2019, six Motion Picture Science students helped mark the 50th anniversary of Woodstock by curating a museum exhibition, "Hopes, Fears and Expectations," which told the story of the great music festival through interviews with today's youth and the Woodstock generation. That team was led by MAGIC Spell Studios Director David Long and Associate Professor Ricardo Figueroa, Motion Picture Science undergraduate program director.
"A project like Hello Wood is a prime example of how entering the unknown can lead to fruitful and unexpected results," Meltser said. "Taking opportunities like this not only puts your creativity to the test, but also your ability to collaborate with others is unlike any other.
"I left Bethel Woods with new friends, an amazing interactive wooden installation and an expanded worldview. Truly an unforgettable opportunity.