Therapeutic benefits of fly fishing is focus of RIT Press book
RIT emeritus professor Patrick Scanlon finds new meaning in fly fishing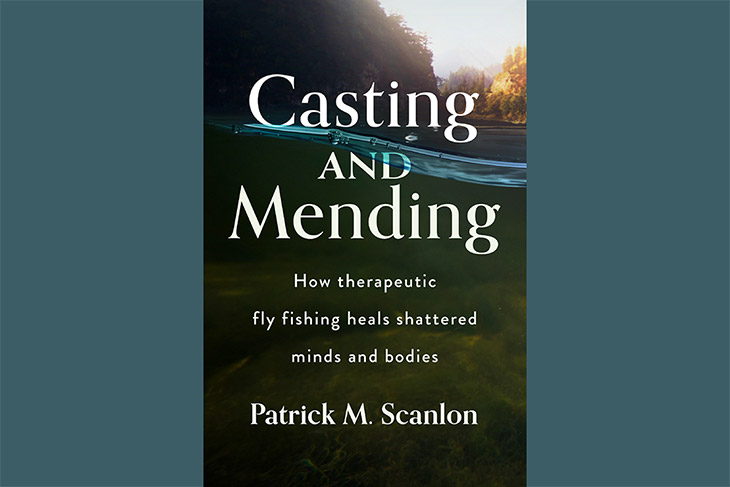 The restorative properties of fly fishing and its ability to ease suffering in people recovering from trauma, addiction, and disease are explored in a new book by lifelong fly fisherman Patrick Scanlon.
In Casting and Mending: How therapeutic fly fishing heals shattered minds and bodies, published by RIT Press, Scanlon considers the physical and emotional benefits and scientific evidence behind claims that fly fishing promotes physical and emotional healing.
Dozens of therapeutic fly-fishing programs in the United States work with breast cancer patients, veterans, and active military members dealing with Post-Traumatic Stress Disorder and physical disabilities, and people in drug or alcohol addiction recovery programs. Scanlon sought out groups with names such as Casting for Recovery, Project Healing Waters Fly Fishing, and Fly Rod Warriors, and got to know the participants, professionals, and volunteers who found solace from the activity and in nature.
Personal stories throughout the book convey the life-changing and life-affirming experience of fly fishing. Scanlon's research offers scientific evidence about the physical and mental health benefits derived from nature and from the optimal experience of the refreshing, self-affirming state known as "flow."
"Casting and Mending may be particularly illuminating for those involved in complementary medicine, as they will learn of another potential treatment for a host of mental and physical conditions," wrote Scanlon, professor emeritus in the School of Communication at Rochester Institute of Technology. "I hope they will see therapeutic fly fishing as an opportunity to expand their toolkits."
Scanlon volunteers as a river worker for Casting for Recovery, which offers free retreats for women with breast cancer.
To purchase a copy of Casting and Mending: How therapeutic fly fishing heals shattered minds and bodies, contact RIT Press 585-475-5819 or at ritpress@rit.edu.
Topics