RIT/NTID and Garth Fagan Dance announce working partnership
Student co-ops, new classes, and gaming/film animation collaboration possible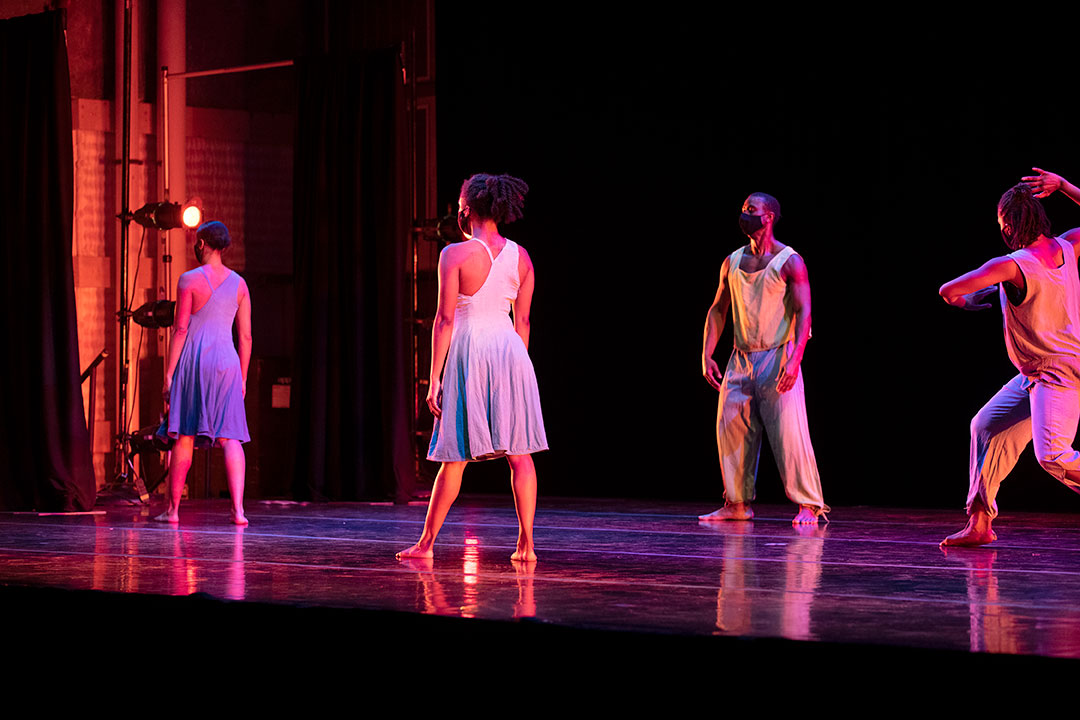 Rochester Institute of Technology and its National Technical Institute for the Deaf have announced a partnership with Garth Fagan Dance for a "cooperative-creative-connection" to begin Aug. 1.
Garth Fagan Dance, in its 50th year, is an internationally acclaimed contemporary American dance company based in downtown Rochester. Its founder, Garth Fagan, 80, may be best known for his Tony and Olivier award-winning choreography for Disney's The Lion King.
Photo Gallery
A photo gallery from the Garth Fagan Dance "NY PopsUp" performances on Feb. 21 is available.
"We're extremely excited about the Garth Fagan Dance-RIT/NTID Cooperative-Creative-Connection, an innovative, interactive academic and artistic partnership to enhance and expand the educational experience through the intersections of technology, science, design, and performing arts," said Thomas Warfield, RIT's director of dance. "Through the abstraction of movement, modern dance translates how we see the world and our place in it, what we think and how we feel."
"The opportunity to traverse the nexus of technology and the arts will help demonstrate how the creativity that has produced 50 years of world class dance can affect dance and technology for years to come," said William J. Ferguson II, acting executive director for Garth Fagan Dance.
Some online or in-person courses may be taught by members of Garth Fagan Dance, and resources such as rehearsal space, mentoring, and expertise may be shared.
The partnership will allow collaboration for mutual projects which may include:
Social justice outreach: Exploring the use of dance and the performing arts as tools in examining issues surrounding social justice.
Community outreach: Increasing the access to dance and the performing arts for students in the Rochester City School District.
Gaming/film animation: Exploring opportunities to integrate dance and technology, such as 3D animation, virtual reality, video game design, etc.
Innovative dance curriculum: To be jointly developed and implemented at NTID.
Music programming collaboration: Involving Garth Fagan Dance and RIT's College of Liberal Arts with a focus on African drumming, jazz ensemble, steel drum band, etc.
Multi-disciplinary design: Exploring opportunities to integrate Garth Fagan Dance into other areas of RIT curricula, especially those that combine technology, the arts, and design.
Student co-op opportunities: Employing RIT students in the area of arts business and arts management at Garth Fagan Dance.
Warfield said NTID is specifically identified in the partnership because NTID is where RIT's dance program and lab is based.
This is the latest formal partnership RIT has established recently with area organizations. Other partnerships have been made with the Seneca Park Zoo Society and Genesee Country Village & Museum. Garth Fagan Dance has worked on various projects with RIT since the 1970s including RIT's School of Film and Animation.
RIT Provost and Senior Vice President for Academic Affairs Ellen Granberg signed the memorandum of understanding just prior to three shows Garth Fagan Dance gave Sunday at RIT in a state-sponsored NY Pops-Up event to promote artists, many who have been struggling during the COVID-19 pandemic.
Warfield said more than 500 RIT students are currently involved in dance classes and clubs, and that number is likely to grow with the partnership and RIT's performing arts scholarships. Having professional dancers involved in teaching students will also make it easier to develop a dance minor at RIT once curricular enhancements and reviews are studied. He said an informal survey of RIT students involved in dance revealed 70 percent wanted to have dance connected in some way to their majors.
"The students are already thinking about this and they want dance to have some purpose for them beyond the dance studio," Warfield said. "This is why we need to codify these experiences. I believe this will reinvigorate the students who have been wanting to blend dancing with other disciplines."
Warfield and RIT/NTID have already had success merging modern dance to science. AstroDance was an original production of Warfield's funded by the National Science Foundation combining dance, astrophysics, multi-media, sound and computer simulations. It toured the country, telling the story of the search for gravitational waves.
"After our performances when we paired science and dance together, we got a lot of questions from the audiences," Warfield said. "The people there who loved dance were interested to know more about science, and the people who came because they loved science wanted to know more about dance."
Warfield hopes to develop more interdisciplinary projects involving dance, science, and technology, and have courses developed for students as a result of those innovative projects.
"That would put us in a unique place for dance," he said.
Topics