Accounting and Financial Analytics Advanced Certificate

Accounting and Financial Analytics: Online
Advanced certificate
Online Admissions Contact
Karen Palmer
, Associate Director Combined Accelerated Programs
---
A graduate credential driven by real-time employer demand
Accounting and financial analytics jobs will grow 15% by 2026, nearly triple the overall labor market. Employers need accounting and financial analysts to help make data-driven financial decisions, improve processes and profits, and solve their most pressing finance problems.
The business analytics job market
245%
Demand Growth for Blockchain
Program Highlights
Developed and taught by RIT's esteemed Saunders College of Business faculty, the advanced certificate in accounting and financial analytics provides knowledge in data science and statistical analysis so accounting and finance professionals can mine and analyze data to improve business strategy, operations, and outcomes.
Designed for working professionals studying part-time, you may complete this graduate certificate in 12 months. The online curriculum and faculty are identical to the on-campus program, and online students receive the same distinguished certificate. The analytics courses offered focus on a variety of applications across various business disciplines.
Curriculum
ACCT-745
Accounting Information and Analytics
Credits 3
The objective for this course is helping students develop a data mindset which prepare them to interact with data scientists from an accountant perspective. This course enables students to develop analytics skills to conduct descriptive, diagnostic, predictive, and prescriptive analysis for accounting information. This course focuses on such topics as data modeling, relational databases, blockchain, visualization, unstructured data, web scraping, and data extraction.
FINC-780
Financial Analytics
Credits 3
This course provides a survey of financial analytics applications in contexts such as investment analysis, portfolio construction, risk management, and security valuation. Students are introduced to financial models used in these applications and their implementation using popular languages such as R, Matlab, and Python, and packages such as Quantlib. A variety of data sources are used: financial websites such as www.finance.yahoo.com, government sites such as www.sec.gov, finance research databases such as WRDS, and especially Bloomberg terminals. Students will complete projects using real-world data and make effective use of visualization methods in reporting results. There are no pre or co-requisites; however, instructor permission is required – student aptitude for quantitative work will be assessed; waived for students enrolled in quantitative programs such as the MS-Computational Finance which have pre-requisites in the areas of calculus, linear algebra, and programming.
MGIS-650
Introduction to Data Analytics and Business Intelligence
Credits 3
This course serves as an introduction to data analysis including both descriptive and inferential statistical techniques. Contemporary data analytics and business intelligence tools will be explored through realistic problem assignments.
Choose one of the following:
BANA-680
Data Management for Business Analytics
Credits 3
This course introduces students to data management and analytics in a business setting. Students learn how to formulate hypotheses, collect and manage relevant data, and use standard tools such as Python and R in their analyses. The course exposes students to structured data as well as semi-structured and unstructured data. There are no pre or co-requisites; however, instructor permission is required for students not belonging to the MS-Business Analytics or other quantitative programs such as the MS-Computational Finance which have program-level pre-requisites in the areas of calculus, linear algebra, and programming.
MGIS-725
Data Management and Analytics
Credits 3
This course discusses issues associated with data capture, organization, storage, extraction, and modeling for planned and ad hoc reporting. Enables student to model data by developing conceptual and semantic data models. Techniques taught for managing the design and development of large database systems including logical data models, concurrent processing, data distributions, database administration, data warehousing, data cleansing, and data mining.
A foundation for the MS in Business Analytics
With your advanced certificate in accounting and financial analytics, the MS in Business Analytics is within your reach. The 12 credits/four courses will count toward the master's degree.
Admission Requirements
Hold a baccalaureate degree (or equivalent) from an accredited university or college
Submit official transcripts (in English) of all previously completed undergraduate and graduate course work
Have a minimum cumulative GPA of 3.0 (or equivalent)
Submit a personal statement
Submit a current resume or curriculum vitae
Submit two letters of recommendation from academic or professional sources
International applicants whose native language is not English must submit scores from the TOEFL, IELTS, or PTE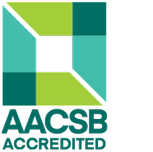 RIT's Saunders College of Business is accredited by the AACSB, the premier agency which defines quality standards for business programs.
Certain countries and individuals are subject to comprehensive embargoes under US Export Controls, which prohibit virtually ALL exports, imports and other transactions without a license or other US Government authorization. Individuals applying for online study who are subject to these embargoes will be notified during the application process.