Bioinformatics: The Intersection of Biology and Computer Science
February 12, 2021
Spencer Richman '20 (bioinformatics)
Faculty: Andre Hudson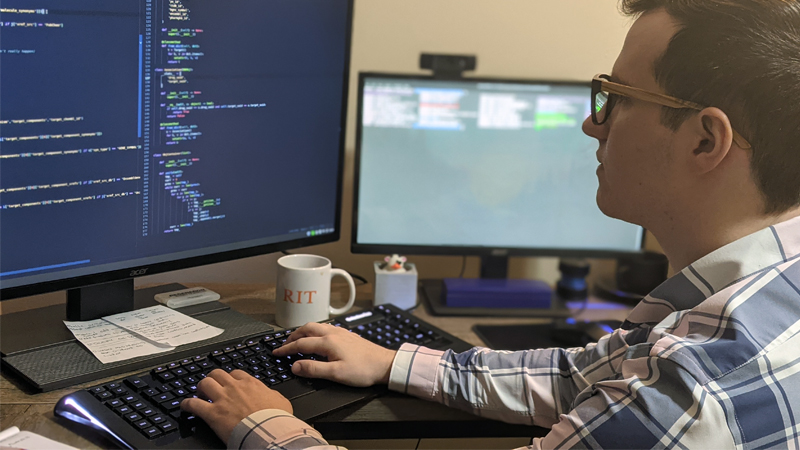 Spencer Richman '20 (BS/MS bioinformatics) was convinced he wanted to be a genetic engineer. The thought of getting trained to manipulate DNA and develop new and improved living organisms was appealing. But with an interest in computer science, Richman discovered that he could help in another way, through bioinformatics.
Bioinformatics is a rapidly growing field at the intersection of biology and computer science. In a world full of data, there is a need for people with a life sciences background who can also analyze the big data collected by the health industry.
Many RIT students are exposed to bioinformatics through their lab work, even if they aren't bioinformatics majors. For example, Dr. André Hudson's genomics course conducted a semester-long study about antibiotic-resistant bacteria found on smartphone screens. Richman was among those students who did more than just perform an experiment:
"While working on this project, we learned the intricacies of genomic research, ranging from experimental design, to sample preparation, to bioinformatics analysis of the resulting data, and finally to the writing and peer-review process."
Every student in the class became a co-author of the publication, Selfies and CELLfies.
In addition to his valuable in-class research experience, Richman took advantage of the Research Experiences for Undergraduates (REU) program at Boston University the summer after his second year. He said it was a unique experience because there was a structured learning component. He was assigned to a lab where he completed a research project and presented his work at a conference.
"While my project was focused on metabolomics in a systems biology lab, we also had days where we took crash courses in various programming languages, and skills such as resume creation," said Richman.
Confident this was the right career path, Richman enrolled in the BS/MS bioinformatics program available at RIT to earn valuable credentials to earn two degrees in less time. RIT offers dozens of combined bachelor's and master's degrees as accelerated pathways where you can earn two degrees in less time than it would normally take to complete bachelor's and master's separately.
With a master's degree and research and REU experience on his resume, Richman found himself more competitive over students from other universities who didn't have the same qualifications upon graduation. He credited the overall community at RIT to be a contributing factor to his success:
"I found RIT, and especially the College of Science, to be a very tight-knit community with a supportive environment, not competitive. Professors want their students to succeed and students want their peers to succeed." - Spencer Richman
Today, Richman is a researcher at the Center for Clinical Systems Biology at Rochester General Hospital, studying the application of systems pharmacology to chronic illnesses. His work focuses on the integration of pharmacological databases with drug target information derived from computational models of biological signaling at the intracellular and cellular levels as they apply to various complex chronic immune and endocrine disorders.
---