Researching The Health of Our Freshwater Ecosystems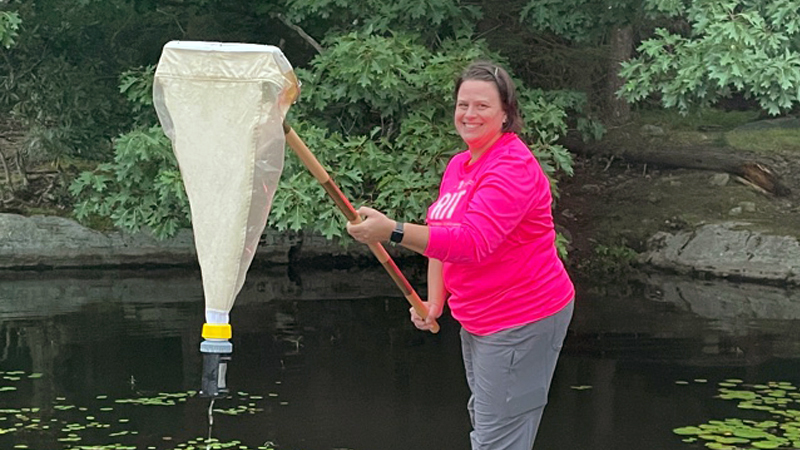 Studying freshwater ecosystems and the impacts of people and climate change on the health of these systems can be very challenging. By understanding at least some of the effects, we can begin to predict future changes in these sensitive systems. But research is pointless without dissemination; that's why Sandi Connelly, principal lecturer in the Thomas H. Gosnell School of Life Sciences, is helping her students and others understand freshwater ecosystems one conversation at a time.
"In my ecosystem work, I am often disseminating information to individuals about the health of streams, ponds, and lakes that support their interests – boating, swimming, fishing, hunting, and other recreational activities."
Dr. Connelly and her research group get the opportunity to educate people as they toss nets into the water to collect invertebrates. People often approach them and ask what they are doing. People are usually concerned that water testing is being conducted which could lead to shutting down their swimming or fishing. Dr. Connelly takes every opportunity she can to talk to people about the lake's health and why it is so important locally, regionally, and globally. She lets them know that their actions matter and what they do in the future can make a difference in the world.
Why biology? Why not? Biology was front and center for Dr. Connelly from a very young age. She was always interested in science, but biology in particular since her Mom was a nurse. Her first dissection was a cow eyeball at the age of 2! Biological systems surround us, and they are constantly changing. The field is not only omnipresent, but it is a field that many can grasp and apply to their everyday lives. Dr. Connelly finds it particularly inspiring to help others find the importance of biological sciences related to themselves.
"Being able to both teach and conduct research with students in such a variable field - I cannot imagine doing anything else! Working with my colleagues and students in an environment that allows mistakes, fosters growth, and changes the life-potential of so many is an enriching career."
When asked about working for RIT and the College of Science, Dr. Connelly said she enjoys the freedom and flexibility. She finds being involved on campus and working with new people leads to learning new things and having the opportunity to share ideas.
Dr. Connelly also has some very good advice for students pursuing a career in science or math.
Be open to change.
What you love today, you may or may not love tomorrow – and that is OK! Don't think you have to study one thing and like it for the rest of your life. Unless you do like it, but for most people, it doesn't work that way.
 
Opportunities change, funding changes, life changes.
Learn how to problem-solve, and you can study anything. Learn how to dive into literature to find answers to your fundamental questions. Write your contributions to the literature to answer the new and exciting questions in your head. You may give up on some things and leave them behind for many reasons, but if you were meant to work on it, it will come back to you.
 
Do not close any doors.
You may need to go back through and see what you left undone and discover now is the time to complete it.
"We do not all have the same dreams in life, but our dreams make us who we are. You have to fight for your dreams because no one else knows them as well as you. Keep fighting for your dreams and you will always find your way."
About the Connelly Lab
The Connelly Lab is an aquatic ecology lab with a focus on anthropogenic and natural stressors in freshwater systems. It is a relatively small lab group with extensive collaborations within RIT in chemistry, sustainability, and engineering, and outside of RIT.
Her current research projects include:
Anthropogenic impacts on freshwater ecosystems
Isolation of natural yeasts for distilleries
Invasive invertebrate predators in permafrost melt ponds in Alaska
UV-induced DNA damage in freshwater invertebrates
Interactions of soil condition and plant health in CubeSats (near-Earth orbit) as a stepping stone to long-term plant growth in space
Students are encouraged to contact Dr. Connelly if they are interested in her research.
---