From RIT to PharmD: It's More Than Filling Prescriptions
March 22, 2021
Joy Snyder '13 (biochemistry)
Faculty: Lea Michel
"RIT fed my innate curiosity to learn more," said Joy Snyder '13. She graduated with a degree in biochemistry and took full advantage of RIT's business and liberal arts programs. Today she applies those science, communications, and organizational skills as the Chief Pharmacist of the Monroe County Department of Health.
As a biochemistry major, Joy worked in Dr. Lea Michel's lab from 2009-2013, applying what she learned in the classroom to real science. She also attended national conferences and presented and published her research. Joy pursued her other interests through minors in Deaf cultural studies and business. This diverse education at RIT set her up for success in her role in public health. Now she has science skills, can communicate with deaf and hard of hearing people who come to the clinics, and better understand organizational behavior and management.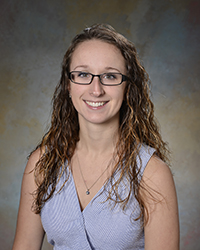 "I had a fantastic experience at RIT. The opportunities offered by the college are numerous," said Joy.
After RIT, Joy continued to combine disciplines at St. John Fisher College. She enrolled in the Pharm.D. program and participated as a public health fellow. This unique opportunity allowed her to focus on public health research projects as part of her pharmacy program. She worked on chronic care disease management for patients at the Anthony Jordan Health Center, corporate projects and integrative medicine with Wegmans, and spent time at the Monroe County Department of Health. Joy was more than ready to be on the front lines when COVID-19 hit.
As the Monroe County Department of Health's Chief Pharmacist, Joy oversees, creates, and manages policy and procedures for all medications and vaccines within the department. Currently on special assignment for COVID vaccination efforts, Joy's regular tasks include training others on proper handling and preparation of the COVID vaccines, inventory maintenance of the department's vaccine and supplies, and vaccine reporting. She also coordinates outreach and distribution efforts so that more community members can receive the vaccine.
"Pharmacists do more than fill your prescriptions at a local pharmacy."
Joy recommends that people interested in pharmacy school should shadow a local pharmacist and learn about the many different sides of being a pharmacist. She notes that pharmacists are involved with ambulatory care, hospital care, insurance contracts, specialty medications, long-term care, research and development, public health (her personal passion), and many other aspects. Joy also felt that her biochemistry degree from RIT prepared her well for pharmacy school. She had a great understanding of the body's molecular and chemical processes, which laid a great base for pharmacy school.
"The path you choose after you graduate, whatever it may be, will only be strengthened by the education that RIT provides."
---