From Summer Intern to Imaging Scientist at Imatest, LLC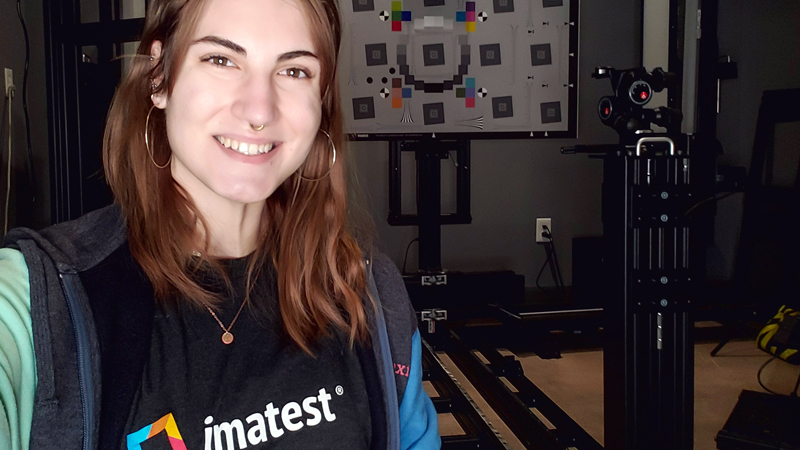 Throughout her childhood, Meg Borek '22 was intrigued by science and driven by curiosity. A self-proclaimed 'jack-of-all-trades', she signed up for every elective in high school while teaching herself new skills in her spare time. When examining colleges, she chose RIT initially for the multidisciplinary Motion Picture Science program which would allow her to blend science, engineering, film, and animation. Once at RIT, she found her true passion in the exciting field of imaging science. With this program, Meg was able to bring together both her engineering and computer science interests to solve real-world problems in innovative ways. Now, she is an Imaging Scientist at Imatest, LLC in Boulder, Colorado.
During her first year at RIT, Meg took several imaging science courses as part of the Motion Picture Science curriculum which included the Freshman Imaging Project where students research, design, and build a functional imaging system from scratch. Meg's team built an ultraviolet multispectral imaging system that ultimately revealed hidden 15th-century text on medieval manuscripts. Their discovery received national attention in 2020.
"There's no other program where I would have an opportunity like this, which is why I transferred into imaging science. Since day one, it has immersed me in boundless applications of imaging research that impact every single aspect of our daily lives. People often think of cameras and photographs or cellphone displays, but imaging science is also used in space exploration, national defense, remote sensing, automotive industries, and agriculture. Imaging science combines some of the most exciting scientific and technological advances happening in our world right now."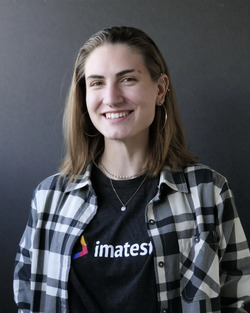 The imaging science program encourages and supports students to leave campus for co-ops and internships as part of their studies. Meg knew that a co-op would give her real-world experience and expand her network. "It's never too early to network! I owe my summer internship to my imaging science professors and the RIT alumni who work at Imatest. Actually, many Imatest employees are graduates of RIT's imaging science and photographic science programs, so I was already familiar with the company. My professor put me in contact with an alum who worked there, so I sent my resume over. Within a couple of weeks, I had an interview and had secured an internship."
Imatest, LLC is a small company with a big impact on the imaging industry. A leader in image quality testing with efforts that combine imaging science, computer science, physics, electrical, and mechanical engineering. The company has partners across a variety of industries, including automotive, mobile, consumer electronics, security, aerospace, and medical. It provides tools, resources, and knowledge to test many imaging systems, from satellites to camera phones, in visible light or infrared.
As an imaging science engineer intern, Meg spent most of her time on software development and testing while working with camera and lighting equipment in the labs. "My project was to implement a standard for characterizing image sensors, which included both hardware and software tasks, including lab setup, capturing data, and writing analysis code. I worked with some amazing engineers (many of whom are RIT alumni) with backgrounds ranging from imaging science, physics, mechanical engineering, and computer science."
Meg said she enjoyed everything about her internship, especially her new skills in software and product development, image capture, and hardware automation. She also strengthened her teamwork and collaboration skills. "The small size of the company gave me a unique opportunity to get involved with multiple teams. I worked with the equipment and cameras in the test lab, while writing code for software alongside the development team. I even designed customer hardware with the mechanical engineering team."
The best part of Meg's internship was that it led to her new position as an Imaging Scientist at Imatest, LLC after graduation. Now, she designs and implements test plans for the Imatest software compliance for the characterization of imaging sensors. Meg is also involved in the automation of workflows for data capture and analysis as well as the characterization of cameras and image sensors for use by Google Street View.
For students seeking internships, Meg suggests they step out of their comfort zone. "Don't be afraid to network or hesitant to apply. And most of all, don't be afraid to fail. I applied and interviewed at other companies before Imatest without success. I had a technical interview with a company that was my first choice, and it didn't go well. But now, I can't imagine being in any other position than where I am now."
Meg also said there's always something to learn from an internship, even if you don't like the position. "During the summer after my sophomore year, I worked for MathWorks as an engineering intern, and while it was an amazing company to work for, it wasn't for me. And that's okay too! It's just as important to learn what you don't like as it is to learn what you do."
---