Alumna's career defined by contributions to pioneering 3D technology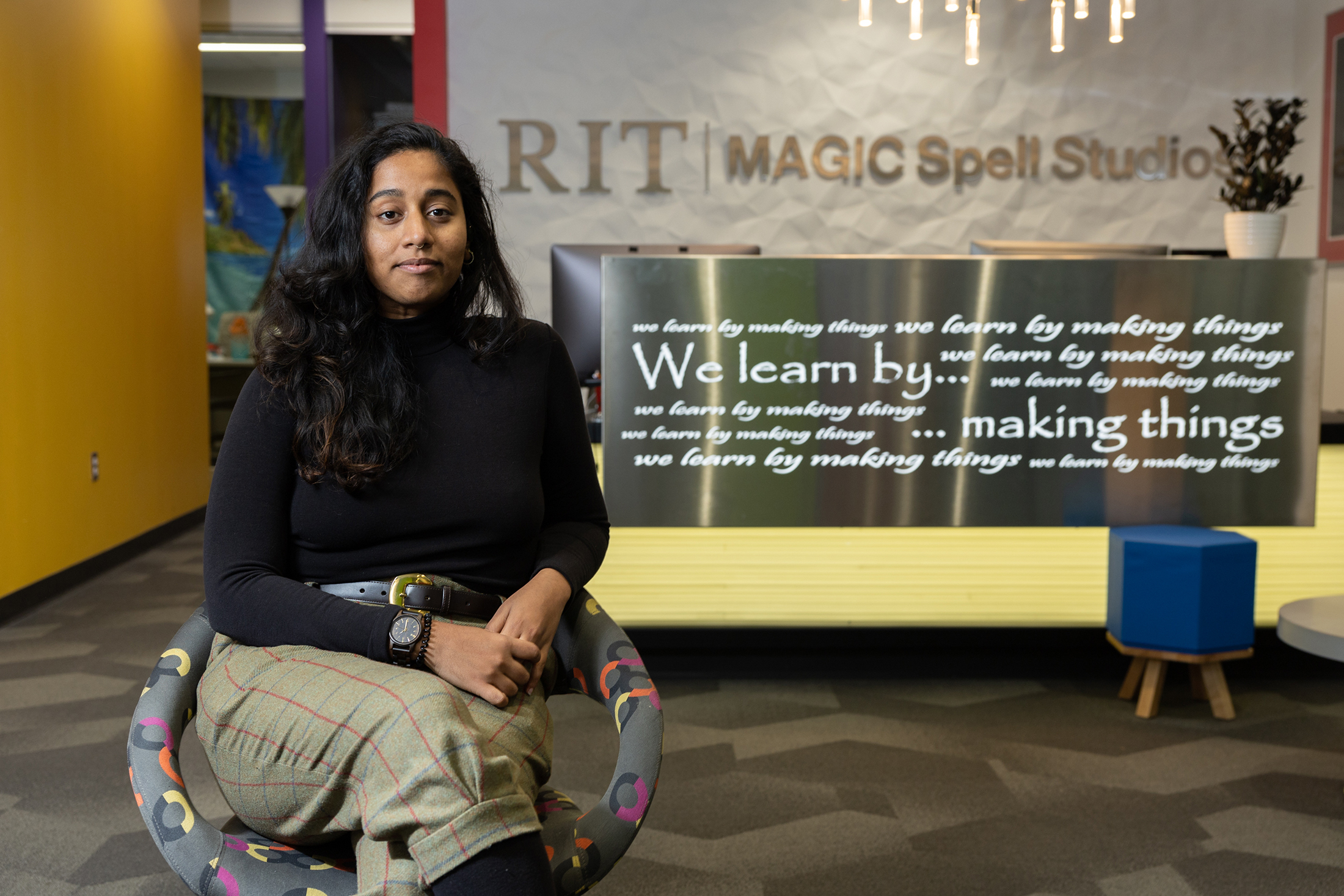 Tish Khan '17 (3D digital design) has grown comfortable "working in unknowns," as she calls it. 
Her career has been marked by contributions to pioneering 3D technology that is shaping the future of the industry. 
The London-based Khan is an art manager for the Workrooms team at Meta (formerly Facebook). Workrooms is a virtual reality office environment where remote colleagues can interact and collaborate in a more present way using cutting-edge tools.
"You have a lot of room to experiment, a lot of room to fail, but you have a lot of room to just learn," Khan said. "This hasn't been defined before. And even my job before this was completely ambiguous, and the job before that was ambiguous. The ambiguity is what I find attractive."
Khan has worked with several new and innovative technologies on the ground floor. 
At RIT, she completed a co-op with Lytro, a company responsible for the first commercial light-field camera. After graduating, she accepted a full-time position with Lytro, eventually acquired by Google. 
Working with technology few others have been exposed to presented challenges that fostered Khan's professional growth and curiosity.
"It gave me the platform to feel comfortable saying I don't know something," she said. "That's something young professionals need to learn fast, just saying 'I don't know, but I'll go find out.'"
Khan then moved on to Amazon, where she was a 3D specialist in the development of AR View, an augmented reality capture and playback tool that enables users to realistically visualize furniture, decor and appliances in their home. Following an internal transfer to London, Khan became a 3D imaging operations technical director at Amazon. 
Khan's background also includes a stint as creative technology manager at media and entertainment company Outernet Global. There, she worked with a revolutionary technology called virtual production, which blends filmmaking, 3D graphics, computational photography and real-time game engine rendering to produce in-camera visual effects. She deployed the technology in an unprecedented way, using it in coordination with live events and interactivity on the world's largest indoor LED screens.
RIT is also immersed in the use of virtual production through MAGIC Spell Studios.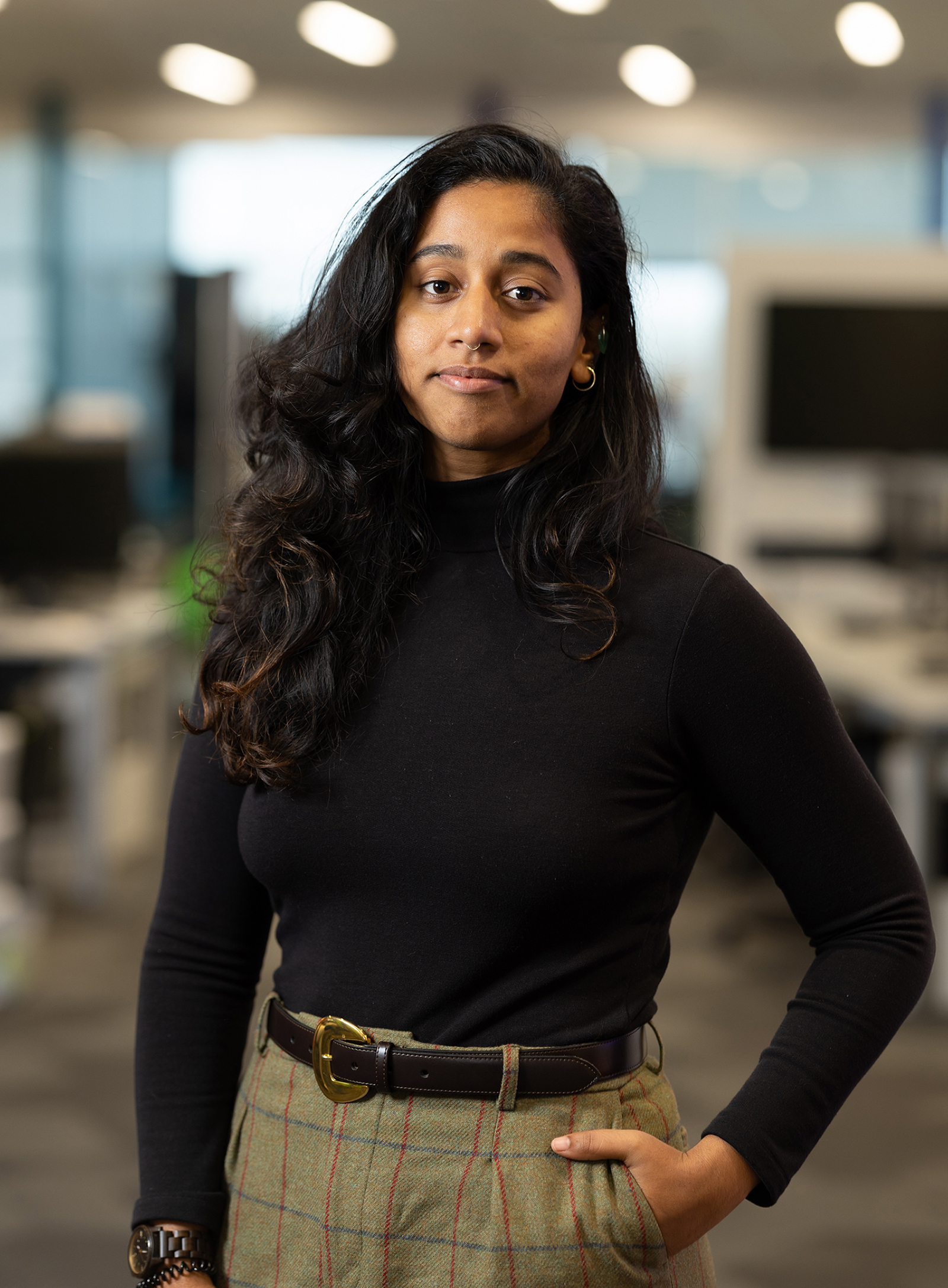 Quinn Freidenburg '24
Khan said she never set out to focus on one specific area of the field. Her penchant for being on the frontlines of new 3D-relevant technologies motivated her to help define what's next within the field.
"I graduated when I needed to," Khan said. "It worked out because a lot of technologies are currently established. I'm lucky since I get to still work on that core stuff."
Khan made her way to RIT from her native Trinidad and Tobago. 
Even as a student, she was drawn to testing the waters of new technologies. RIT's 3D digital design program, she said, encouraged the open-ended exploration she sought when looking at colleges. 
"It was the best four years of my life," Khan said of RIT. "I could do whatever I wanted with it — there were just guide rails. It was a safe space to experiment. Use the time and space to do as much as you want, fail as quickly as you want, and document it really well."
Khan routinely incorporated emerging workflows and technology into her projects at RIT. In fact, she said she even had a direct line to provide feedback on brand-new Quixel software she was using as a student. 
One of the most influential classes Khan took was Lighting, Materials and Rendering with Assistant Professor David Halbstein, whose lessons still resonate today. The course is a direct cause of Khan's ability to communicate fluently with engineers as well as the systems-based thinking she has since employed.
"The framework for material architecture taught me systems architecture," Khan said of the class. "From then on I thought about everything in a systems architecture way. When I started picking up new technologies, it was more about, where does this fit in the current process? That class taught me how to think about everything from deciding on feature sets for new technologies to managing people."
Topics