Alumni duo wins Nikon's prestigious photomicrography competition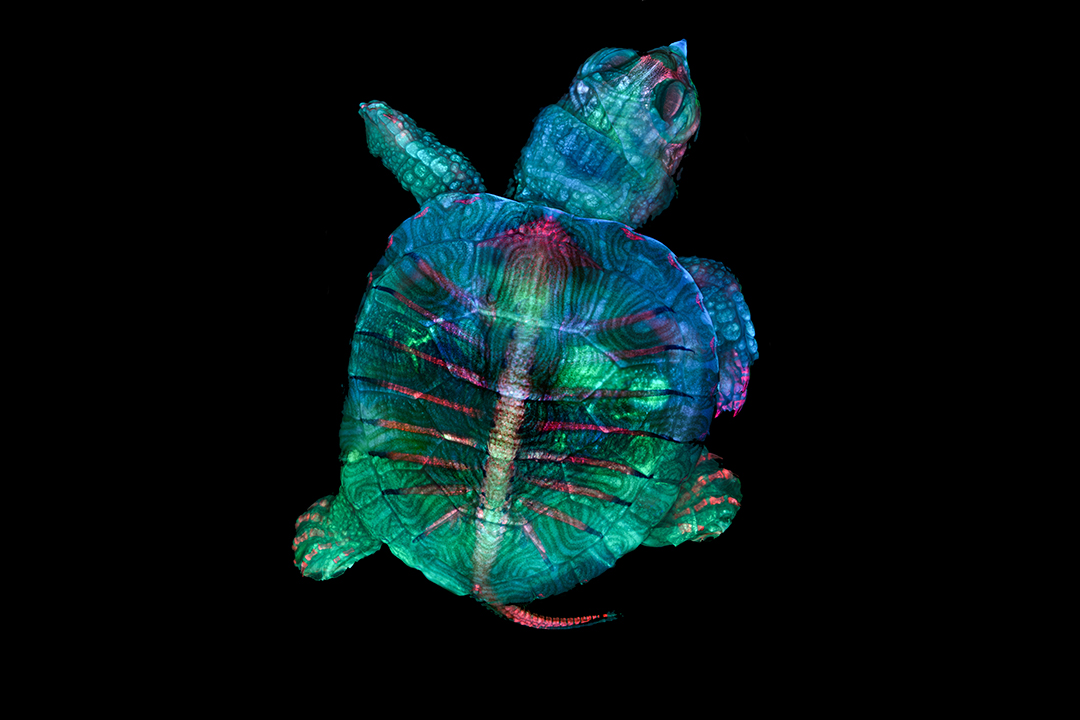 Teri Zgoda '17 and Teresa Kugler '19
Two graduates of RIT's Photographic Sciences program teamed up to make a spectacular image that garnered major recognition in a competition featuring leading scientists, artists and researchers.  
Teri Zgoda '17 and Teresa Kugler '19 captured a stunning photomicrograph of a fluorescent turtle embryo, earning first place in Nikon's 2019 Small World. The competition is regarded as the leading forum for showcasing the beauty and complexity of life as seen through the light microscope. It's a competitive showcase, as entries come from esteemed professionals all over the world.
Zgoda and Kugler produced the image while assisting an embryology course at the Marine Biological Laboratory in Massachusetts, where they were stationed as interns for optical systems manufacturer Zeiss.
The course focused on teaching how to skeletal prep embryos, putting them through a series of washes and stains to dissolve soft tissue and stain cartilage and bone. Zgoda and Kugler were able to participate in an exercise where they created their own embryo and photograph any that were left behind. After taking turns using the microscope to photograph the embryos, they had a handful of species to choose from — with the fluorescent turtle embryo ultimately being a lucky winner. 
For this particular embryo, Kugler did the photography while Zgoda performed the image-stitching, piecing together dozens of smaller images to make the final photo.  
"It feels incredible," Zgoda said of the 2019 Nikon Small World honor. "You look at all the other people who placed, and they are all doctorates or high-level researchers, and here you have us, two kids recently out of college."
Despite only being a couple years removed from RIT, Zgoda has been a regular honoree in the annual photomicrography competition that attracts submissions from professionals with decades of experience. She took fourth place in the 2017 contest and in 2018, she entered images that were recognized in both the honorable mention and Images of Distinction categories. Today, Zgoda works in the neurology department at Brigham and Women's Hospital in Boston, Mass. 
Below is a Q-and-A with Zgoda about her award-winning collaboration with Kugler. 
Question: What was the process for capturing such a striking image?
Teri Zgoda: "It probably took a few hours. Teresa Kugler was the one doing the photography for this embryo. She had the embryo in a cell dish, and using the lowest mag possible would select a portion of the embryo to photograph. There are 28 tiles/areas that were photographed that I stitched together to create a panorama in Photoshop. For each section, she would find where the subject began to be in focus, and where it started to go out of focus and set those points. The Zeiss software would then automatically move through these Z steps, taking a picture at multiple focal planes. I took these individual files and put them through Zerene Stacker (software) to create a single image with everything in focus."
Q: What is the importance of a photo like this, and how do you see photomicrography's role in science? 
TZ: "This image is important because it's an image of a common creature photographed in a way almost nobody has seen before. Everyone knows what a turtle looks like, but I bet they've never thought of what their bone structure looks like, or how it can be dyed to fluoresce in such fascinating colors. It can inspire young people to go into a scientific field, and hopefully yearn to create beautiful images like this and all the others submitted to Nikon Small World. 
"Photomicrography is extremely important in scientific research. Getting a good, quality image can lend so much information to the scientific community. An image is easy to share and easier to absorb information than an entire paper."  
Q: What was your experience like at RIT, and how did it prepare you for a career?
TZ: "I thoroughly enjoyed the Photographic Sciences program. We had so many creative and unusual assignments and classes that were offered, such as surgical photography and underwater photography. I liked being challenged to take photographs in a scientific way; it blended my love for art with my love for science. I had skills in many different departments coming out of RIT, with many choices of where I could go and what I could end up doing."
Topics