Artist series brings exhibitions, sculpture, artist engagement to campus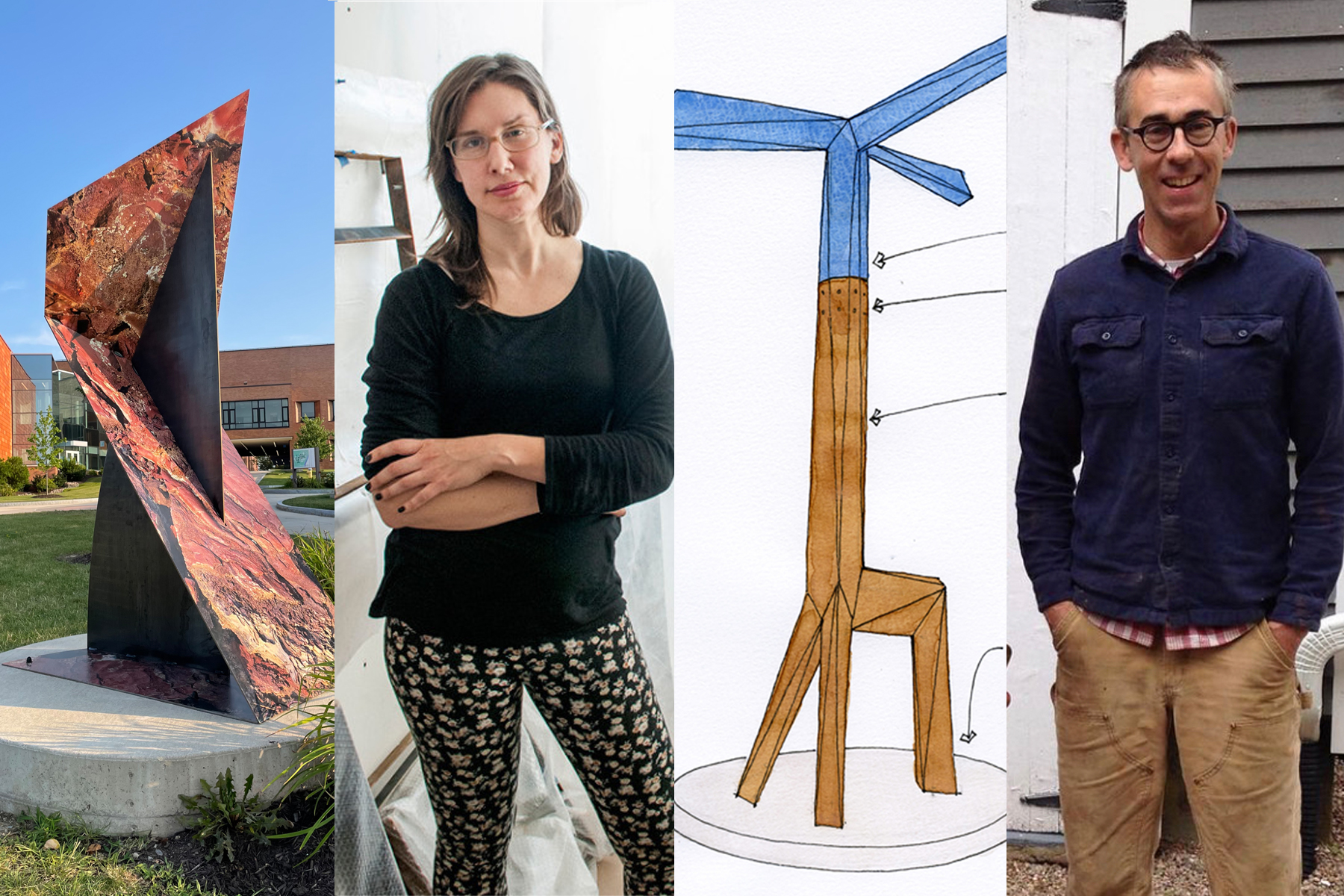 Two new outdoor sculptures will appear on the campus of RIT this fall, and more are on the way. Works by Joshua Enck and Letha Wilson inaugurate an outdoor sculpture initiative as part of the School of Art's Anna Ballarian Visiting Artist Series. The exhibition, the first in a multi-year rotation, will be positioned on the north lawn of Booth and Gannett Halls and the MAGIC Center. 
"In the past, we've typically invited artists to visit the campus and engage with students in their classes, and give a public artist talk," said John Aäsp, gallery director for RIT's College of Art and Design. "Now we are adding an exhibition component, some indoor and some outdoor, which will expand the Schools of Art and American Crafts' visiting artist program along with interdisciplinary opportunities for artists and students."
The first sculpture to be installed is Craters of the Moon Foldback, a combination of sculptural steel and photography created by Wilson. Wilson is a contemporary artist known for "breaking the rules" of photography, often transforming her photographs into objects that bend and curve out of walls, becoming three-dimensional sculpture.  
"This has been a wonderful opportunity to develop a new outdoor sculpture specifically for this site on the RIT campus, and to respond to the immediate environment," said Wilson. "I look forward to returning in spring 2022 to engage with the students directly through an artist talk, exhibition and student sessions."
Wilson's work has appeared in solo and group exhibitions worldwide, including GRIMM, Amsterdam (NL) and New York, N.Y. (U.S.); the Center for Contemporary Art and Culture, Portland, Ore. (U.S.); the DeCordova Sculpture Park and Museum, Lincoln, Mass. (U.S.), and Galerie Christophe Gaillard, Paris (FR). Artsy, the leading online marketplace for contemporary art, recently named Wilson as part of a group of female artists who are "pushing sculpture forward."
Wilson is scheduled to visit the campus during the 2021-22 academic year to engage with students in photography and sculpture, along with an artist talk that will be free and open to the public. 
The second sculpture installation is Ossicone by Enck, whose background in architecture and furniture design informs his contemporary abstract sculptures, often made from raw and painted steel. Ossicone is 15 feet tall and will be visible from multiple angles as it sits on a newly constructed base near Wilson's sculpture. 
Enck will visit campus to engage with students and deliver a public artist talk in fall of 2021. "I am excited that I will have a completed sculpture on campus as part of this amazing visiting artist program," said Enck. "I look forward to welcoming students into my studio in order to view the later stages of fabrication, design decisions and logistical choices for installing a large outdoor sculpture. I believe that these tangible studio decisions — things I learned through personal experience — are skills important for all artists and something I am happy to share with RIT students."
A Fulbright scholar, Enck's work has appeared in numerous exhibitions, including a recent solo show at Space Gallery in Denver, Colo. His work continues to join private collections across the U.S.
After teaching at Rhode Island School of Design for 10 years, Enck currently lives and works in Rochester, where he teaches courses in architecture and drawing at the University of Rochester. In addition to the outdoor sculpture, a gallery exhibition of Enck's work is on view from Aug. 6 to Sept. 25 at RIT City Art Space, and a gallery talk is scheduled for 6 p.m. Friday, Sept. 3. The exhibition and gallery talk are both free and open to the public.
The outdoor sculptures will rotate periodically, approximately every two to three years. "This gives the sculptures some time to exist and be seen, but allows for gradual change to the overall installation," said  Aäsp. "It also adds a new dimension to our ongoing exhibitions programming across multiple galleries both on and off campus." 
In fall 2022, the Anna Ballarian Visiting Artist Series will bring Lauren Kalman to the RIT campus for both a visit and a gallery exhibition of her work. Kalman, a visual artist based in Detroit, Mich., works with contemporary craft, sculpture, video, photography and performance. Her work has been featured in numerous museum exhibitions and residencies worldwide. 
"We want to keep the program flexible, so that we can invite a wide variety of artists working in all types of media and share their work in various formats," said Aäsp. "Some artists may show work as a gallery exhibition, others may install an outdoor sculpture, or perhaps some will create a more time-based installation or interactive work. The possibilities remain open to maximize the definition of what art and design can be, but also to elevate the Schools of Art and American Crafts' visibility as a place for working artists to visit and engage with our students."
Visiting artists and projects are selected by the Anna Ballarian Visiting Artist Committee, which includes faculty from RIT's Schools of Art and American Crafts, working in tandem with College of Art and Design Dean Todd Jokl and Aäsp.
Anna Ballarian (1910-2010) was born in Rochester, N.Y., and was an alumna of RIT's School for American Crafts. She was a lifelong artist and educator, retiring from her position of professor at San Jose State University in 1977. She left behind a legacy of creativity and a passion for developing communities of artists and educators.
The Schools of Art and American Craft's Visiting Artist Series would not be possible without her generous contributions. 
Future visiting artists, along with plans for a third sculpture site, are currently in development. For more information, visit rit.edu/artdesign/anna-ballarian.
Topics