Dreams, hard work, and success await new students
Thousands of RIT students attend Tiger Walk, convocation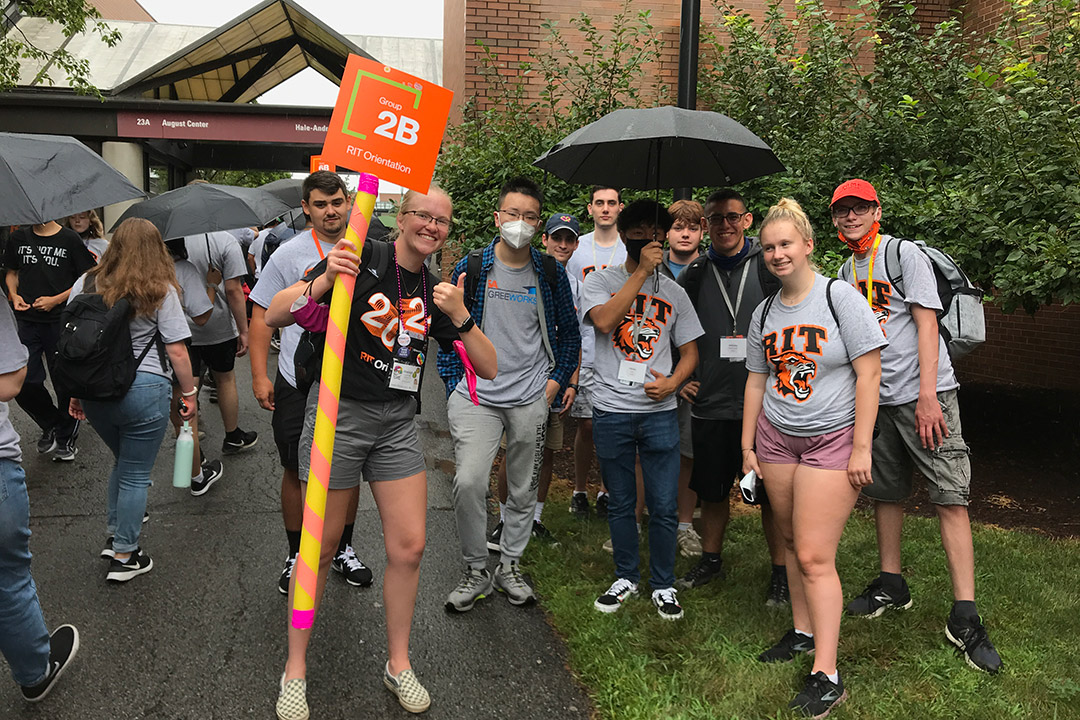 A record number of first-year Rochester Institute of Technology students Wednesday made their way to the Gordon Field House and Activities Center to cheers and welcomes from faculty, staff, and members of the RIT Pep Band during the annual Tiger Walk and New Student Convocation.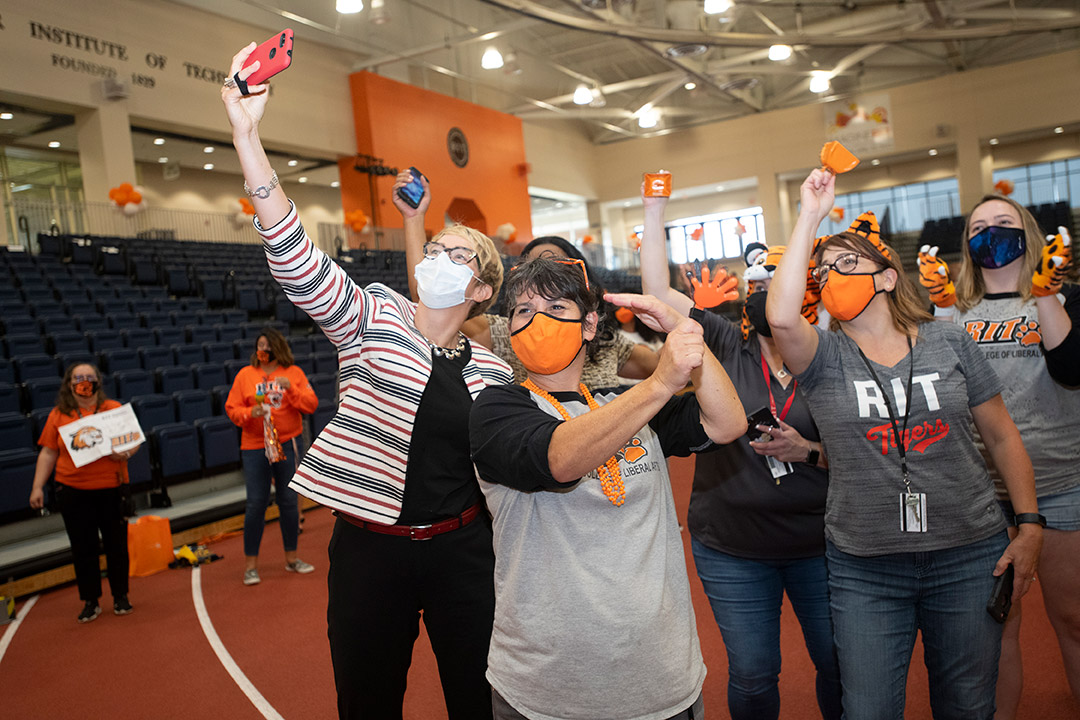 A. Sue Weisler
The Tiger Walk, moved inside this year due to forecasted thunderstorms, and the New Student Convocation immediately following it, were held online last year due to COVID-19 pandemic restrictions.
Ellen Granberg, RIT's provost and senior vice president for Academic Affairs, welcomed the approximately 4,500 first-year, transfer, and graduate students, saying, "you begin your journey with fellow students who, like you, are bright, ambitious and eager to learn. Each of you brings something special that will enrich our community."
As in past years, Granberg called this incoming class "the most academically prepared," with an average SAT score of 1326, an average ACT score of 30, and an average GPA of 93.2 percent.
In addition, 42 new students had a perfect SAT math score, and 14 had a perfect SAT or ACT score.
And 62 graduated first in their high school graduating classes.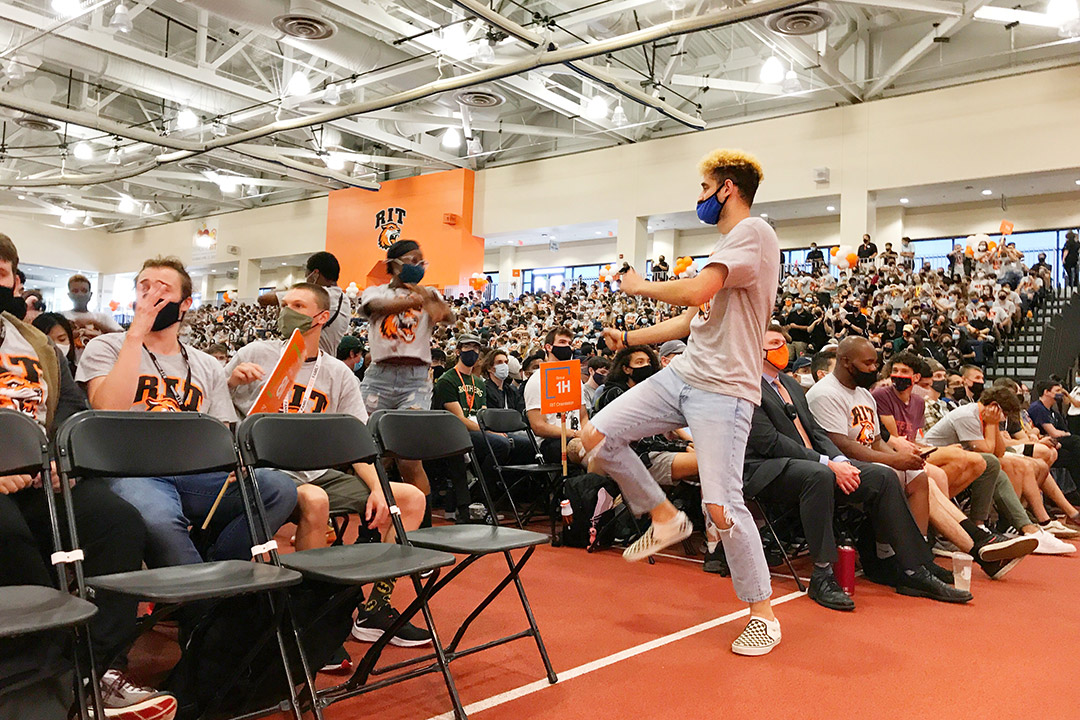 A. Sue Weisler
This year's first-year students come from 49 states (sorry, North Dakota), Washington, D.C., Puerto Rico ,and the U.S. Virgin Islands, as well as 37 foreign countries, with the largest contingents coming from China, Canada, India, and Nigeria.
Graduate students, more than 900 this year, come from 52 countries.
And this class includes 95 new Ph.D. students and 15 Fulbright Scholars.
"We are happy to have each of you here as we being this journey together," she said.
Sandra Johnson, senior vice president for Student Affairs, said she was pleased to welcome the students "in person, to our community of innovators, artists, doers and creative thinkers. Each of you bring with you a wide range of ambitions, expectations, passions, goals and dreams. … We celebrate everyone's unique lived experiences because it is only through mutual learning and understanding that we are positioned to create something larger than ourselves."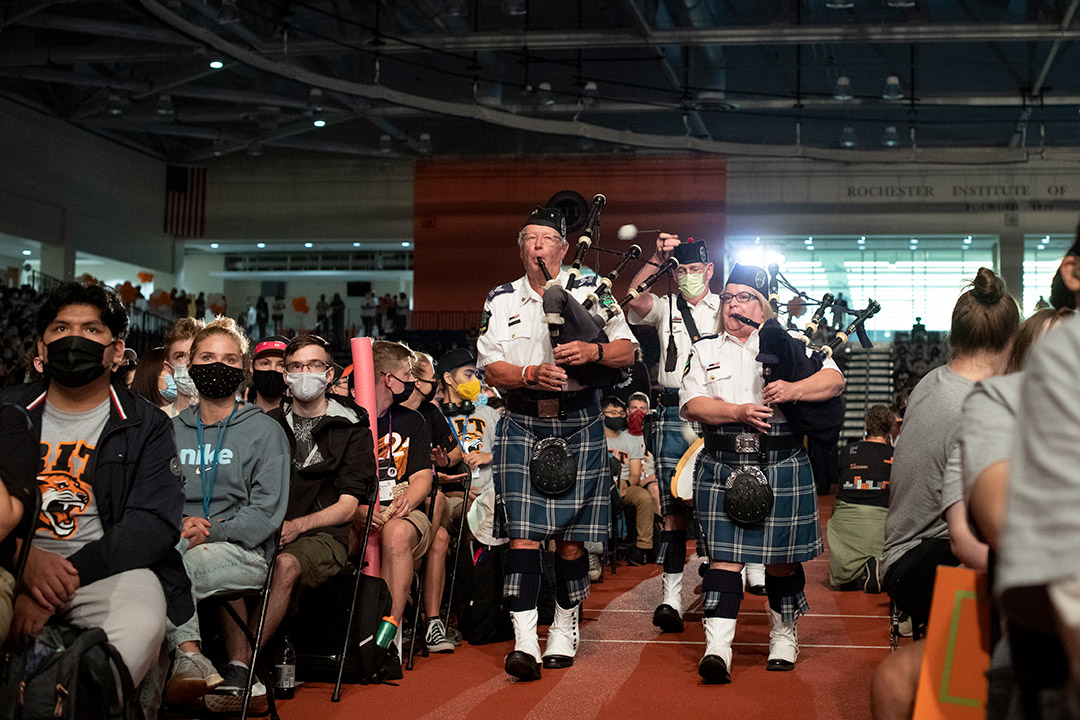 A. Sue Weisler
RIT President David Munson told students it was "wonderful to look out and see our new students in person and to know that we are starting fall semester in a nearly normal way. Students, your path to RIT has not been a smooth one—full of ups and downs, trials and tribulations, especially during a pandemic. But I am sure there have been many successes to celebrate, and one of them is having you join our RIT community."
He said they have already proven to be good citizens by doing their part to keep the RIT community safe by complying with RIT vaccination requirements.
"While we are starting the semester wearing masks, it is my hope that through our combined efforts, this will be a temporary measure," he said. "Keep up the good work!"
Munson talked about several planned construction projects that will best accommodate students' needs, including extensive renovations to the RIT library and construction of a performing arts center, a new athletic track and major upgrades to RIT's baseball and softball fields, an addition to the Saunders College of Business and construction of the Student Hall for Exploration and Development, better known as the SHED.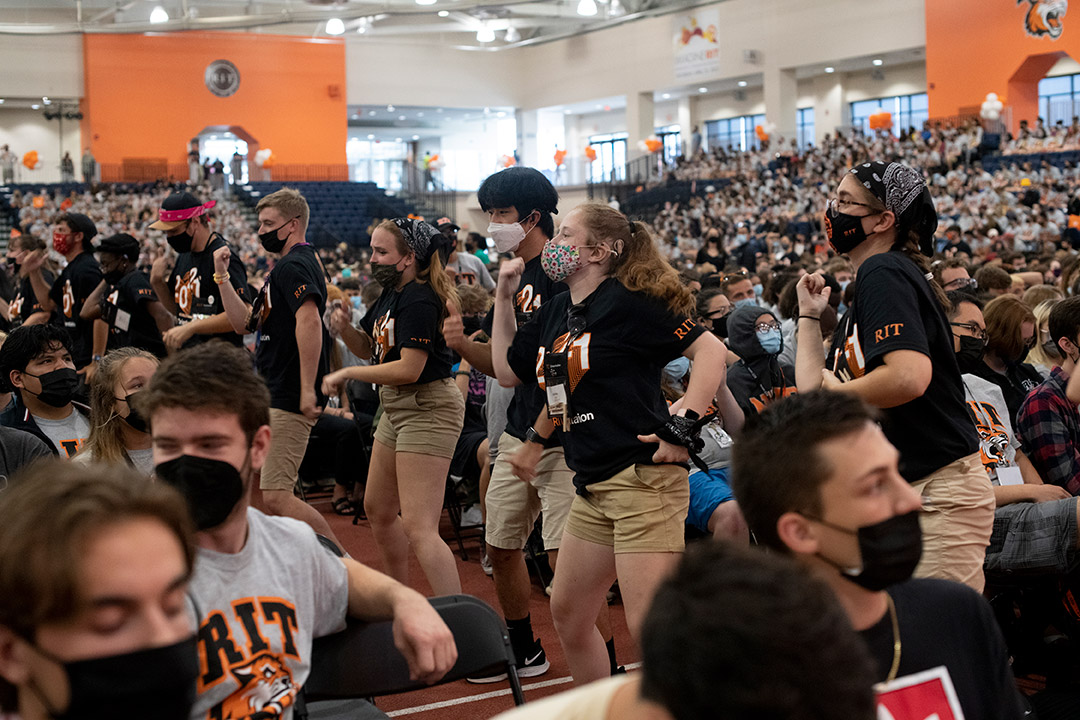 A. Sue Weisler
"We are a university where technology, the arts, and design intersect in ways that will improve our communities, our nation, and our world," Munson said. "Our campus is being transformed and the best part is that you, this class, will be able to use these new facilities."
Munson encouraged students to value and appreciate each other—those who are like them, and those who are very different than they are.
"Be open to learning and growing," he said. "Learn how to discuss sensitive topics honestly and respectfully. Learn how to disagree. Learn how to become involved in your communities to effect positive change. Here at RIT, we will provide you with guidance and opportunities to learn about community engagement and then we will give you opportunities to actually engage."
Keynote speaker Amanda Bao, associate professor in the Department of Civil Engineering Technology and Environmental Management and Safety in the College of Engineering Technology, told students that the key factors to learning are motivation, critical thinking, hard work, and resilience.
"RIT has the reputation for applied education and active learning, and RIT graduates stand out in the job market because of their excellent academic preparation and real-world problem-solving skills," Bao said. "Employers know what they are getting when they hire an RIT graduate. RIT professors strive to prepare the cutting-edge course materials and pedagogies to enhance students' learning. Now it is your turn to set up your academic goals, build a roadmap to success and start the journey."
She provided tips for students to help them develop critical thinking skills: Don't believe everything you are told; see the same problem from different perspectives; don't be afraid of challenging your professors, peers and yourself; ask questions and seek answers; make assertive decisions; choose simple solutions; and work hard.
"There is no shortcut in learning," Bao said. "All academic success requires a significant amount of effort and endurance." 
Student Government President Lucas Randrianarivelo, a fifth-year mechanical engineering major from Baltimore, donned the traditional RIT orange blazer to welcome the new students.
Randrianarivelo told them they will make friends while at RIT who will last a lifetime, they will live on their own for the first time and may even meet their future spouse.
He gave students three pieces of advice:
"Say hi to everyone, especially this week. Do not wait for someone else to say it. It will go a long way having the mentality of not waiting for someone to say hi to you.
"Two. Try everything. Whether that is an interesting sounding perspective class. Or a club, or Greek life, athletics event, or even Student Government. Go try it. The people you meet, the experiences you gain will change the course of your life in ways you'll never expect.
"And lastly, never forget that this is your time. Make every second count," Randrianarivelo said. "There is a saying that college is the best four years of your life, well my hope for all of you is on the day you walk across this stage with your diploma in your left hand and shaking President Munson's with the other, that you can look out at the crowd and remember where you sat today, that these were truly the best years of your life."