Innovative rule-breakers: Glass students examine how failure fuels ingenuity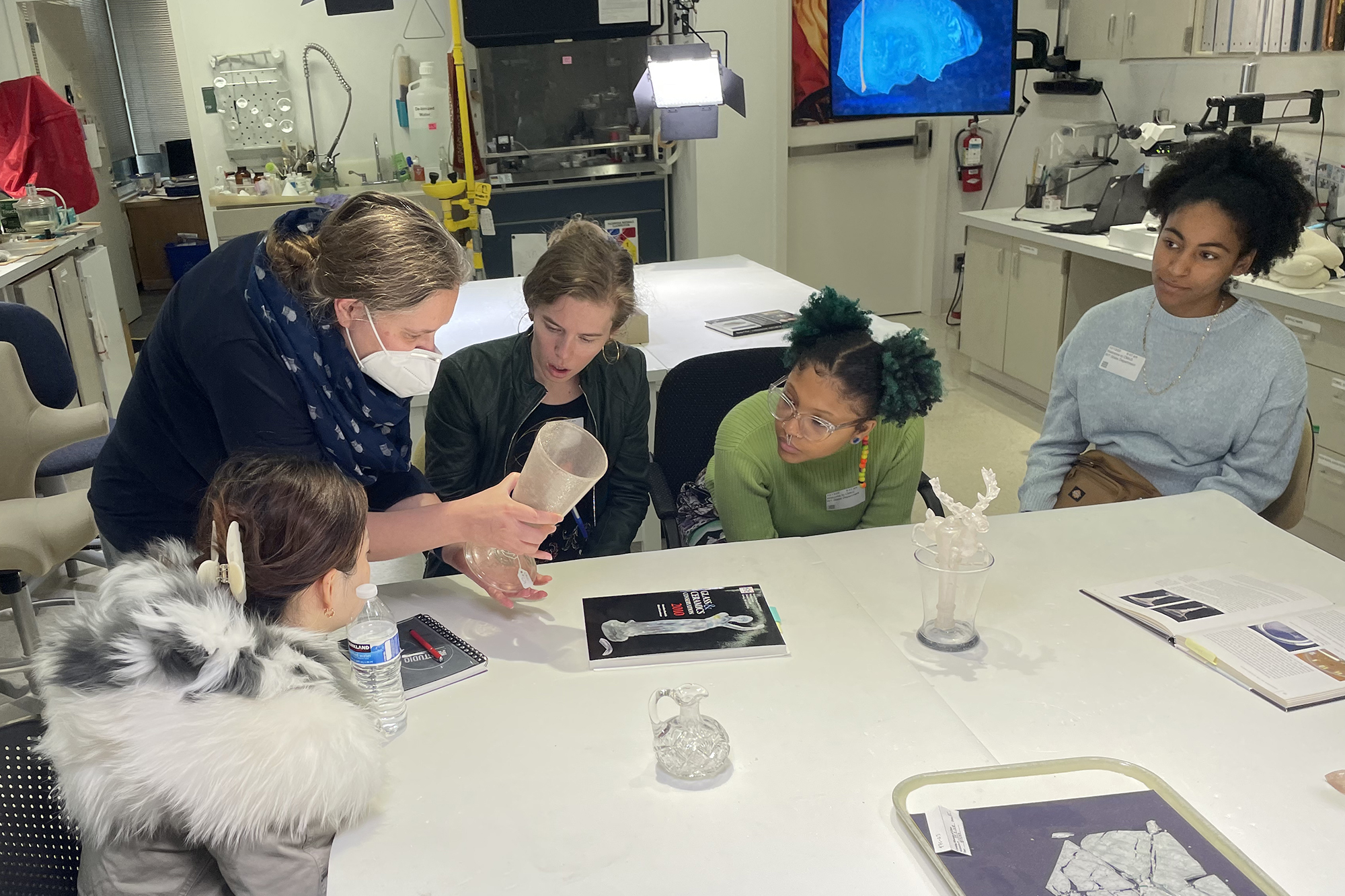 Glass students at Rochester Institute of Technology are creating success out of failure.
Assistant Professor David Schnuckel took a thematic approach with third- and fourth-year BFA option and MFA glass students this fall, spending the semester learning how failure can fuel ingenuity. 
"We built a semester where we were thinking about how the negative associations of failure can actually be sources of inspiration, innovation, empowerment, and places where we lean more into building a masterful relationship with discovery," Schnuckel said. "There is excellence in that. It's an idea in support of being surprised, taking risks and the pleasure that comes with becoming more aware of where our potential lives through the unexpected."
The front half of the semester was headlined by lectures and engaging readings around adjacent sub-themes such as dissatisfaction, rejection, error and uncertainty. Students were then asked to produce a portfolio-worthy piece as a visual representation of their research into failure and how it relates to their work.
They embraced what Schnuckel describes as "glass wrongness" — studio practices that glass artists are taught to evade — to purposefully learn their chosen wrongness so well that it becomes unexpectedly useful conceptually, technically and/or visually. 
"How can we build a new understanding of what is right or what matters?" Schnuckel said. "If we can lean into those areas that we've been trying to avoid for so long, can we make the wrong a right?"
The wide-ranging projects pushed up against science-based glass phenomena. Examples included: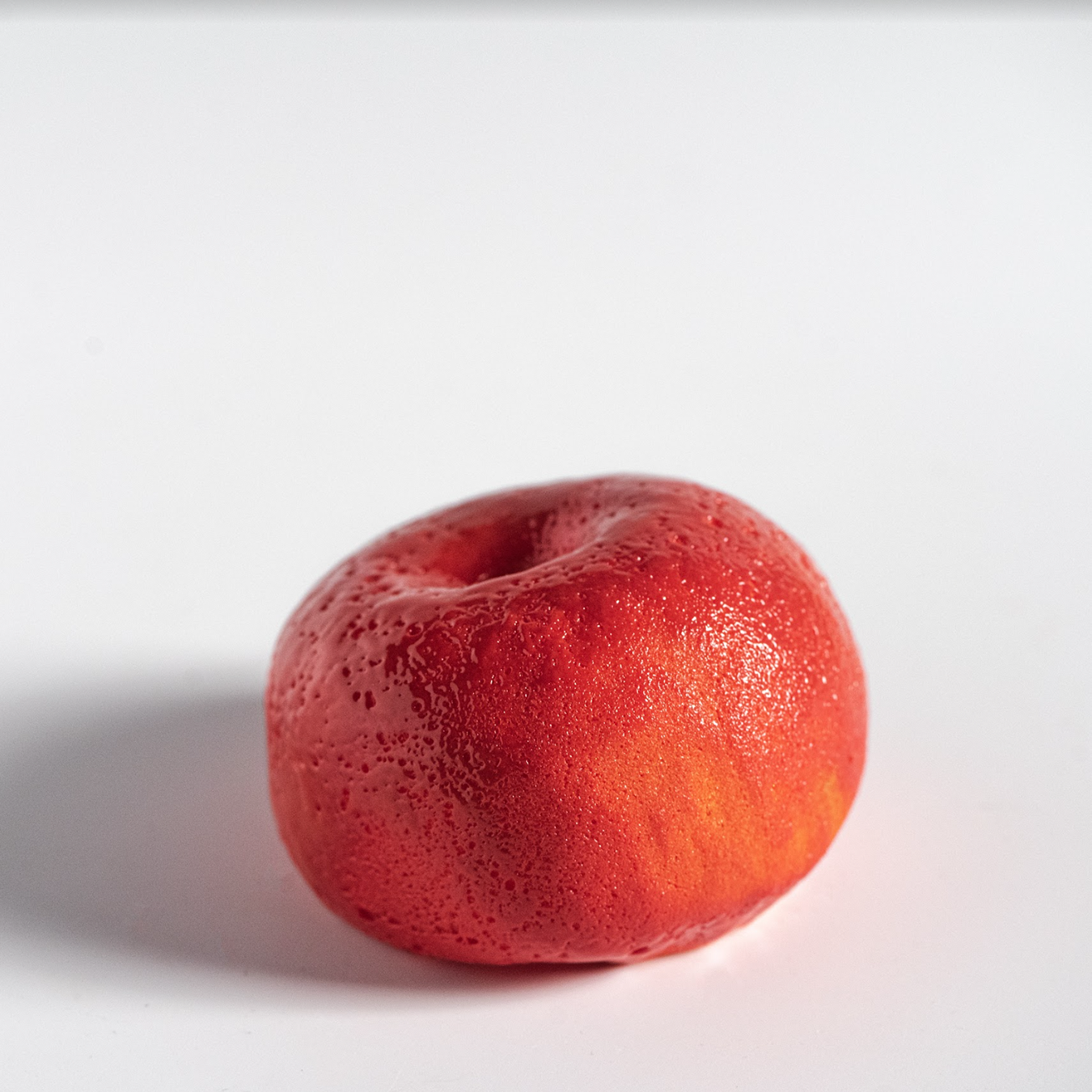 Silver Kim
Silver Kim '23 MFA developed work prompted by curiosities about societal expectations through food culture, subverting them through glass-based moments of surprise and whimsy. Her chosen area of wrongness was to play with glass's fragility through studio crossover between pâte de verre (a kiln-casting method), glassblowing and torch working using colored glass powders. Kim approached a semi-compromised place of structural and textural integrity where a glass body simulated to look like an apple would crumble over time like a cookie.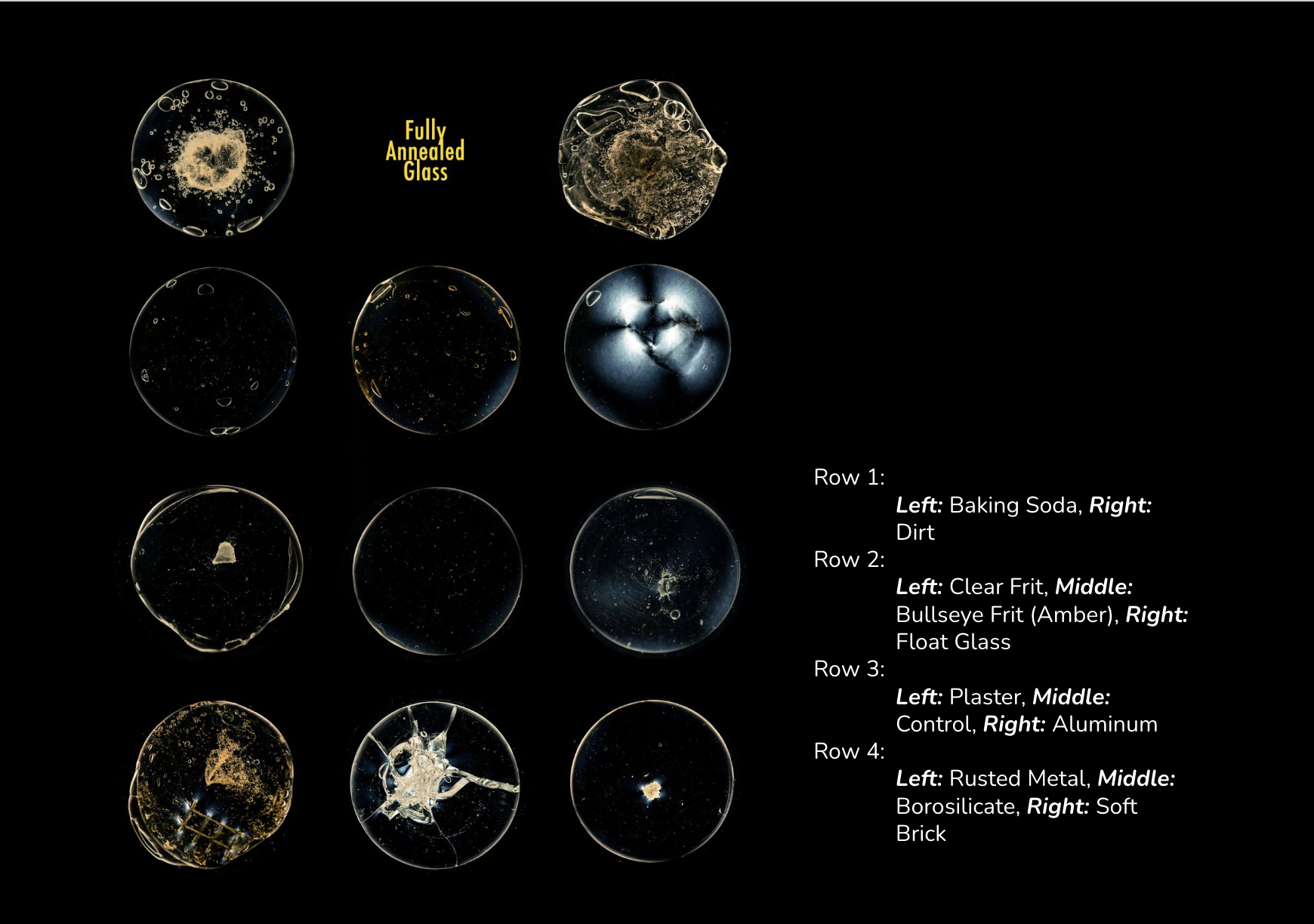 Mackenzie Serwa
Mackenzie Serwa '24 MFA made a hidden color palette within clear glass visible through photoelasticity and material stress. Some of that work was prompted by subjecting glass tests to intentionally negligent annealing processes, and also stress induced by placing incompatible inclusions (foreign materials) within clear glass. In all cases, stress revealed itself in wonderfully broad and unique ways. Mesmerizing color palettes of internal trauma were made vibrantly known through a sculptural project involving polarization films, photography, lighting and technology.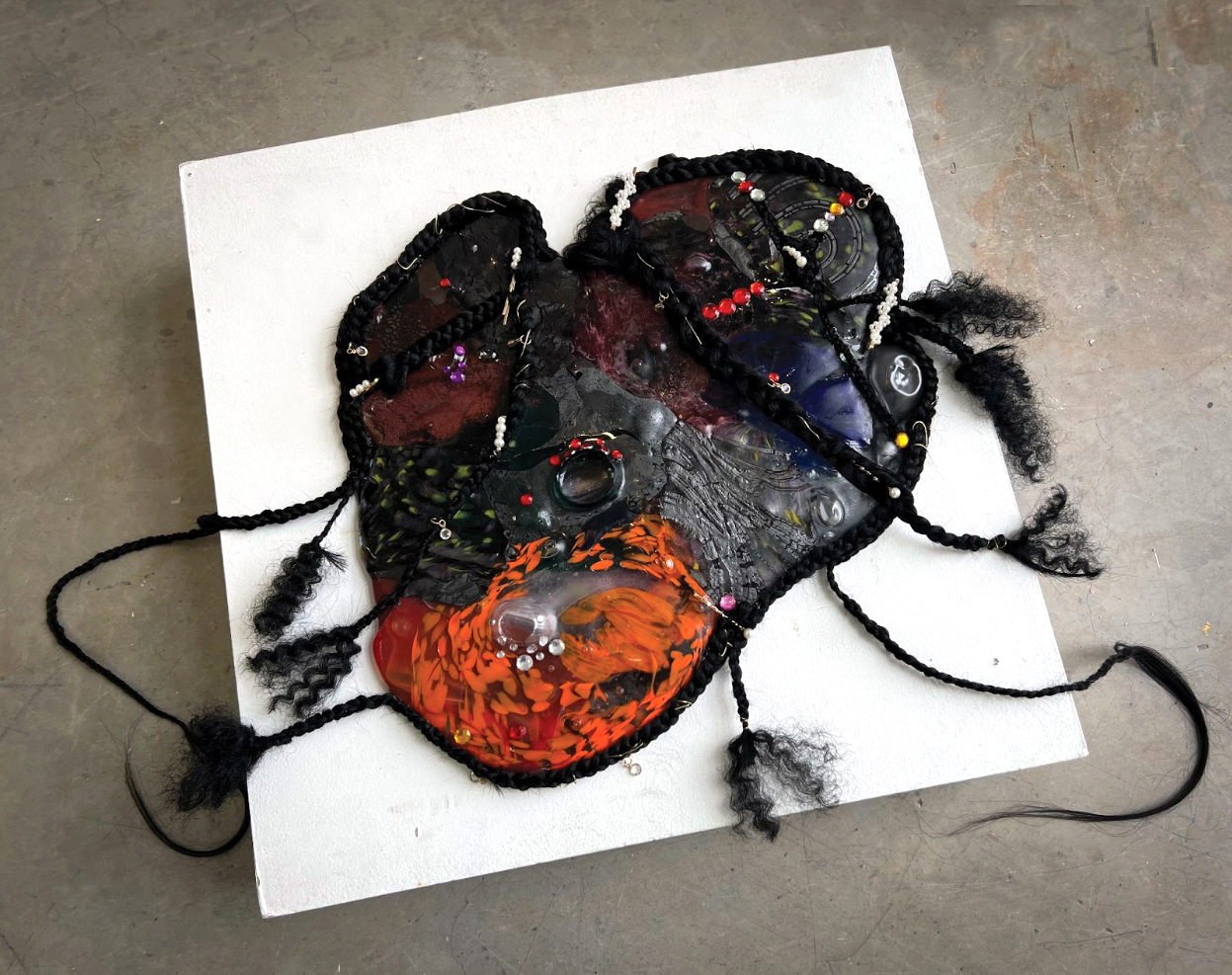 Sky Martins
Sky Martins '24 BFA collected discarded glass objects from the hot shop trash, giving the rejected items new life through unconventional approaches to kiln forming technique. Firing these glass components at high temperatures and long durations stripped away their shapes and surfaces, melting them into one another as one unified puddle. The ideas regarding one's individuality being defined as a fusion of many things was explored in a conceptually prompted approach to the fusing and slumping processes. In this case, failure was strongly connected to notions of transformation and discovery at the poetic hands of chance rather than the precision of control.
The semester fostered a community of innovative rule-breakers. 
"The failure project asked them to think about the relationship with glass as technicians in a new way," Schnuckel said. "They created their own sample set of flaws and failures to develop a better understanding of how to make use of it."
Students collaborated with RIT entities and departments outside of the College of Art and Design (and even beyond RIT). The university's placement as a leader in engineering, science and other disciplines provided direct connections for interdisciplinary conversations. 
Students engaged with the Munsell Color Science Laboratory, media arts and technology MS program, School of Chemistry and Materials Science, School of Physics and Astronomy and Harvard's astronomical library.
The RIT glass Visiting Artist Lecture Series was also structured around the failure theme. Internationally known glass scientist Jane Cook, Ph.D. delivered a talk about her career at the intersection of material engineering and the arts and led a group discussion regarding the balance between discipline and discovery. 
Additionally, the RIT glass crew visited the Corning Museum of Glass (CMoG). Students met with CMoG's art conservators, Lianne Uesato and Astrid van Giffen, to learn about the role failure plays in preserving artwork. They also toured the museum's contemporary collection with Susie Silbert, curator of postwar and contemporary glass, to study the presence of failure in major works.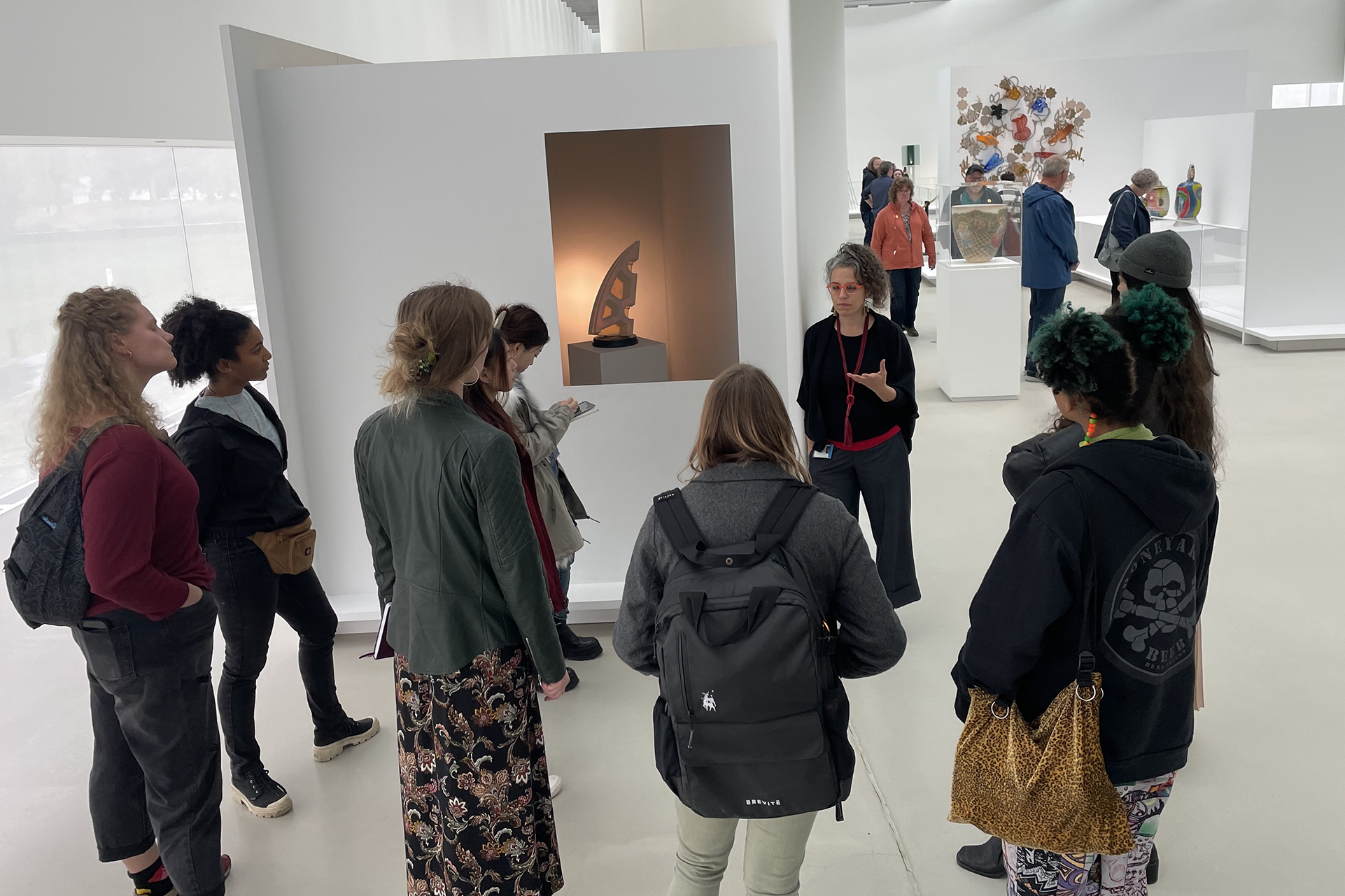 Under the guidance of Schnuckel and Lecturer Suzanne Peck, a themed curricular approach is common for RIT glass students. In 2019, the program pursued a semester-long study of color with collaborative support from the Munsell Color Science Laboratory.
"If we create healthy art habits to help keep ourselves looking for a broader understanding of something we're interested in," Schnuckel said, "we're going to feel a deeper sense of fulfillment in how we understand that relationship over time. That's where this thematic approach to teaching within studio art is useful: it asks us to rethink what we thought we already knew so well."
Related News
Topics