Glass-color science crossover underscores RIT's collaborative setting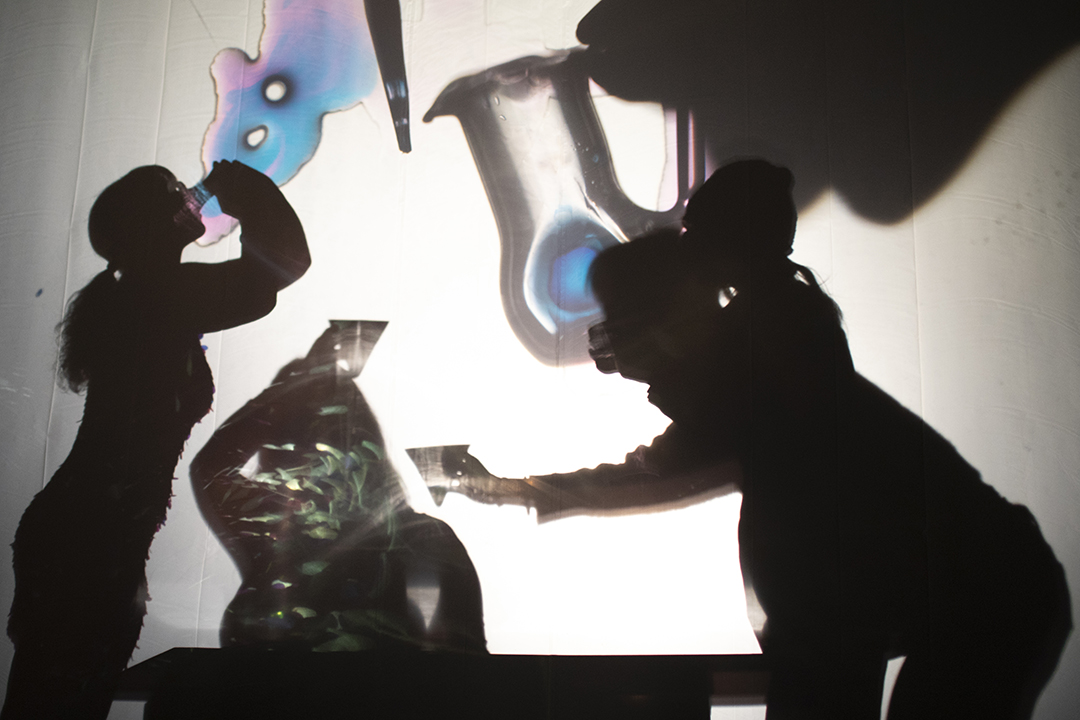 RIT Glass sees much interconnectedness across campus, and is taking full advantage of the inimitable landscape. 
With a strong intersection of technology, art and design at RIT, assistant professor David Schnuckel and lecturer Susie Peck are forming partnerships that are enriching RIT Glass, which offers an MFA and BFA option in Studio Arts. For the fall 2019 semester, they completed a successful collaboration with RIT's Munsell Color Science Laboratory and its director, Mark Fairchild. 
Graduate and fourth-year undergraduate Glass students were prompted to develop a project that thinks about their ongoing thesis ideas and research based on the phenomenology, or philosophical study, of color. 
Working with Fairchild and students and staff in the color science lab on campus, Glass students broadened their thinking of color beyond its typical, tangible application and put the semester-long theme into practice.
"It's not about adding more color to what you're doing," Schnuckel said.
Students examined conceptual interests as they pertain to the science of chromatic happenings, relying on color phenomena to answer questions about their work. The approach inspired the studio research project name of "Chromascapes." It culminated in a critique with Schnuckel, Peck and Fairchild, in addition to a performance incorporating color phenomena and hot glass. 
"The students were great — very intelligent and inquisitive," Fairchild said. "They had lots of questions about color perception and about materials, too. Why does the glass look different when it's hot than when it's cool? They know that it does, but it's the 'why' and 'how' aspects that I was able to answer as a color scientist."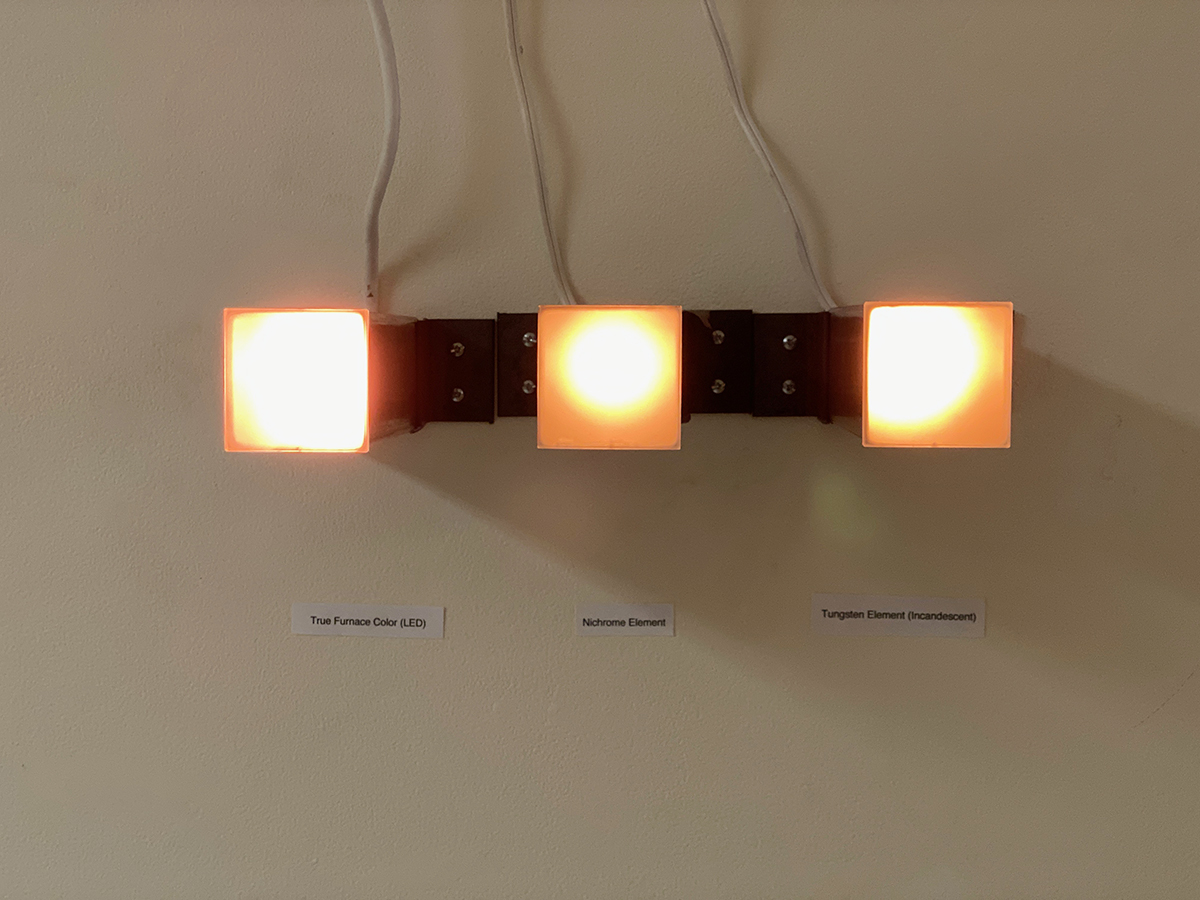 The intensive experience started with a tour of the Munsell Color Science Laboratory and presentations and lectures by Fairchild and Glass faculty. It continued with insight during lab visits and visiting artist demos and discussions organized around color research.
Rachael Strittmatter, a fourth-year Glass student, found a useful application of color to her thesis research of "residue" — which stems from an interest in things unnoticed and what is left behind, she said.  
"My palate of residue resulted in an array of neutral, or in-between, colors," Strittmatter said. "I began to research things like the color brown and sand before I realized what I wanted to do with this project. I took something that I had already been experimenting with and contextualized it in a way that I had not previously thought of." 
Strittmatter leveraged an additional resource on campus to support her research: the Chester F. Carlson Center for Imaging Science (CIS). Through working with CIS associate director Karen Braun, Strittmatter connected with James Ferwerda, associate professor in RIT's College of Science, to investigate color in the use of newspaper pads during glassblowing. Artists often shape and mold glass with wet newspaper, which doubles as heat protection. 
Strittmatter and Ferwerda studied the charred black spots on various newspapers (Democrat and Chronicle and The New York Times were among those tested) to determine differences in effectiveness as glassblowing tools. A good newspaper pad, Strittmatter said, is thick enough to eliminate any feeling of heat from molten glass, yet thin enough to have optimal control over shaping the material. 
Using a colorimeter, they measured the intensity of the charred spots. It was found that The New York Times was the "best tool for the job" due to it reflecting the most wavelengths of light. In other words, it was the least burnt specimen.
"It allowed to me to contemplate my practice with a new lens," Strittmatter said of the art-science crossover. "Seeing how color is usually an additive, decorative element, I wanted to take advantage of the naturally occurring and inherent colors to the process.
"My approach changed from thinking about the use of color in my practice to thinking about the presence of color."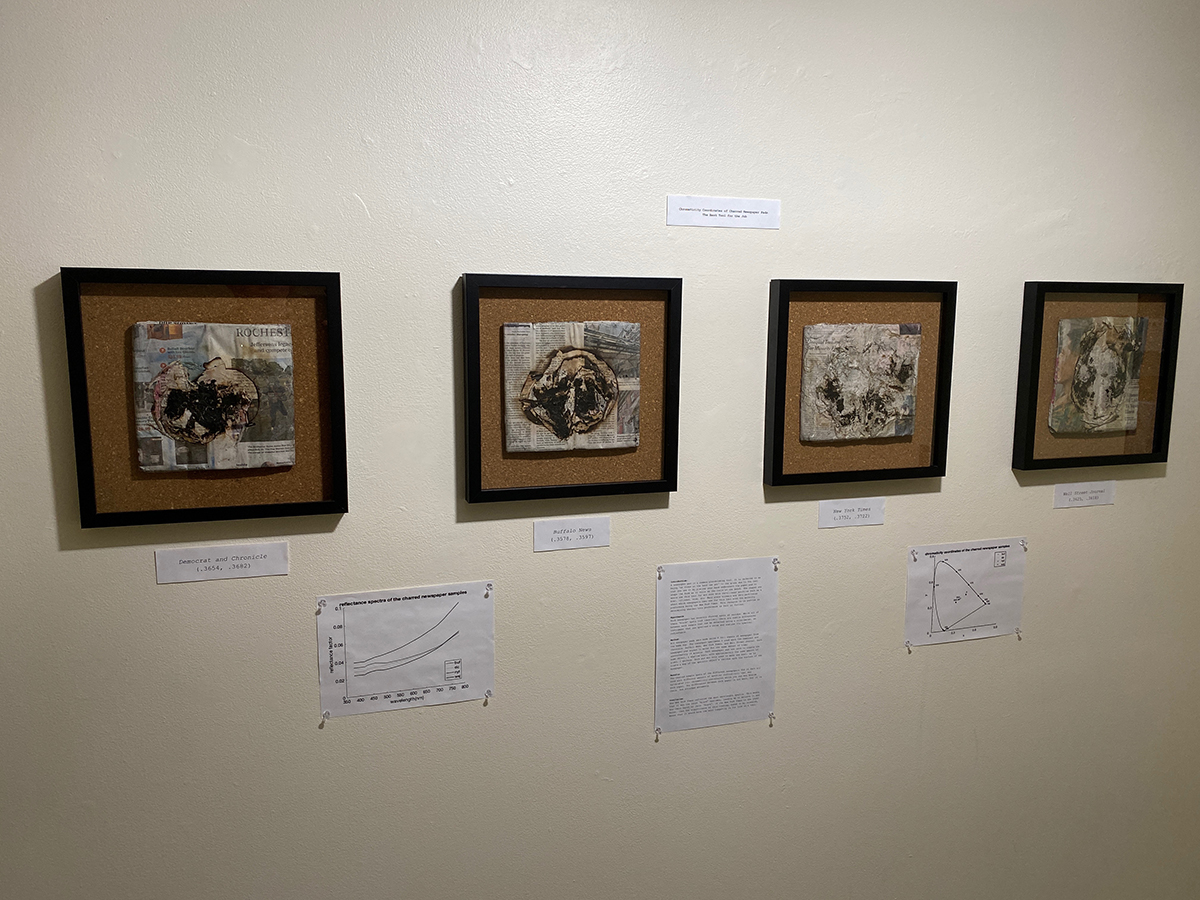 Although Strittmatter concluded The New York Times provides the most functional longevity as a pad, her research is still young. She said there are other factors to consider, such as ink types and manufacturing processes. 
To Fairchild, the semester was an exercise in what art can learn from science, and vice versa.
"That was a cool combination of art and science," Fairchild said of Strittmatter's research. "And the art wasn't the glass — it was the tool used to make the glass."
Overall, the open-ended project was typical for RIT Glass, which shapes the seminar component of studio instruction around a different theme each semester. In all that it does, though, the program embraces a core value of "glass-based thinking."
"We are a media-specific sculpture program," Schnuckel said. "We're thinking about how our relationship to glass seems to echo and emulate not only what's happening in the contemporary glass field, but the conversations that are happening in the contemporary art world altogether."
This past fall was an expansion on how RIT Glass espouses a multidisciplinary approach and outside resources so students and faculty can investigate new possibilities. In spring 2019, the program hosted the engineers who invented the world's first molten glass 3D printer for a lecture and demo recreating the early days of the project.
"Not only does RIT have an incredible, reputable crafts/art programs, it is a part of a technologically advanced campus," Strittmatter said. "It is a highly valuable resource. I am grateful to be a part of such a diverse educational community with the potential, and encouragement, for crossovers between departments."