Linda Tolan, longtime faculty, staff, and administrative leader, retires
Serving for 42 years, Tolan guided students toward careers and helped build some of the university's earliest online and international initiatives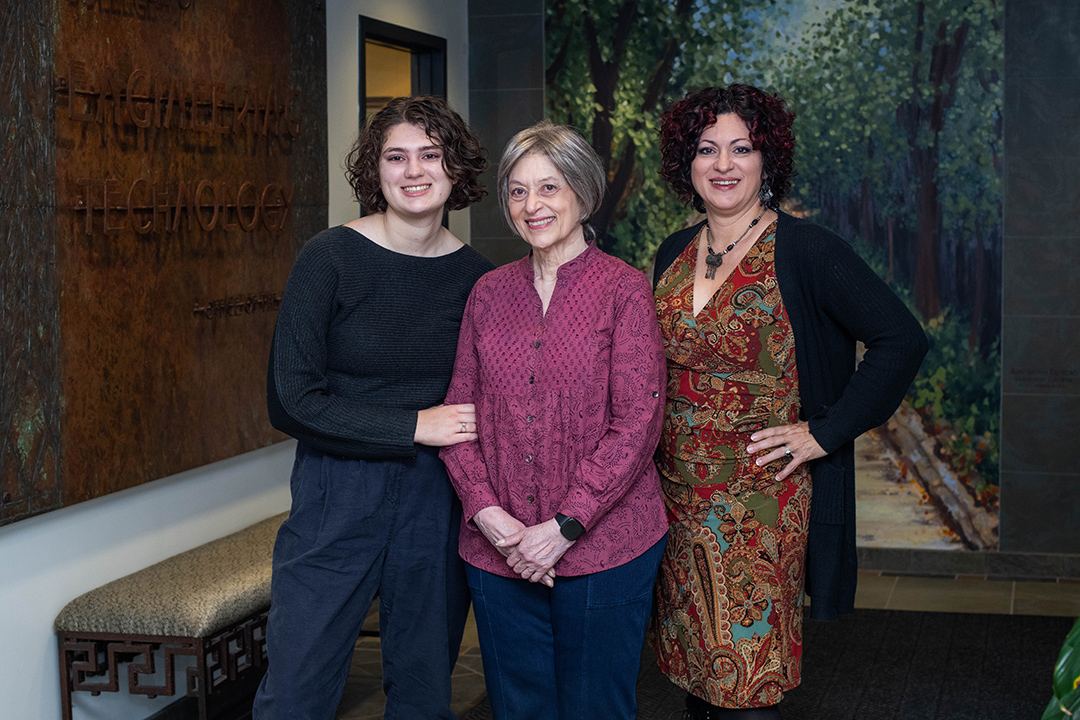 Linda Tolan built an influential career as a faculty member, academic and workforce consultant, and college administrator during her 42 years at RIT. She retired Dec. 1.
Tolan's background in human resources and workforce development became the foundation for different positions she has held, and it has been an anchor for the growth of one of RIT's largest colleges, the College of Engineering Technology (CET).
"I saw an ad for RIT, and remember distinctly thinking, well I can do this for a while. Employees, students, right? Mentoring and advising. All the same characteristics, just a different population," said Tolan '85 (career and human resource development), currently the senior associate dean of CET. "Every time I felt like it was time to do something different—boom, a new opportunity would be out there on the horizon, and I'd take a chance on it. I think it was a combination of opportunity, timing, and my own calculated risk-taking has kept me here."
Tolan has NCC after her name, which indicates "nationally certified counselor" and is a credential for advising and teaching organizational development strategies. That background gave her the ability to move seamlessly through her different roles at RIT.
"It all came together, but it also gave me the theoretical base to jump," she said. "No matter what you are doing, you have to be able to move with flexibility—whether it is with a project or person. You can take someone to the door, but it will always be up to them to walk through it."
Tolan's career began as a backup to the faculty scheduling officer in the College of Graphic Arts and Photography, scheduling and then advising graphic arts students. After moving through several manager roles in advising, marketing/recruiting, and adjunct teaching, she moved to the College of Continuing Education (CCE), focusing on teaching and program administration.
CCE merged with the College of Applied Science and Technology (CAST) and, in 1999, Tolan again shifted roles, becoming associate dean in CAST, now CET, with responsibilities such as manager of technical services, academic advising, and academic services. Over the next few years, she took on interim positions to help build operations, programming, and new departments that evolved in the college—from co-chair of the Department of Manufacturing and Mechanical Engineering Technology for a short time, to acting director of the Center for Multidisciplinary Studies, now the School of Individualized Study. Tolan served on RIT committees and task force teams to advance Middle States Accreditation, to update curricula, and to expand faculty recruitment, among others.
One of her biggest achievements was developing and presenting coursework for RIT's growing online learning initiatives. Tolan delved into the new format both on campus and at RIT's international college in Croatia. She was recognized with an Exemplary Distance Learning Teaching Award for that work.
Teaching at all levels—from first-year students to graduates and executive leader programs—kept her in touch with students and would be a bridge to her responsibilities as an administrator.
"Online learning was the only way I could manage teaching as well administrative work. It was my sanity; it was my Zen," said Tolan, who completed her Ph.D. as a part-time, non-traditional student and full-time administrator. "If you are in administration, you have to find ways to stay in touch with students."
She'll remain in touch with RIT as an emeritus faculty member and through family. Tolan's daughter, Stephanie '93 (graphic design), '05 (cross disciplinary studies), is director of the Technology and Information Services department at NTID. Granddaughter Skylar is a third-year student in the environmental sustainability, health and safety program.
"It is time to let other people move and get their ideas in place," she said. "RIT has given me experiences I never thought I would have in my life or career."