New Hires at Saunders College of Business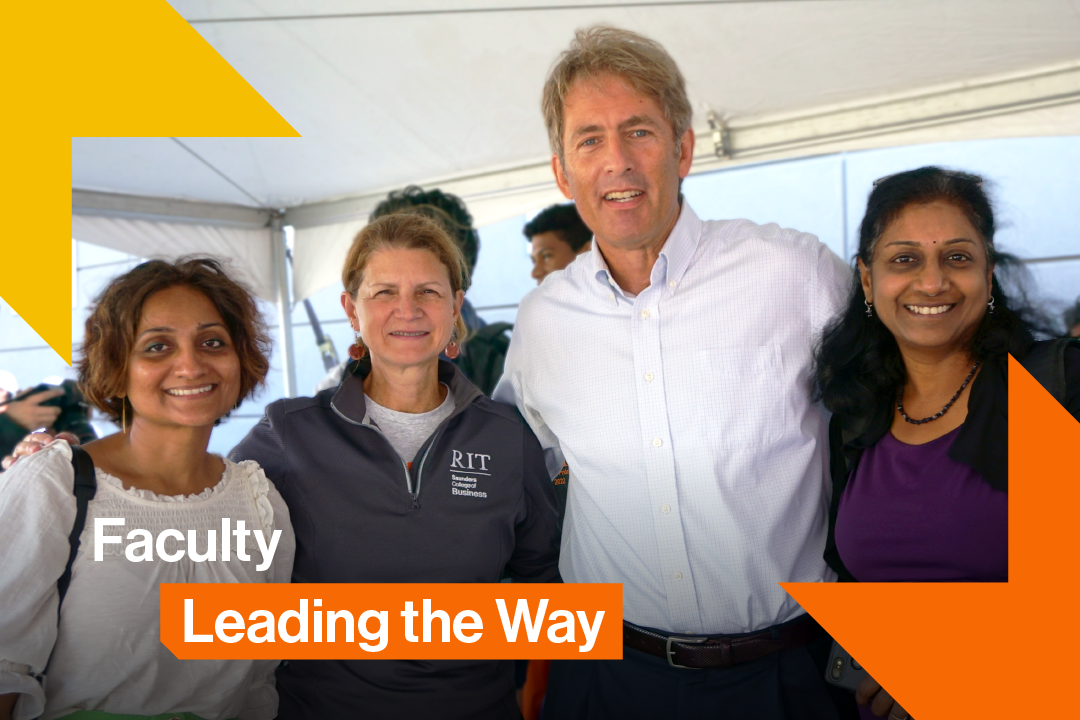 Saunders is committed to RIT's strategic goal of advancing its position as a tier-one research university, continually attracting exceptional faculty members. Our newest faculty exemplify our commitment to high-level research and innovation.
Programs are consistently ranked internationally, with many of Saunders graduate programs receiving high global recognition such as the master's in supply chain management, ranked 31st in alumni outcomes, and master's in business analytics ranking 34th in class and faculty diversity by QS World. Additionally, Saunders is nationally ranked ninth for its online MBA program and 20th for its hospitality management master's program. 
Saunders strives for excellence both in degree programs and in research. Faculty members are internationally recognized and consistently publish innovative research in top academic journals. Consumer behavior, blockchain innovation, healthcare information technology, and sustainability are just a few of our faculty research areas. Saunders faculty incorporate their research into their teaching to enhance student learning and share their expertise. 
One of Saunders' latest faculty-led initiatives is our new fully-funded Ph.D. program in business administration, launching in fall 2023. Shal Khazanchi, Ph.D. is leading this program. Professor Khazanchi is also serving in her new role as the Associate Dean of Research and Graduate Programs. She served as the department chair of management at Saunders from 2016 to 2021, where she aided in the growth of several programs. Her research focuses on organizational behavior, work relationships, creativity, and innovation. She has recently served as associate editor of the Journal of Organizational Behavior (2017-21). 
Edwin Torres, Ph.D. joins us from the Rosen School of Hospitality at University of Central Florida as the department chair for international hospitality and service innovation (IHSI). He holds a Ph.D. in hospitality and tourism management from Purdue University and his research areas include customer experience, consumer behavior, and human resource management. Professor Torres serves on the editorial boards of Journal of Hospitality and Tourism Management, International Journal of Hospitality and Tourism Administration, and Journal of Hospitality and Tourism Insights and as a reviewer for many journals and conferences. He also has a textbook under contract with Routledge/Taylor & Francis, Customer Service Marketing: Managing the Customer Experience. 
Bill Dresnack, JD, CPA has been appointed as the new director of Saunders' internationally ranked MBA program. He has notable leadership experience in corporate partnership development, academic program development, program assessment, and academic research and service. He was instrumental in integrating the IHSI department into Saunders College and has held numerous administrative roles including, department chair of IHSI and finance and accounting. 
Rich DeJordy, Ph.D. is joining Saunders as the new department chair of management. He comes to Saunders from the Craig School of Business at California State University, Fresno and at D'Amore-McKim School of Business at Northeastern University. He is published in the Academy of Management Journal, Journal of Management Studies, Administrative Science Quarterly, and Organization Studies as well as in several academic handbooks and encyclopedias. He has taught a variety of courses in leadership, organizational behavior, and social networks.
Our newest faculty and leaders exemplify our commitment to high-level research and academic success:
Ph.D. in Business Administration
Finance and Accounting Department
International Hospitality and Service Innovation Department
MIS, Marketing & Analytics Department
Management Department
Saunders is proud to welcome these faculty members and leaders to their roles to advance our academic and research missions. Saunders faculty continue to be internationally recognized for their cutting-edge research and while being published in top academic journals. Please visit our faculty directory to view all of our outstanding faculty members.
Topics