New partnership with The Dolby Institute enhances experiential learning with audiovisual technologies
The partnership was solidified in August and will be further developed over the 2023-2024 academic year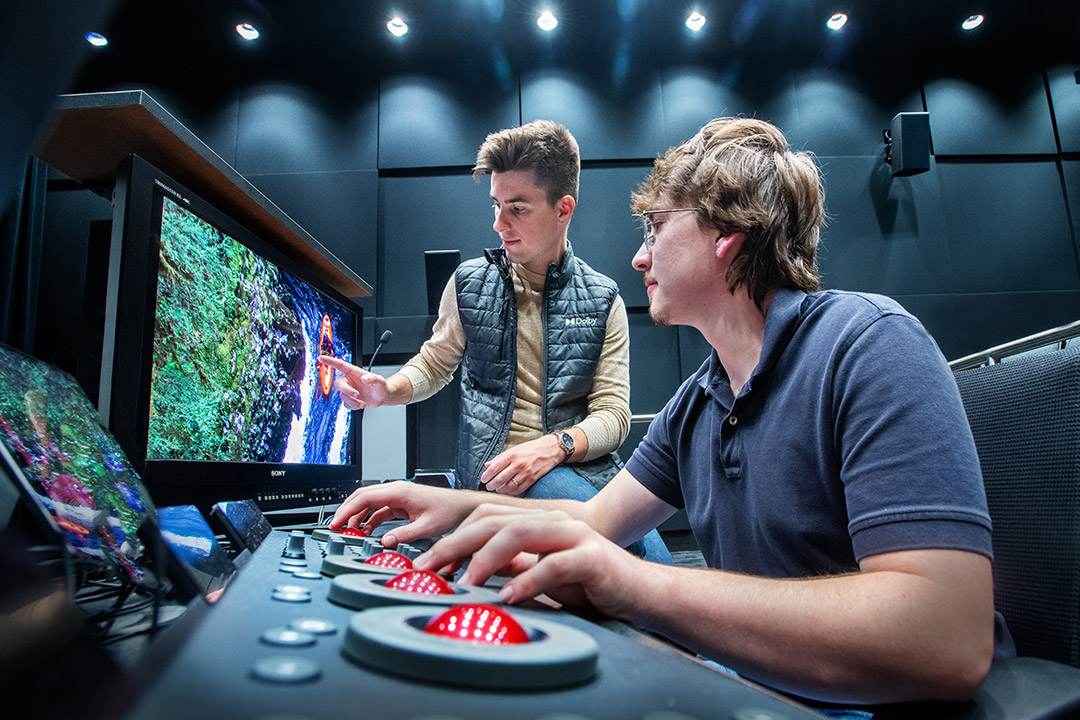 Students and faculty working in fields that utilize audiovisual technologies can now receive access to industry-standard resources through a new partnership between RIT and The Dolby Institute. The partnership will deepen the connection between the university and Dolby, provide more training for faculty on the latest software and technology, and form a bridge for mentorship between RIT students and industry professionals working at Dolby.
Ricky Figueroa, undergraduate program director of the motion picture science program and RIT/Dolby faculty liaison, served as a key figure in solidifying the partnership with Dolby Laboratories, a leader in immersive entertainment experiences that is behind groundbreaking technologies including Dolby Atmos and Dolby Vision.
"This partnership gives us an additional direct line to Dolby, which is a very well-respected company in our industry. They are drivers of innovation when it comes to audiovisual technologies, so having this formalized relationship and direct access to things like software licensing and expertise from their engineers will only enhance what we teach our students in the classroom," said Figueroa.
The Dolby Institute was created to educate, inspire, and empower the next generation of content creators. Through educational programs, strategic partnerships, and direct artist support, The Dolby Institute helps professional and emerging creatives think critically and creatively about sound and image, unlocking the power of technology to help tell their stories. In addition to this programming, The Dolby Institute also provides access to Dolby content creation tools that are used widely by leading entertainment industry professionals.
In the ever-changing landscape of the entertainment industry, there continues to be a demand for roles involved with content creation and distribution. The goal of the partnership is to provide RIT students with access to the common tools and workflows used throughout the industry to ensure they can step into the workforce with confidence.
Figueroa shared that while this partnership is certainly an asset for students and faculty in RIT's School of Film and Animation, the resources it provides can benefit scholars across the university working with various forms of audiovisual entertainment including music, digital gaming, live performances and productions, and more.
Myles Stelling and Melanie Smedira, two fourth-year students in the motion picture science program, both said that having this unique access to Dolby technologies is invaluable as they begin thinking about starting their own careers.
"Because Dolby is such a big industry player, I think that having access to this stuff at RIT makes us so much better prepared for when we do go out into the industry. We have the ability to work with the technology while we're still in college, and we can talk to professors that will now have up-to-date Dolby training, so if we have questions we can ask them now before we're out there doing it on the spot after graduation," said Smedira.
Stelling is leaning into the benefits of the partnership by working with Nate McFarlin '16 (motion picture science), a senior content engineer at Dolby, to complete his senior capstone project.
"I'm examining tonal conversion solutions that are out there in the industry—as in SDR to HDR and HDR to SDR conversion—and Dolby Vision is one of the more prolific conversion solutions that exists right now," said Stelling. "Being able to use this technology without having to think about the logistics of how to get my hands on it is really nice, and it's also great to know that if I have any in-depth questions, I have people like Nate that can help me find the answers."
The partnership with The Dolby Institute was formalized in August and will continue to develop over the course of the 2023-2024 academic year.
Topics