O'Neil honored with Richard and Virginia Eisenhart Provost's Award for Excellence in Teaching
Engineering technology professor building a storied career using stories and activities to engage students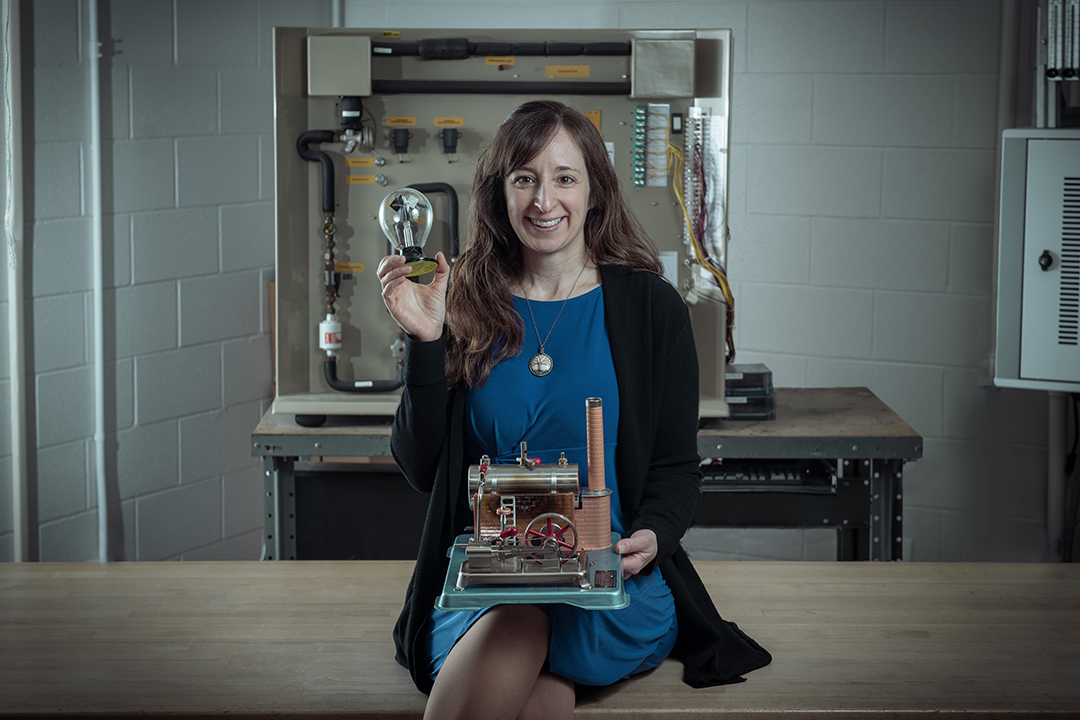 Jennifer O'Neil enjoys thermodynamic memes, powerplants, and Marvel Comic heroes, especially Iron Man, and she has found ways to connect all of them for her engineering technology classes. She makes these connections through activities that bring to life complex topics that solidify learning for her students.
O'Neil is being honored with the Richard and Virginia Eisenhart Provost's Award for Excellence in Teaching.
Classes in thermal-fluids are information-rich, about thermodynamics, heat transfer, and fluid mechanics. Processes are complex, and students learn about how systems change because of energy transfers, whether through heat or fluid flow. Classes are a mix of lectures, discussions, and activities, using different materials related to concepts.
That is where the memes come in.
"We have discussions on myCourses, including memes—they have to be appropriate," said O'Neil, a mechanical engineering technology assistant professor in RIT's College of Engineering Technology.
There are thermo memes?
"There are, and some are pretty funny. One time a student made me into a thermo meme—which was hilarious. Another time I was made into a thermo problem-solving comic book character," she said. "What I want students to do in my courses is master the fundamentals so that when they interact with someone who needs to know about thermal fluids, they can have an intelligent conversation. If they cannot, then I didn't do my job."
And part of that job is to recognize that very serious topics can be mixed with humor and fun. Students can learn fundamentals and also understand connections between what they develop and build and how they will be used in the real world.
These concepts are integral to the Kern Entrepreneurial Engineering Network (KEEN), a national initiative to improve engineering education for undergraduates by integrating their technical solutions with a mindset that recognizes personal and societal values.
O'Neil was instrumental in bringing the KEEN organization to the attention of peers in RIT's engineering colleges. Before she came to RIT, she had met Doug Melton, one of the organization program directors, during a presentation.
"He was told this style of teaching and learning that integrates entrepreneurially minded thinking and technical skillsets cannot work in thermodynamics. It is a complicated, core class—tough to teach. There is so much material, so much to cover in such little time," she said. "I looked at him and said, 'I can do it.'"
O'Neil delivered. She re-designed a thermodynamics class adding activities and experiments to have students connect ideas across topics, including designing a fictional powerplant, a project she uses today, which couples technical concepts with financial, governmental, societal, and environmental concerns.
Knowing from a young age she wanted to be a teacher, O'Neil set her sights on learning at every opportunity how to make that happen. With a little help along the way, she was able to see and practice different approaches with different age groups of students, and then developed themed exams, student-led projects, the use of portfolios and integrating culture, history, and public policy into classes.
"RIT and her students are truly lucky to have Jen as an outstanding faculty member that continues to evolve her teaching pedagogy in support of an outstanding classroom environment and experience," said Tim Landschoot, lecturer in RIT's Kate Gleason College of Engineering, who mentored her as a laboratory teaching assistant while O'Neil was a mechanical engineering undergraduate.
"I have learned, recognized, and understand—everyone learns in different ways. I can't teach to every single way, every single day, but over the course of the semester, I can give everyone the opportunity to learn in the way that works best for them," said O'Neil.
Topics