Photo, science classes merge for climate change talk by Pulitzer-winning photojournalist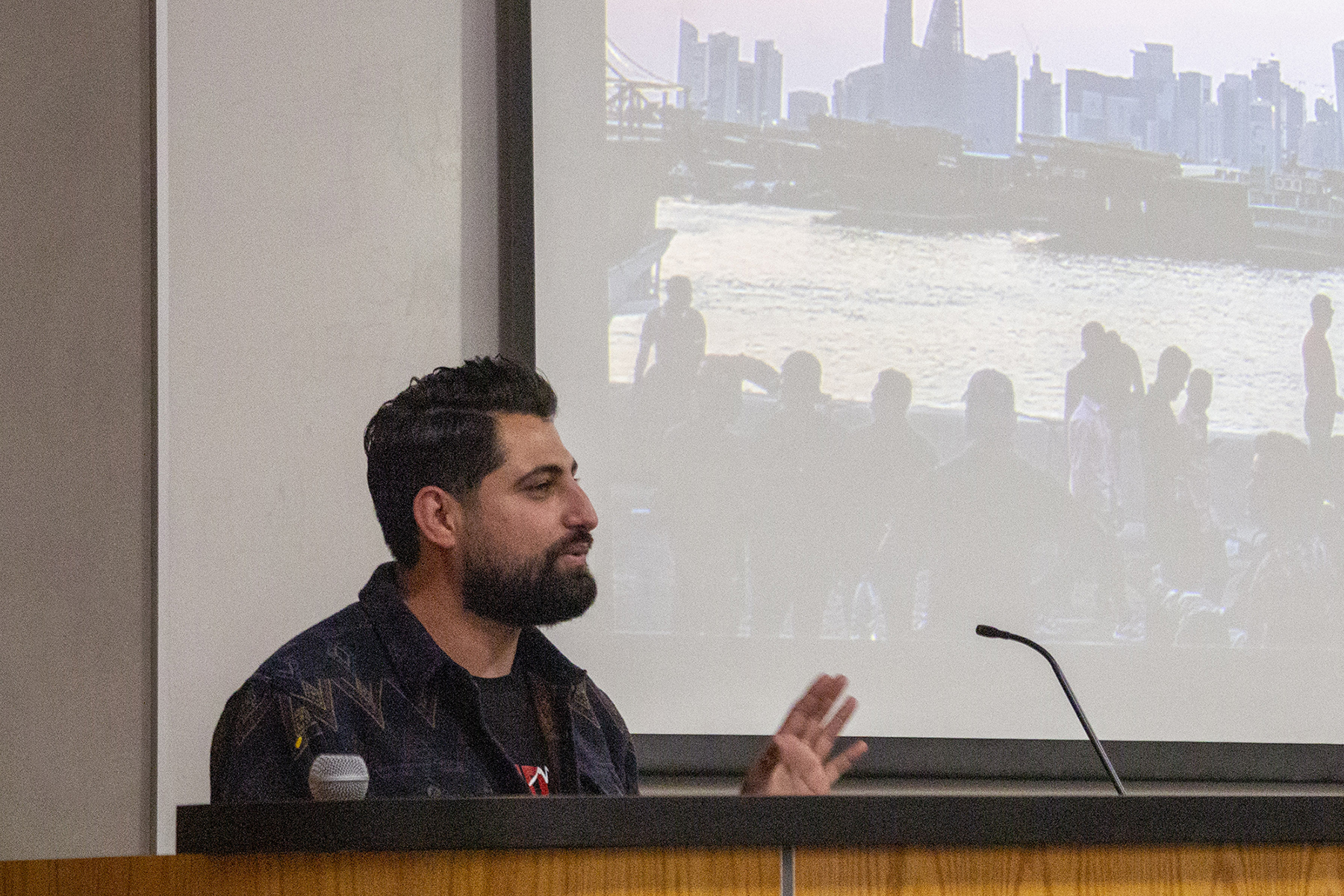 To properly convey the impact of global climate change, art and science are both necessary components. 
That was the theme of an RIT class visit by Salwan Georges, a Washington Post photojournalist who was part of a team that won a 2020 Pulitzer Prize for its reporting on present-day climate change on six continents.
In stressing the importance of marrying science-based research with compelling visuals around climate change, Georges shared insights about his climate photography during a two-day stop on the RIT campus March 27-28. 
He spoke to a merged audience of photojournalists in Associate Professor Josh Meltzer's Climate Change Storytelling course and the multidisciplinary Climate Change: Science Technology & Policy class based in the College of Science. The latter is taught by Associate Professor Nathan Eddingsaas, Associate Professor Eric Hittinger, Associate Professor Matthew Hoffman and Professor Christy Tyler.
"Scientists love working with (photojournalists) because it visualizes what they've been talking about forever and they are able to share it with the rest of the world," Georges said. "Both of us, we need each other to create the work."
For The Washington Post's Pulitzer-winning project, "2°C: Beyond the Limit," Georges photographed the distressing realities of global warming in locations in Japan, Minnesota, Qatar, and Rhode Island. His photographic ideas were highly informed by conversations with scientists about their research and knowledge of a specific locale. 
The classes Georges visited represented a cross section of the enriching art and science collaborations at the fingertips of the RIT community.
"Research is a must," Georges said. "Scientists are the reason we get there in the first place. As I'm doing research I see somebody wrote something but maybe the visuals are not there. When I decide to go someplace, I contact a scientist and they are so happy I'm doing this because their life research is visualized and that makes it a full project."
Eddingsaas said it was a pleasure to have Georges in to present about his work.
"Scientific communication, especially on a topic as complex as climate change, is important and difficult, so to see how a professional does it is insightful," Eddingsaas said. "What stuck with me the most was Salwan's discussion on linking climate change to the human story — by first focusing on the human story, then bringing in the effect of climate change, he reaches a larger audience."
Marielle Scott '23 (photographic and imaging arts - photojournalism option) took the Climate Change: Science Technology & Policy course last year and is enrolled in Meltzer's Climate Change Storytelling class this semester. 
"There is a responsibility to do the research and have that background," Scott said. "If you're not, then are you really doing the best job as a journalist?
"Part of the reason why I chose RIT was because it's not only an art school," she added. "I appreciated that I was getting a degree in art at a school that also has tech and science."
Scott is a nature and outdoors enthusiast who has long been drawn to exercising interests in art and science by photographing landscapes and wildlife. At RIT, she took every science class she could and, along the way, developed an interest in visually depicting climate change.
The subject matter of Georges' lecture spoke straight to her.
"When I heard he was coming (to RIT) I was so excited," Scott said. "I don't know if I have words to say how inspiring he is. His work with climate change is incredibly creative. I think stories centered around climate change have a direct need for creativity because it's hard to photograph."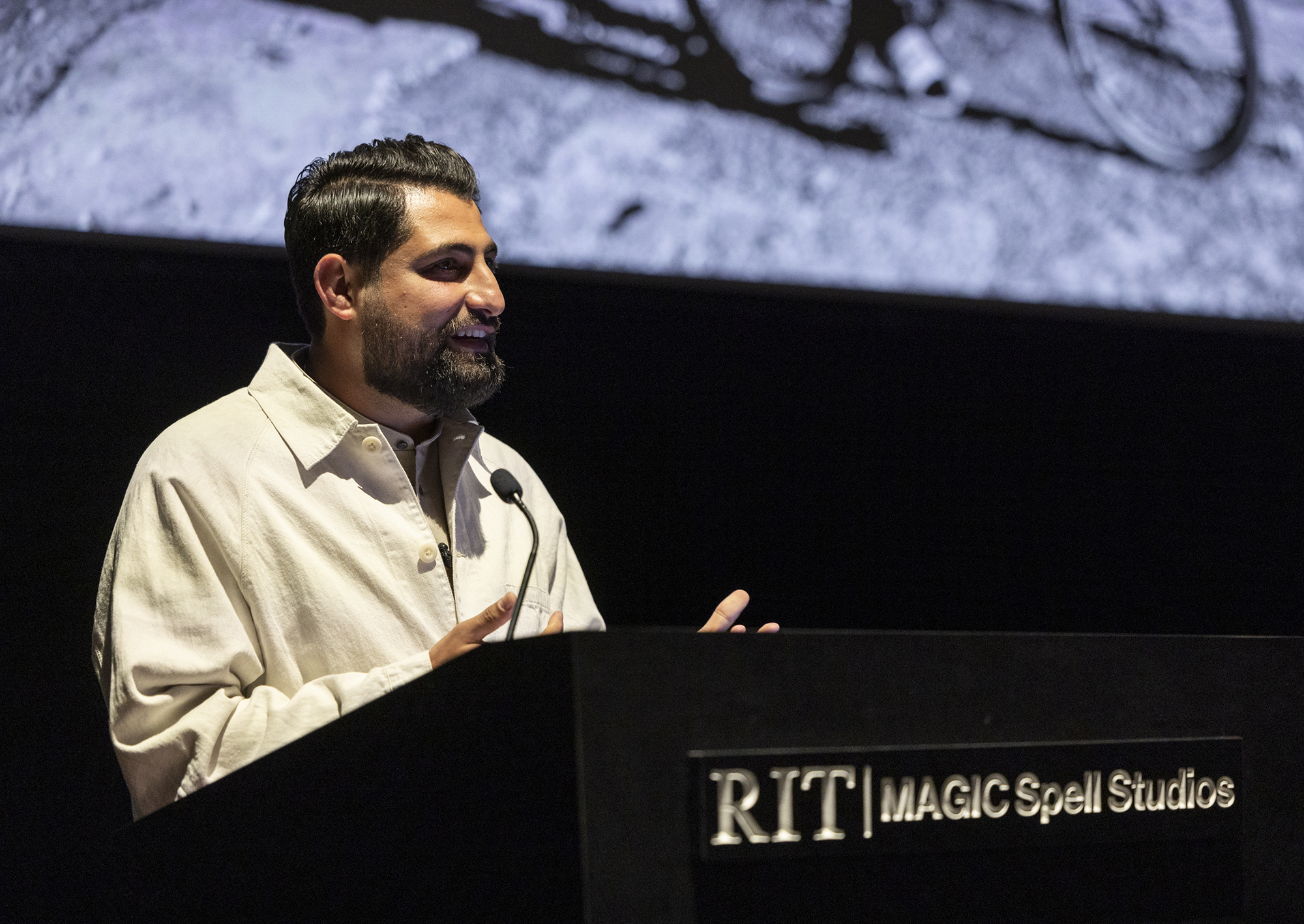 Quinn Freidenburg '24
Georges detailed other climate-related assignments in Alaska and Yellowstone National Park following a major flood event in 2022.
He shared the various camera systems he is stocked with to tell the most compelling, accurate visual stories about climate change. From drones to underwater GoPros, he is prepared to capture geographies from air, land and water.
"A lot of things happen as you're doing stories, and failing to tell it in the best visual way, because it's a learning process," Georges said. "As I'm doing these stories, I'm learning and looking around. So as I do more of them, I'm trying to improve the imagery, I'm trying to make it as impactful as possible for people to really act on climate change."
Chloe Coleman '13 (photojournalism) worked with Georges and other Washington Post staffers on the 2°C: Beyond the Limit project as a photo editor.
The evening after his class visit, Georges presented to the RIT and Rochester communities about his wider body of work. The event was sponsored by the School of Photographic Arts and Sciences' Charles Arnold Lecture Series. 
Titled "What I've Seen," the lecture focused on Georges' travels around the globe covering national and international news stories. Named the 2023 Photojournalist of the Year for Large Markets by the National Press Photographers Association, Georges has been photographing the war in Ukraine, the aftermath of devastating earthquakes in Syria and Turkey and the fentanyl crisis. Most recently, he published a photo essay about his first trip back to his native Iraq since 1998. 
"The talk he had in Wegmans Theater got me choked up. He's everything I think a photojournalist should be," Scott said. "People ask, 'what are your accomplishments (at RIT)?' The accomplishment here is the community, and having the space to ask questions to well-known professionals. That's huge for a young photojournalist. I just feel a lot of gratitude to be able to experience and be part of that."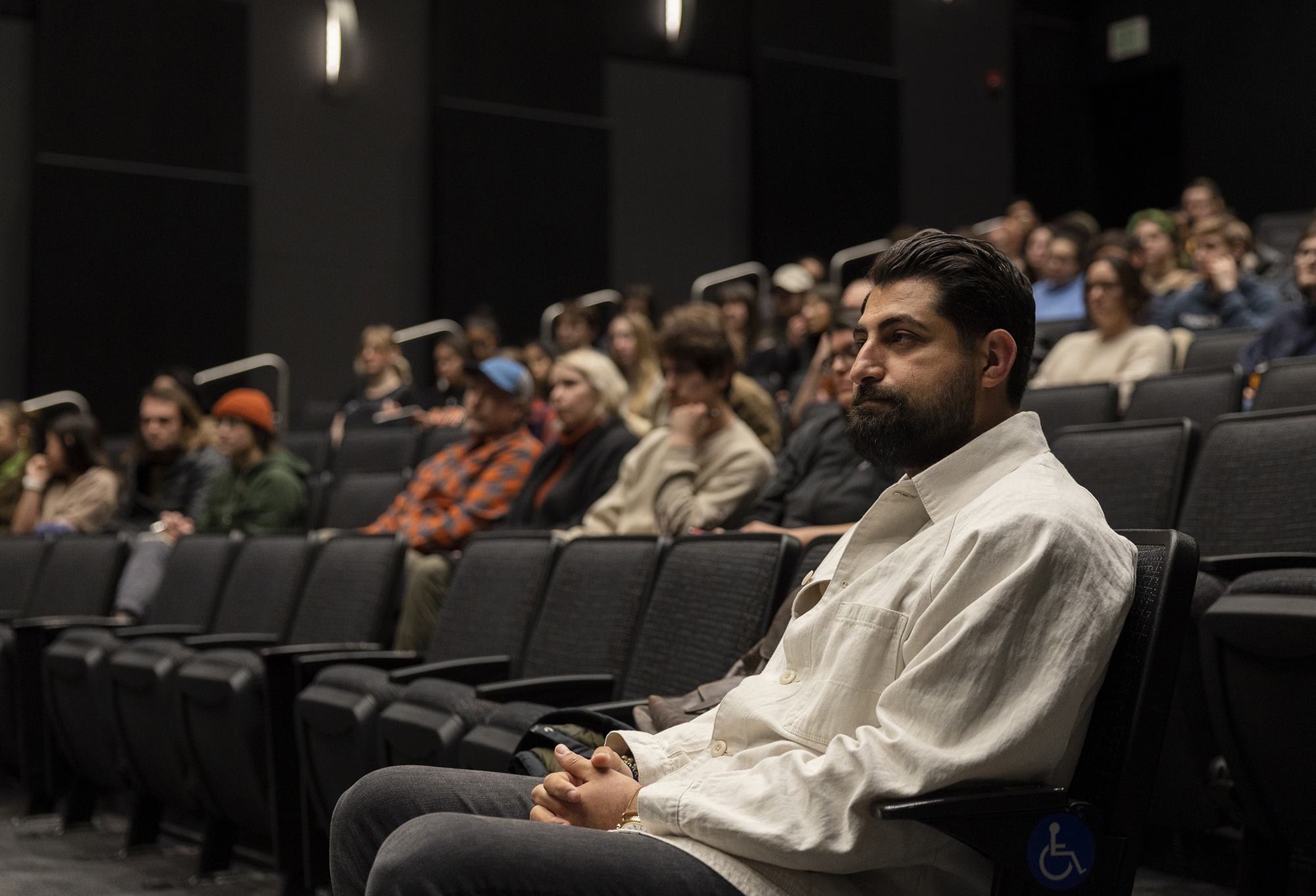 Quinn Freidenburg '24
Topics