On-point amenities at off-campus housing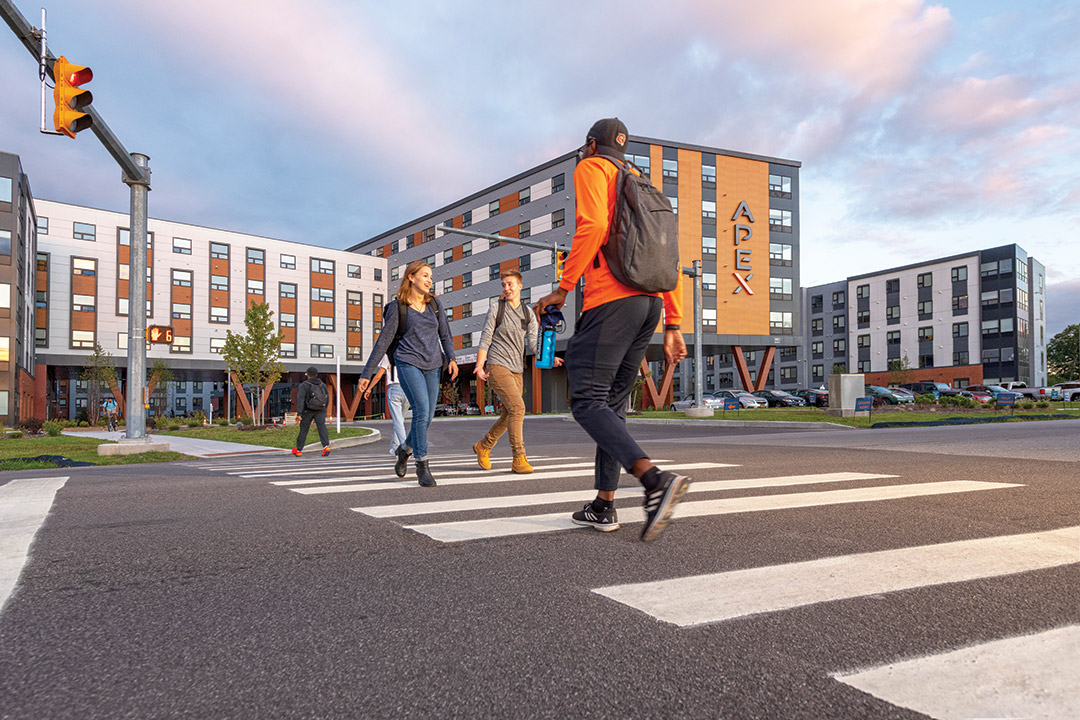 Elizabeth Lamark/photo illustration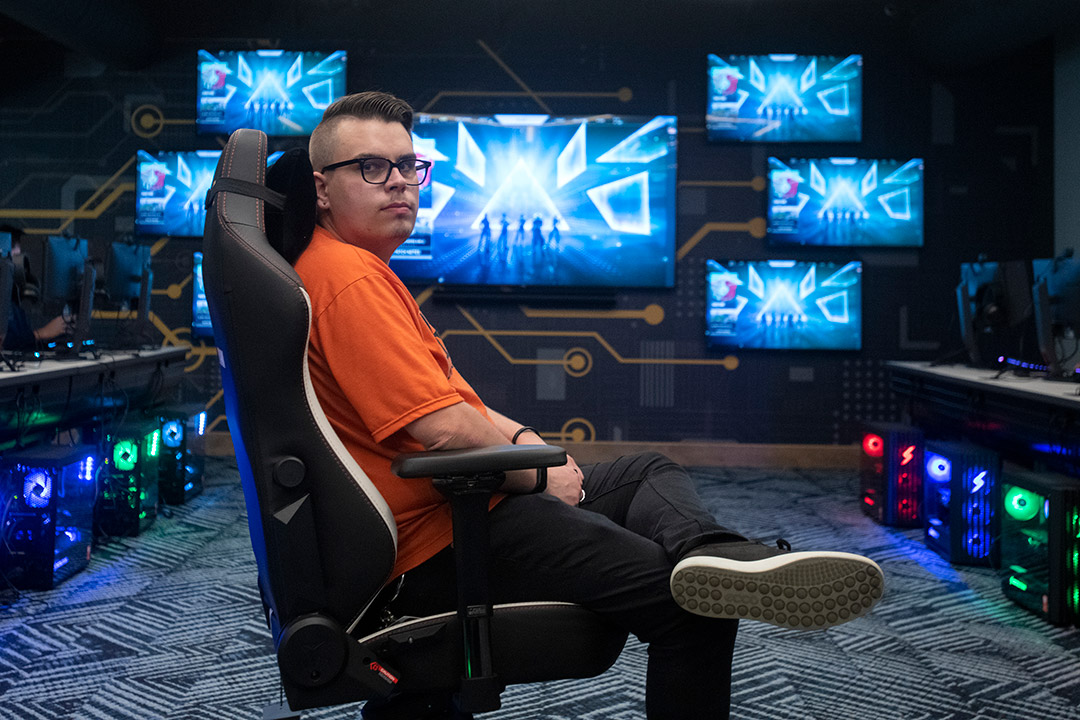 A. Sue Weisler
After living in the RIT residence halls his freshman year, Kenzie Moore was looking for a change of scenery.
The second-year electrical engineering and economics double major wanted a place with no roommates so he could quietly relax after a hard day of classes. He also wanted a full kitchen, where he could prepare his own meals. 
Moore found just what he was looking for—plus a few extra amenities—at the APEX apartment community that opened this fall adjacent to RIT's campus.
"They have an outdoor hot tub open year-round, which will be really nice in the winter," said Moore, who is from San Jose, Calif. "It also has a dedicated esports arena, equipped with 12 top-of-the-line rigs, for anyone looking to play video games at a competitive level."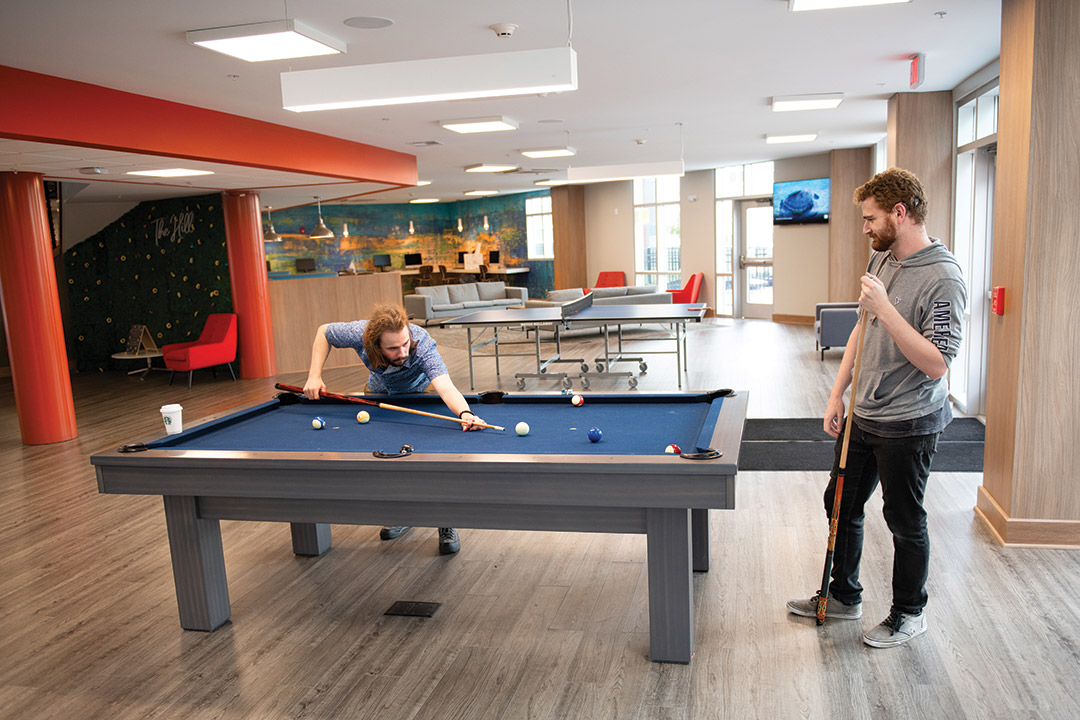 Boris Sapozhnikov
This 1,200-bed apartment complex—and four others like it—are part of a changing housing landscape near RIT. In fact, more than 4,000 RIT students now live in large off-campus housing communities that have recently popped up close to the university.
While these communities on the edge of campus are not owned and operated by RIT, they are part of a university plan more than 15 years in the making. With a growing student population, RIT leaders began partnering with local and nationally recognized university housing developers to help meet the increasing demand and provide exciting new options that students want.
"With capital allocation, there is a limit to how much debt a university can take on to fund its many competing needs in academics, co-curricular life for students, research, athletics, and housing," said James Watters, senior vice president for RIT Finance and Administration.
"By allowing outside organizations to build and run these off-campus housing projects, we can better utilize our debt capacity to make strategic investments that improve life on campus."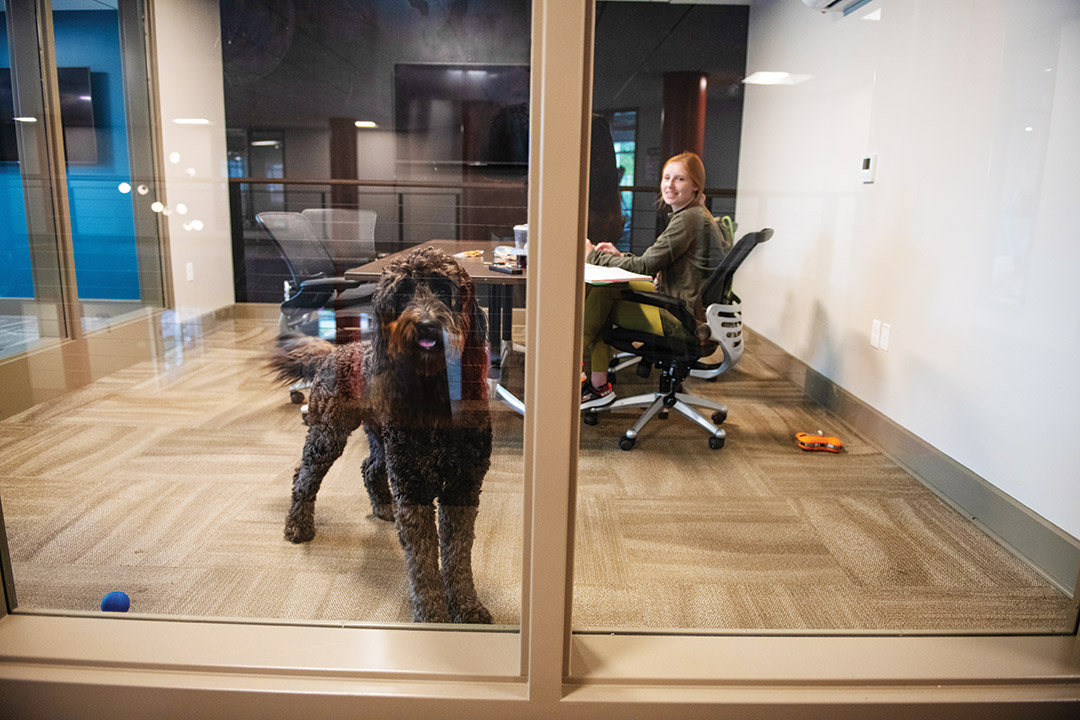 Boris Sapozhnikov
Currently, RIT is upgrading athletics facilities, designing a performing arts theater complex, and constructing the Student Hall for Exploration and Development (the SHED) at the center of campus, among other projects.
The university has also made investments in its on-campus housing, adding new buildings to the Global Village suites and renovating part of Riverknoll. About 6,800 students currently live in RIT-owned and operated housing, which is guaranteed for first-year students.
However, for many, living off-campus has benefits that RIT housing is just not able to provide. Off campus, students can find housing that has competitive rates, private bathrooms for each tenant, in-unit laundry, pools, different furnishings, fitness centers, and allows pets.
For Moore, the prospect of having an esports arena on-site was a game changer.
"The owners saw how big the esports community is at RIT and decided this was an amenity they could make happen," said Moore, who actually helped organize the esports arena and works as an assistant community manager for the RIT Esports club. "It's going to be a good gathering place and fun space for holding tournaments."
By the Numbers
6,800 students living in RIT-owned housing.
+8,000 students who live off-campus.
35 percent increase in full-time enrollment at RIT's main campus since 2000.
5 large apartment communities built near RIT in the past 15 years.
$960 per month average cost of a two-bedroom off-campus apartment near RIT.
$165 million economic impact RIT students and visitors make in New York state each year, according to a 2019 study from the Commission on Independent Colleges and Universities in New York.
Some of the more recent changes in housing began around 2008, when Park Point opened a 900-bed complex on the northeast corner of campus. RIT retains long-term control of this land, which sits within the main "superblock" of campus.
"We have an interest in maintaining high standards for any of these developments immediately close to RIT," said Watters. "Students residing in these facilities need to be safe, treated well, and have the tools to be successful. Transportation is also a key part of the discussion, with several of these facilities participating in the university bus system and reimbursing their share of the cost."
In 2009, a developer opened The Province apartment complex on private property across the street from Park Point. That same year, RIT chose to sell its Racquet Club apartment buildings, located about a mile south of campus. The buildings were renovated, expanded, and renamed The Hill at Rochester. On property next door, a developer built a community of townhouse-style apartments called The Lodge.
Most recently, RIT sold its Colony Manor apartments to developers that leveled the property and opened the seven-story APEX apartments in 2021.
Henrietta Town Supervisor Stephen Schultz '89 (computer science) said he sees these changes as a win for the town that's home to RIT. Some of the housing communities are not exclusive to students and can provide a good residence for people working in the area, while others in close proximity to campus focus on student living with additional benefits to the town.
"The off-campus apartment projects in the immediate vicinity of the campus have been great, as they almost all offer a shuttle service, which helps the community by reducing the number of cars on the road heading to campus," said Schultz. "I also hope that the growth in convenient and quality student housing apartments will reduce the demand for college students renting individual houses within family neighborhoods, which can create a lot of issues due to the different lifestyles of students and families."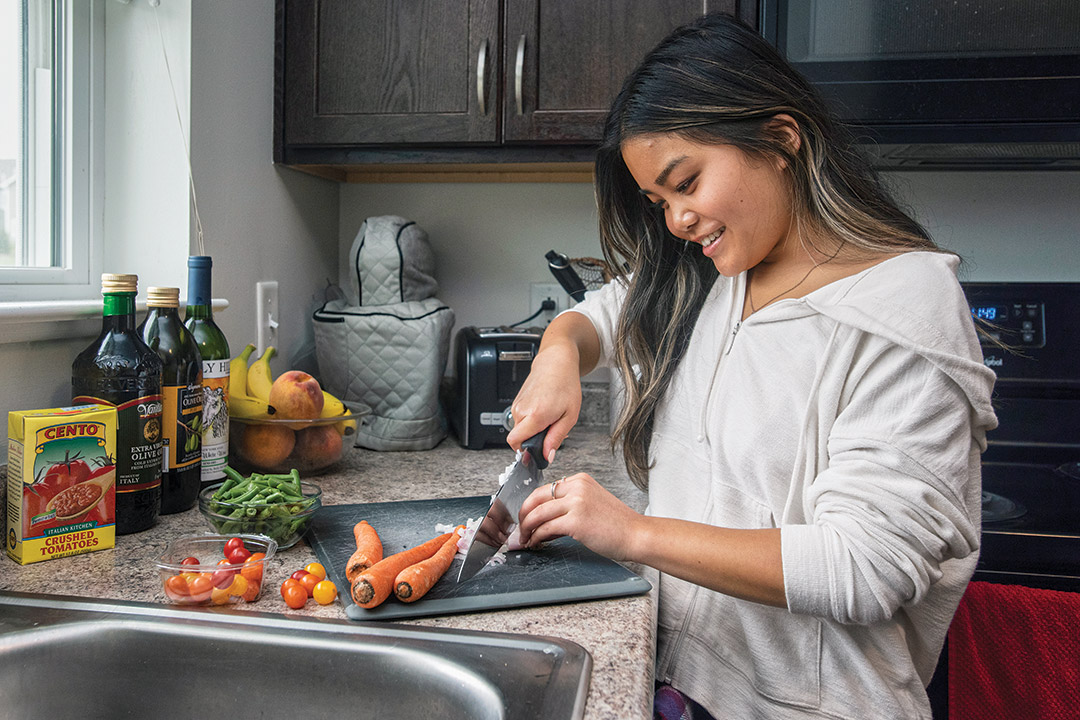 A. Sue Weisler
Of course, many students choose to live in other places around Rochester—from trendy houses on Park Avenue in the city to other apartments in the Henrietta area.
Elizabeth Ferrari and her twin brother, Chris, commuted to school their freshman year while living at home in Spencerport, N.Y. For their second year, they both wanted to live closer to RIT. He chose to live in RIT housing at University Commons, while she and her friend got an apartment at The Lodge.
"I need that little bit of separation from campus, so I can get into a different mental space when I lay my head down at night," said Elizabeth Ferrari, a third-year accounting major. "I also love that my place is a townhouse with its own front door and backyard patio."
Ferrari and her roommate enjoy longboarding around the complex at night and cooking their own meals—a mix of comfort and healthy foods. Ferrari has her own car, which comes in handy when she goes shopping at Wegmans or wants to stop by campus.
"I'll even make extra food to bring to my brother," Ferrari said. "I think he really appreciates having a home-cooked meal once in a while."
Topics