October 30, 2014
by Marcia Morphy
Professor's Fidget chair lets kids be kids
'Fidget' chair inspires natural movement that allows children to release energy while learning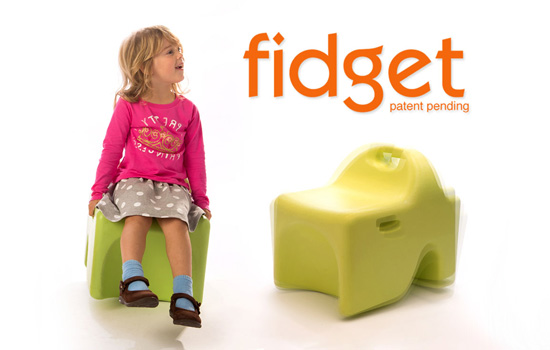 Remember telling your kids to sit still and stop wriggling around?
Well, now they don't have to. Sandra Turner '12 (MFA, industrial design), who calls herself a "natural fidgeter," has invented the "Fidget," a lightweight modular chair for children ages 3-6 that allows them to engage in side-to-side motion that imitates natural fidgeting movement.
Turner is a classroom design expert and adjunct professor in Saunders College of Business and the School of Design at Rochester Institute of Technology who has studied children's active behavior in home studies and elementary schools in upstate New York. Her research indicates that natural movement like fidgeting increases focus, decreases anxiety, improves cognitive function, and may help reduce obesity.
"Children sit on the average of six hours a day—often feeling confined and trapped without being able to move around," said Turner. "I designed Fidget because I've always been impressed with the basic design of the stability ball, but this is safe and secure—sort of like Weebles that wobble but don't fall down."
The Fidget—which received accolades from Core 77 Design Awards—also has what Turner calls the "cute factor." The modular cubes can turn on their side to double as a desk or stool, fit together like a puzzle, are stackable, and come in vibrant hues of lively lime, playful purple, bubbly blue, optimistic orange and yummy yellow.
"College students in my design classes at RIT all want one, and I intend to grow the product line to include medium and adult sizes for all fidgeters," said Turner.
Turner is president of Rove Design Group, a product design firm in Rochester, N.Y., and co-owner of the new Viggi Kids division—of which the patent-pending Fidget is its first flagship project. She recently launched a Kickstarter campaign to help fund manufacturing costs with the goal of reaching $50,000 by Nov. 30—hoping to ship Fidgets to energetic children in February 2015.
Topics