Prosthetics design integrating 3D printing takes third place in international challenge
Jade Myers' flexible limb socket design is recognized for improved performance and cost effectiveness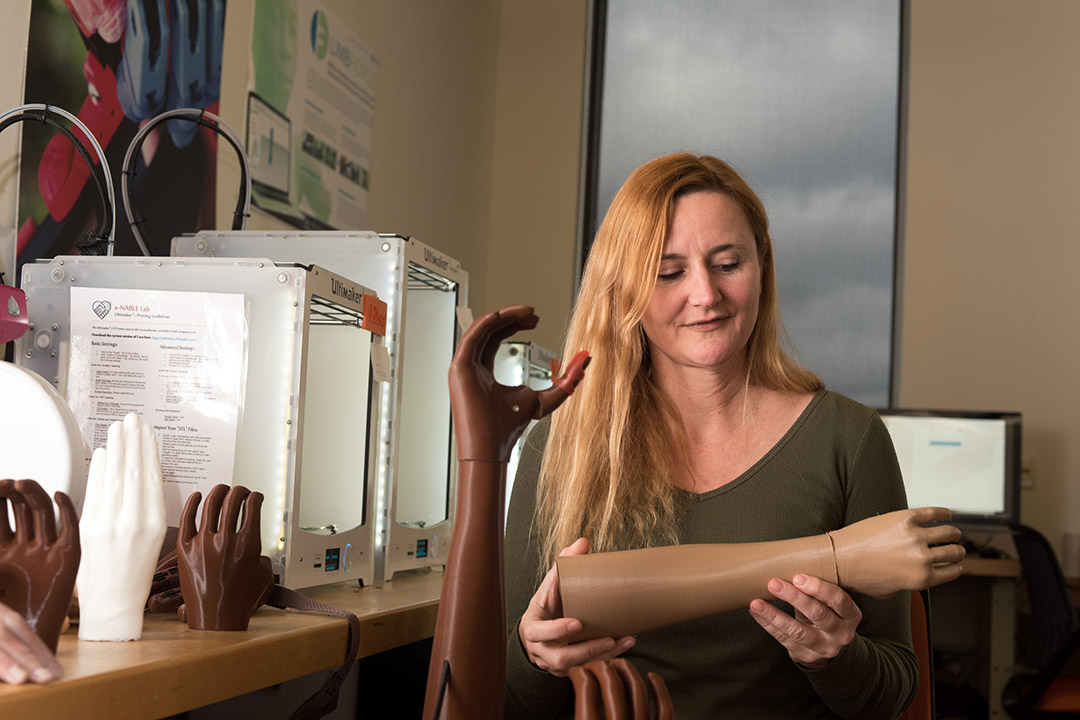 Jade Myers' experience in Haiti several years ago helping refugees after a devastating earthquake left an impression that is inspiring her work today as a researcher in prosthetics and accessibility.
Myers, who uses 3D print technology to develop upper and lower limb prostheses for amputees, was a top three winner of the nTopology-EOS 2022 Responsible Part Challenge, an international design competition. Her project, improving prosthetic sockets with density-graded lattice, was recognized for its innovation and potential impact the new design could have.
Myers was one of the students from 28 colleges and universities across 16 countries who participated in the annual event featuring designs in light-weighting, thermal management, sustainable energy, architected materials, and industrial design categories.
The technology gets Myers one step closer to a distinctive type of prosthesis that is more functional than traditional designs. She created a variable-density lattice structure to improve the connection where the body meets the prosthetic device.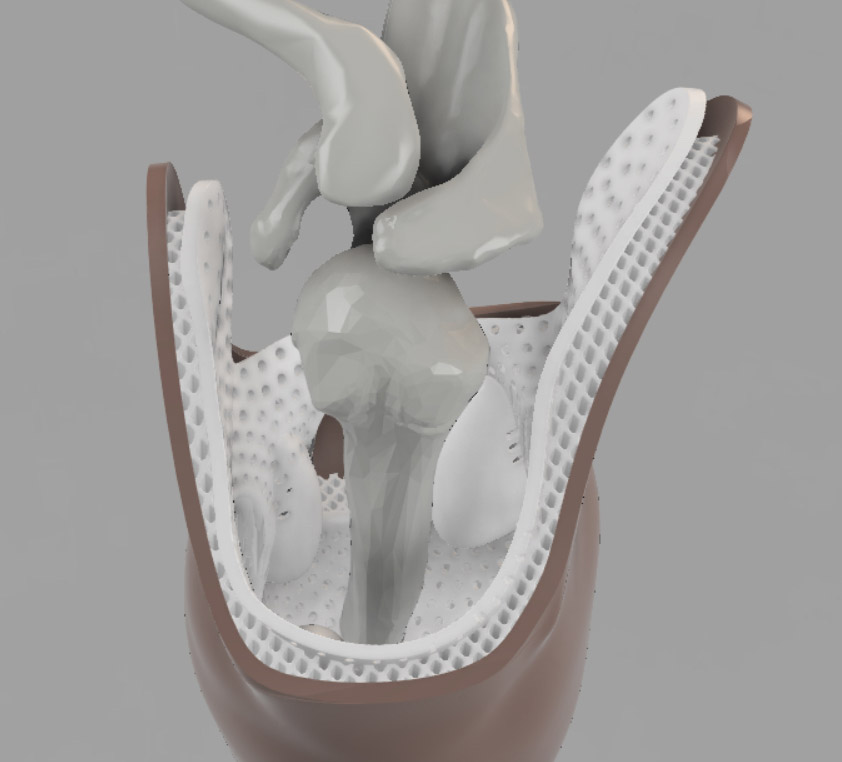 Provided
"Light-weighting is super important for people with limited muscle and bone structure, and this is one of the areas where 3D printing, in our experience, has been very positive. The devices are much lighter than those traditionally manufactured," said Myers, a Ph.D. candidate in RIT's Kate Gleason College of Engineering. She also teaches courses in the engineering college and participates in interdisciplinary projects taking place at the LiveAbility Lab, an initiative based in the university's Partnership for Effective Access Technology Research and Development.
There are several types of prosthetic sockets designed to interface with residual limbs. A more recent style developed is called a compression-release-stabilized (CRS) socket. Compression on either side of the humerus bone, for example, helps stabilize the prosthesis, and release areas ensure the soft tissue has a place to emerge.
"That is where this lattice structure comes in," she said. "There are better ways to precisely control compression by changing the density of the lattice structure."
Picking up items with a prosthesis means weight is added causing uneven pressure, or weight-load, concentrated on the far end of the bone. Adjusting pressure along the length of the bone and device can increase utility and range of motion, plus ease pain on the compressed tissue.
Inspiration for her new socket design came from running shoes.
"I knew they were using lattice structures at Adidas for running shoes to adjust pressure in different areas of the foot based on sensor readings," she said. "Where individuals were putting the most pressure on their feet, that is where they put the dense lattice to make it firmer. I thought, why can't we do that with prosthetic sockets?"
Myers re-worked the idea to form a padded socket with varied areas of density in RIT's AMPrint Center, a campus laboratory and research facility focusing on additive manufacturing and 3D print advances. After compression, pressure, fatigue, and new materials testing, she will begin prototyping 3D printed models.
"We want it to have both form and function," she said.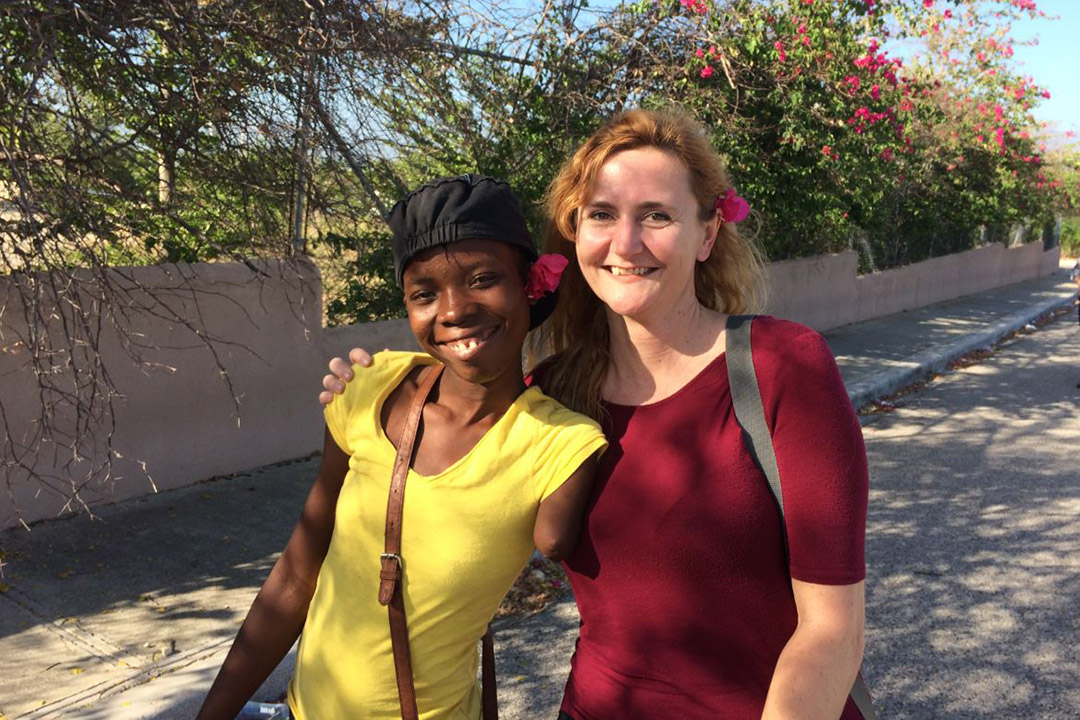 When Myers first began work in prosthetics, she was part of a nonprofit health organization associated with RIT and was instrumental in helping clinicians in Haiti understand how 3D-printed prostheses could be added to their practice.
While there, she met Danie, a young woman who lost her arm during the earthquake in 2010. Myers was touched by her plight, but also saw her as someone with a will to live despite hardships and socio-cultural stigma encountered in her community because of her amputation.
"Danie inspired me. In Haiti it is very hard for a person to not only afford a prosthesis, but to get to a clinic. Some people are spending the night outside of the clinic waiting for them to create this device that takes several days for them to make," said Myers. "Being able to manufacture the devices faster is one of the things we want to do. We want to be able to provide things people can afford, and that work well for them. The faster it happens, the sooner people like Danie can have the opportunity to wear these. It not only impacts them—it can have a ripple effect on families and their opportunities, too. It gives me greater drive, practically a desperation to do better faster because I have had the opportunity to see with my own eyes what a real difference it has potential to make for people. I can never imagine doing anything else with my life."
Myers and Danie have remained in contact since meeting, now co-designing devices together. The two have become good friends, and Myers has visited Haiti on several occasions seeing her friend re-building her life. Myers expects to graduate with her doctoral degree in 2023.
Topics