Q&A with Vice President and Associate Provost for Diversity and Inclusion Keith Jenkins
Jenkins discusses the newly released Action Plan for Race and Ethnicity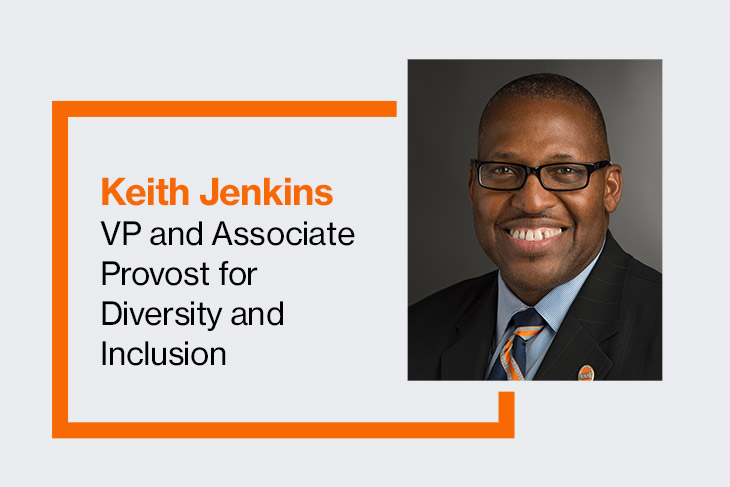 RIT unveiled its Action Plan for Race and Ethnicity, outlining numerous new initiatives that will guide the university's work in diversity and inclusion over the next several years. Vice President and Associate Provost for Diversity and Inclusion Keith Jenkins, who led efforts to compile the plan, answered several questions about the plan and its implications.
Who were the driving forces behind the plan?
This is a plan for the RIT community by the RIT community. I think the biggest motivation flowed from the town hall meetings we held last summer. That was the initial spark where individuals shared their hearts and concerns. They shared a need for RIT to do something that transcended what we were already doing and there was an urgency to respond to concerns that were rising after the death of George Floyd. At every town hall, whether with students, faculty and staff, or alumni, that rallying cry was there.
Action Plan for Race and Ethnicity
RIT has unveiled an extensive new plan and series of initiatives aimed at making the university more diverse, equitable, and inclusive. Read more about the plan.
That led to us establishing three working groups with a focus on students; a focus on faculty and staff or employees; and a focus on leadership, communication and culture. These working groups shaped the initial items that would become part of the action plan.
After the working groups weighed in, we sought feedback from President Munson's leadership team, the Board of Trustees, and at multiple points, Academic Senate, Staff Council, Student Government, and leaders of our Black, Indigenous, and People of Color (BIPOC) student clubs and organizations.
It is not possible to address each individual concern that was raised, we worked to make sure prevailing themes from the groups that influenced this plan are in the plan. There were major themes that came up often. They included the need for diversity education across the board; representation across the board, pertaining to both access and success of students, faculty and staff of diverse backgrounds at all levels of the university; and the theme of climate at RIT was really a big one.
When will people start noticing changes because of the plan?
Immediately, and you can almost say yesterday. The plan is unfolding in real time and many of the actions are already underway. An example is the support needed for the Office of Faculty Diversity and Recruitment (OFDR). Some reorganization in OFDR has already taken place and this will support initiatives to move us forward in that space. In terms of diversity education, we emphasized making sure every search committee or search team operates in best practices for recruiting diverse staff or faculty. That's something that's already underway and is being realized as we speak. The hiring of individuals to focus on staff as diligently as there is a focus on faculty in the space of diversity is already underway. So, there's a lot of activity already underway.  Finally, the ongoing efforts to establish partnerships with historically Black colleges and universities (HBCUs), Hispanic-serving institutions (HSIs) as well as predominantly white institutions (PWIs) graduating the highest numbers of women and members of the BIPOC community with Ph.D.s is also already underway.
What are some of the plan's boldest initiatives?
When I look at the plan, I think one of the bold initiatives is around leadership, culture and communication. President Munson requiring his leadership team to participate in a development program focused on inclusive leadership is a bold step because it's saying that we begin at the top with demonstrated commitment to diversity education that allows us to be challenged and our eyes to be opened to the needs for change and action. The plan also talks about us connecting with the City of Rochester and having a bigger presence in the community. I think that's a bold one to get RIT more invested in the community of Rochester. And closing the graduation gap between AALANA and non-AALANA students is a big one that would stand out.
Once RIT implements every initiative as part of the plan, will it be an antiracist university?
I think that as long as race exists in this world, racism has the potential to exist. I think it's pollyannish to think that racism will go away when we have been battling this for over 400 years. But there is hope that we can move forward in terms of creating a more inclusive community for all of RIT's students, staff and faculty. The answer to creating a more inclusive community is yes.
I think our goal is to make this university a much more inclusive, welcoming, vibrant institution that benefits from the contributions of all of its participants at all levels. That is the key. But to say there is no more racism, sexism, heterosexism, xenophobia, is not going to happen. One of the reasons is we are a microcosm of the greater world in which we live. The students who arrive here each year arrive from spaces where either these issues have been addressed and dealt with or they have not. Hopefully the RIT community and culture is transformative for everyone who comes in, but I cannot expect that every person who comes to RIT enters in espousing all of these wonderful utopian ideas of no racism, sexism, etc. But, we will offer the spaces—whether in classes, residence halls, student clubs and organizations, sports, etc.—for all of us to be more inclusive and welcoming in our experiences at RIT.  So there is much work to be done.
Topics