RIT art gallery hosting traveling craft exhibit borne out of political activism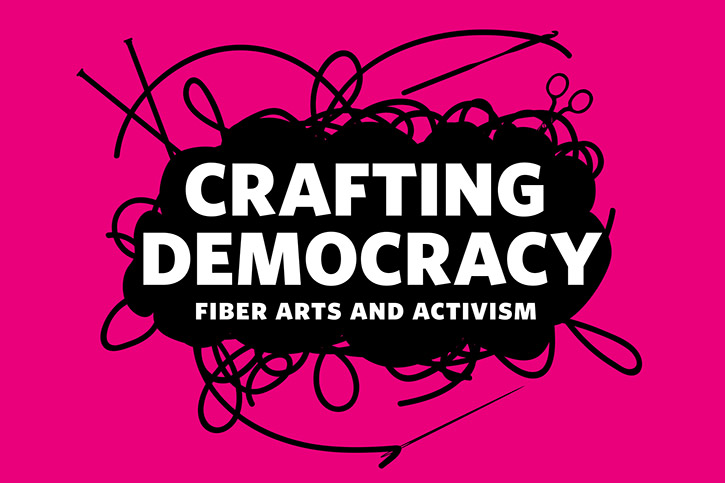 A traveling exhibit that calls upon craft as a creative force in voicing dissent and expressing hope in an era of political disruption is making its first-ever stop at Rochester Institute of Technology over the next month.
"Crafting Democracy: Fiber Arts and Activism," curated by RIT College of Liberal Arts associate professors Juilee Decker and Hinda Mandell, is on display at the College of Art and Design's Bevier Gallery through March 14.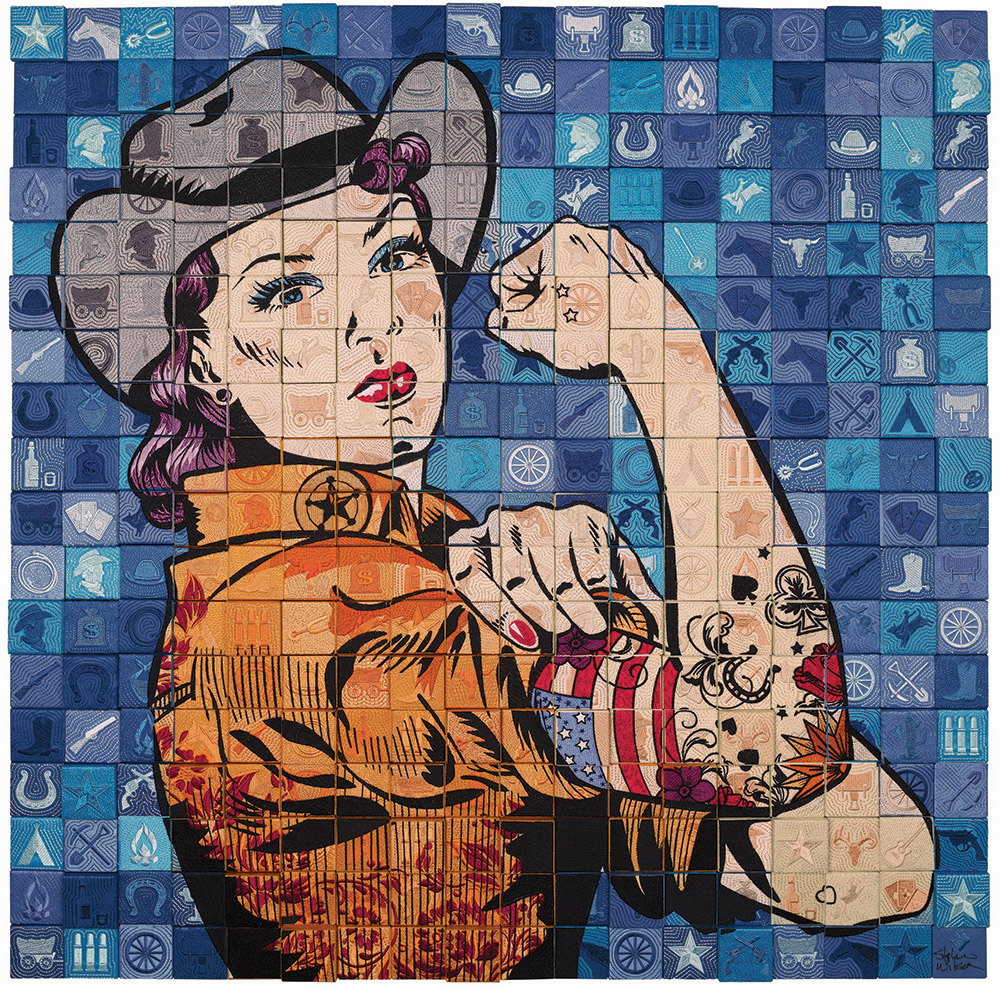 Stephen L. Wilson
An opening reception—free and open to the public—is scheduled for 5 to 7 p.m. Feb. 19. The reception is co-sponsored by RIT Press and the School of Communication. Prior to the reception, the co-curators will deliver an opening talk at 4:30 p.m.
The exhibition made its debut in 2019 in the Central Library of Rochester and Monroe County's Anthony Mascioli Gallery. RIT Press has published an exhibition catalogue supported, in part, by a grant from the Farash Foundation.
In addition to other upcoming activities related to the exhibition, Decker and Mandell will be signing books at Lift Bridge Book Shop, 45 Main St., Brockport, N.Y., from noon to 2 p.m. this Saturday, Feb. 22.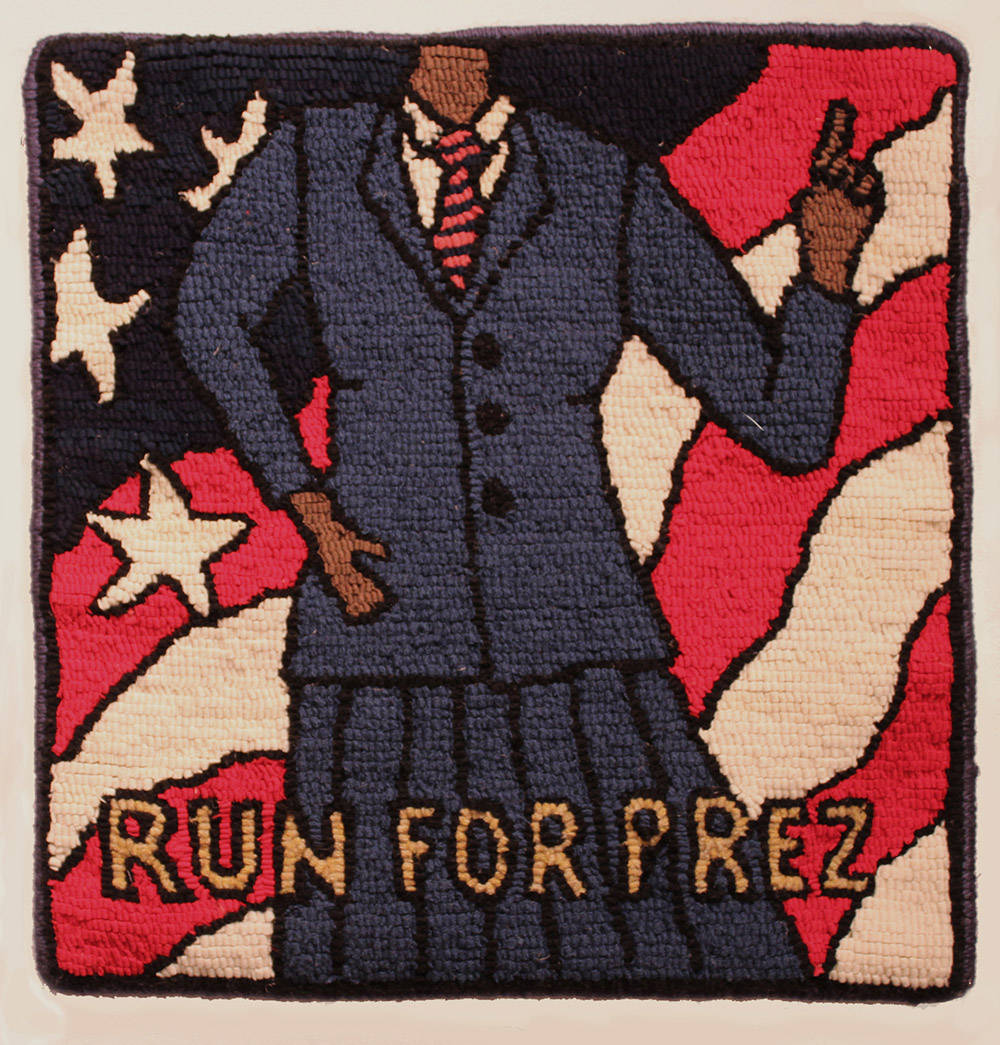 Jill St. Coeur
"Crafting Democracy" explores craft activism or "craftivism"—a term popularized by writer and crafter Betsy Greer—and the 2016 presidential campaign between President Donald Trump and Hillary Clinton, particularly the post-election aftermath. Thirty works by local, national and international contributors express their personal beliefs about gender and racial injustices through the language of yarn, thread, embroidery and other materials.
"These pieces offer very pointed and incisive commentary and opinion relating to identity, gender, politics and personal freedom or lack thereof," Mandell said. "They're all grappling with issues that are present and current in American politics today."
"Each work, in its own way, expresses an artist's beliefs and provides a lens through which visitors can see and understand the multiple meanings of both craft and democracy," Decker added.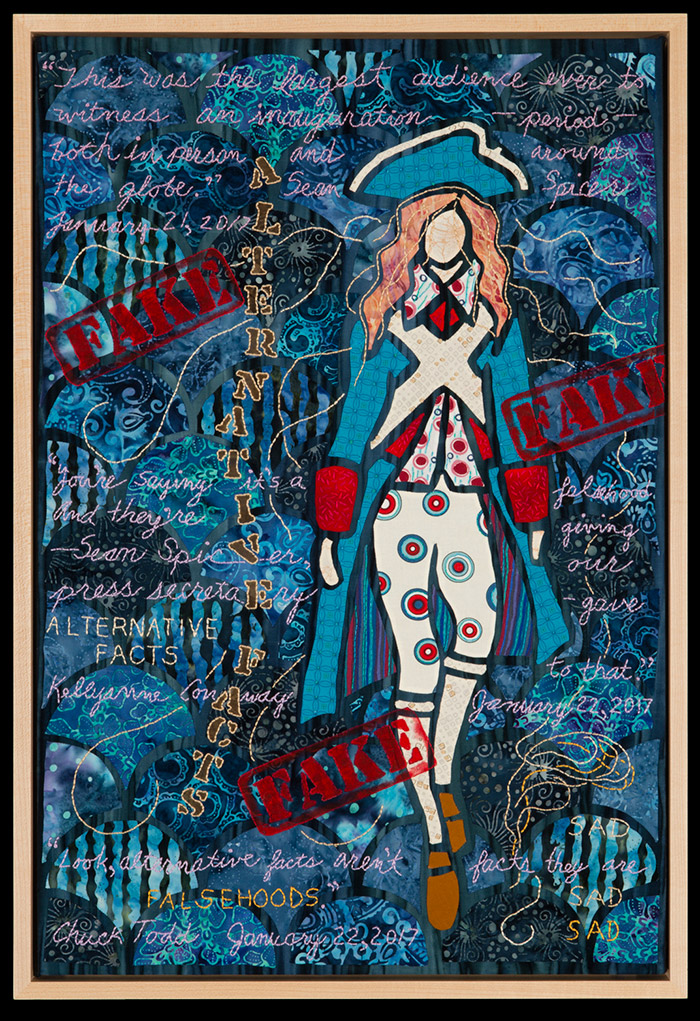 Aaron Paden
After the Feb. 19 reception, artists and craft hobbyists will be invited to participate in a "Craft Your Candidate and Wear Your Vote on Your Sleeve" making session from 5 to 7 p.m. during which "all RIT makers will be called upon to help facilitate a productive brainstorming session on how they can put their craft activism into practice for the 2020 presidential election season," Mandell noted. All supplies will be provided free of charge.
In addition, Decker and Mandell are collaborating with master crafter Jennifer Roeszies, an archivist assistant with RIT Libraries, and fourth-year museum studies major Landyn Hatch of Elmira, N.Y., on a craft workshop from 3:30 to 5:30 p.m. on Feb. 26 at which attendees will learn both Tunisian and finger crochet. All supplies will be provided free of charge.
A "Warm Threads Clothing Drive" will invite people to create or provide warm wear for Rochesterians served by the House of Mercy. The nonprofit offers food, shelter and clothing to the city's homeless.
The drive welcomes all hats, scarves, mittens, gloves and socks—hand-stitched, new or very gently used—from the community and will be accepting donations outside Bevier Gallery through the run of the exhibition. A selection of the donated warm wear also will be distributed to RIT students on the Henrietta campus.
A "SewGreen Workshop" from 2 to 4 p.m. Saturday, Feb. 29, will enable attendees to create their own reusable bag—and learn to use a sewing machine—at SewGreen Rochester, 439 W. Main St., in Rochester. The workshop is free but registration is required.
After concluding its run at Bevier Gallery, the exhibit moves to the Woodlawn & Frank Lloyd Wright's Pope-Leighey House in Alexandria, Va., during April and May. It will then travel to the Davis Gallery at Houghton House at Hobart and William Smith Colleges in Geneva, N.Y. through this fall's election.
Topics