RIT College of Health Sciences and Technology students gain hands-on experience during clinical trial
Healthy lifestyle study accepting eligible participants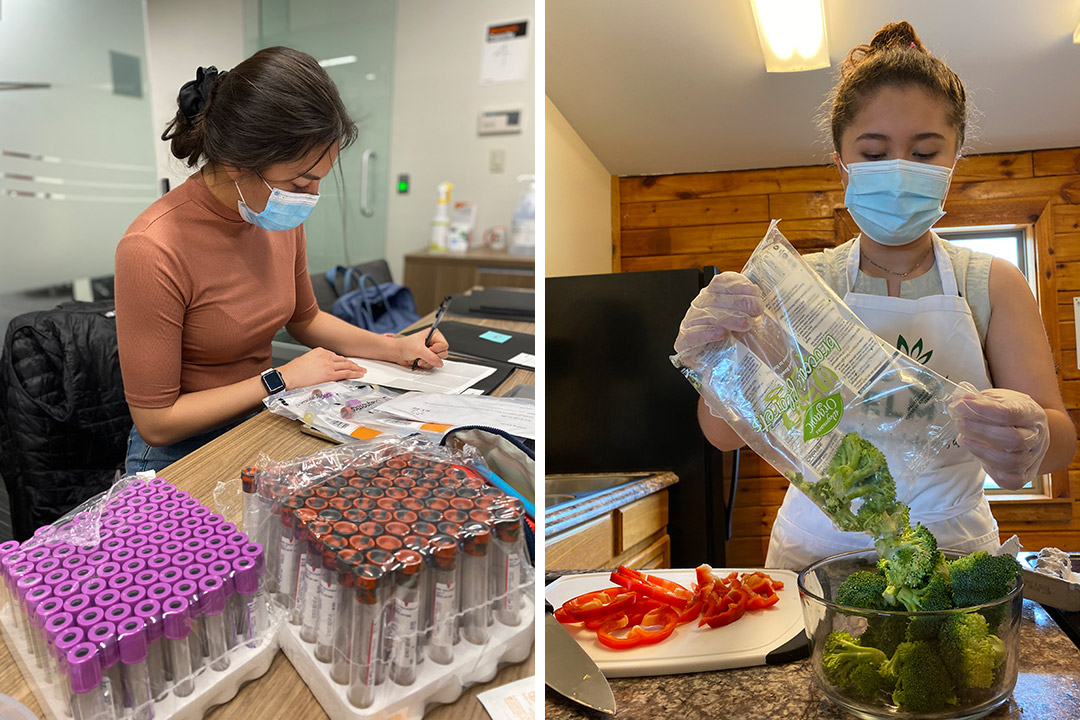 RIT undergraduates Jewel Amrich and Courtney Casteen in the College of Health Sciences and Technology are on the frontline of a national clinical trial focused on preventing the risk of heart disease, Type 2 diabetes, and stroke through lifestyle management.
Amrich, a third-year physician assistant major from Mililani, Hawaii, works as a student research assistant on the Enhanced Lifestyles for Metabolic Syndrome, or ELM, study, conducted by RIT's Wegmans School of Health and Nutrition.
Casteen, a fourth-year dietetics and nutrition major from Honolulu, Hawaii, is a student research assistant for the group sessions.
The students are working with a team of more than a dozen professionals that include a medical doctor, doctorates in nutrition and registered dietitians, and an emergency medical technician.
"ELM has provided me an opportunity to refine my patient interaction skills and interviewing techniques," said Amrich, who is exercising the communication skills that are central to the physician assistant program and patient-centered care. "Working with vulnerable study participants requires us to explicitly inform them of our protocols and procedures. Our team is a critical part of this study, especially during the COVID-19 pandemic."
The public health crisis delayed but didn't derail the ELM study.
"A lot of people want to participate because of COVID," said Barbara Lohse, director of the Wegmans School of Health and Nutrition, who is conducting the two-year study. "They realize they are at higher risk because they have chronic disorders and obesity."
The lifestyle management program focuses on physical health, nutrition, and stress reduction to reverse high blood sugar levels, high blood pressure and triglycerides levels, unhealthy cholesterol, and large waistlines. Collectively known as metabolic syndrome, these conditions often lead to chronic diseases.
Working to improve community health is a core mission at the Wegmans School of Health and Nutrition. The ELM study is one way to offer a service to the community, even during the pandemic, Lohse said.
The ELM study—currently recruiting people 18 and over with metabolic syndrome for its third and fourth cohorts—randomly assigns participants to either a self-directed, independent section and a group that meets in person. The study seeks to determine which method is most effective for reversing metabolic syndrome.
Amrich works on the assessment team under ELM project coordinator Kristie O'Connor '08 (dietetics and nutrition) and screens potential participants for metabolic syndrome at their initial visit. She tracks the progress of all individuals in both ELM treatment groups. Amrich administers surveys and records participants' weight, height, waist circumference, blood pressure, and fasting blood work. She also screens participants for COVID-19 symptoms prior to group meetings.
"As a future health professional, I love having the opportunity to help those trying to better their physical and mental health while I am still a student," Amrich said. "Our team works diligently to make sure the data being collected are precise and accurate."
Casteen teaches participants to make healthy meals through cooking demonstrations. She selects ingredients specific to each lesson, orders groceries, practices recipes ahead of time, and prepares ingredients for the participants.
Casteen looks forward to the Monday in-person group sessions because the program benefits everyone involved.
"I get to practice my cooking skills, and I get a scheduled 30 minutes of exercise," she said. "Many of the ELM lessons about time management and priorities are lessons that I incorporate into my personal and school life."
RIT healthy lifestyle study accepting eligible participants
Participants are needed for the Enhanced Lifestyles for Metabolic Syndrome (ELM) study conducted by Rochester Institute of Technology's Wegmans School of Health and Nutrition.
The clinical trial evaluates a program developed at Rush University Medical School and is designed to reverse conditions leading to heart disease, Type 2 diabetes, and stroke.
Eligible participants must be 18 or over and have three of the following conditions that contribute to metabolic syndrome—high blood sugar levels, high blood pressure, high cholesterol and triglyceride levels, and a large waistline. An online survey can help determine eligibility.
Each cohort of 30 people is split into a self-directed, independent section and a group that meets in person. All participants will receive access to the same tools and information to help them increase physical activity, eat healthfully and manage stress, including nutrition and health education; a Fitbit; and blood work and feedback on lab results. Individuals will be compensated for participating in the study.
People who have a history of heart disease, stroke, Type 2 diabetes, or bariatric surgery are not eligible.
Rush University Medical Center developed the lifestyle management program and is funding national clinical trials to evaluate it. Besides RIT and Rush University Medical Center, the study is ongoing at University of Colorado-Denver, Geisinger Clinic in Danville, Pa., and University of Missouri-Kansas City. 
More information about the ELM study can be found at ELMtrial.org, or by calling 585-484-7613, or by emailing ELM Study.
Topics