RIT expands Ph.D. portfolio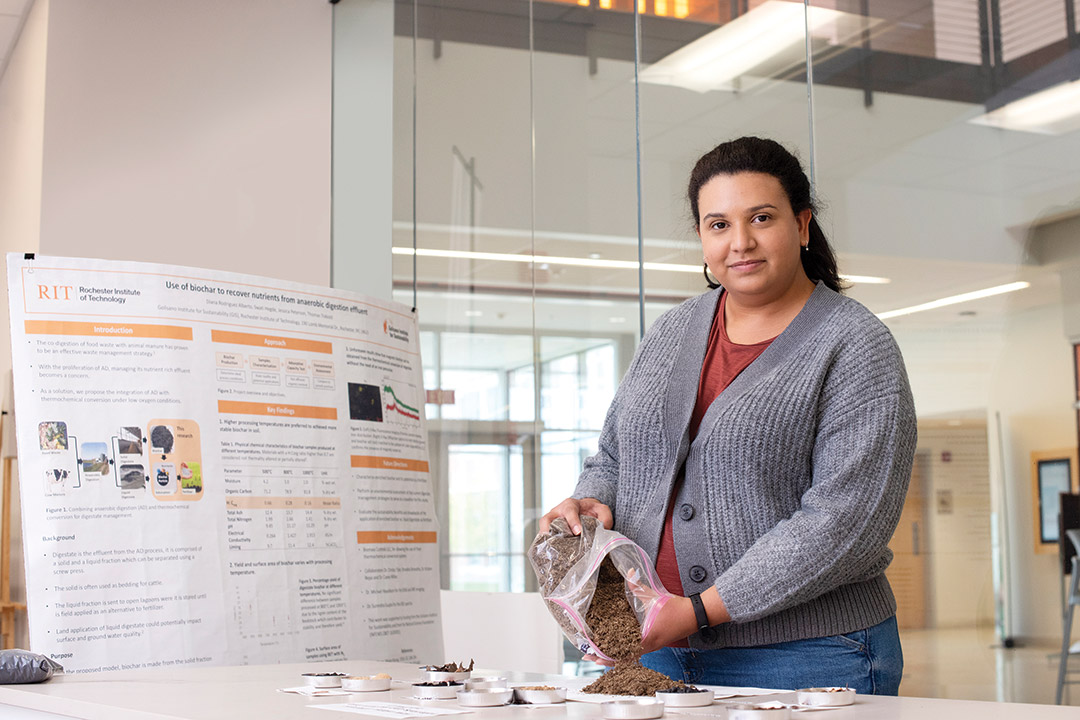 RIT's strategic plan calls for adding six to 12 new Ph.D. programs and conferring 50 doctoral degrees every year by 2025. The university already reached the latter goal with 51 Ph.D. degrees conferred in the 2020-2021 academic year.
Doctoral programs in business administration and cognitive science are under review at the New York State Department of Education, and a Ph.D. in physics is next in line.
RIT Graduate School Dean and Associate Provost Twyla Cummings anticipates the programs starting in 2022 or 2023. This would follow a trio of new engineering Ph.Ds.—electrical and computer engineering, mechanical and industrial engineering, and biomedical and chemical engineering— that launched in fall 2020.
RIT's priority to build doctoral research programs is important to the university's future. These programs attract top-tier faculty who generate research funding and support teams of graduate student researchers. In turn, the faculty and research opportunities recruit Ph.D. students to the university.
 This equation has led to new rankings for RIT in 2019. The university is now listed as a "high research activity institution" or "R2" under the updated Carnegie Classification of Institutions of Higher Learning. The update follows a reclassification in 2016, when RIT changed from "Master's—Comprehensive" to "Doctoral University—Limited Research Activity."
The ranking changes reflect a yearly graduation rate surpassing 20 Ph.D. students. RIT jumped from 18 Ph.D. degrees conferred in 2012-2013 to 29 in 2013-2014 and 33 in 2014-2015.
Today, RIT enrolls 300 Ph.D. students in 11 Ph.D. programs. They are astrophysical sciences and technology, biomedical and chemical engineering, color science, computing and information sciences, electrical and computer engineering, engineering, imaging science, mathematical modeling, mechanical and industrial engineering, microsystems engineering, and sustainability.
Sustainability Ph.D. candidate Diana Rodriguez Alberto '16 MS (chemistry) came to RIT from the Dominican Republic for graduate school.
Her doctoral research in sustainable systems approaches the problem of food-waste management as a looping cycle of consumption and waste. Biogas digesters are alternatives to landfills that produce a byproduct called digestate. Rodriguez Alberto is converting this byproduct into biochar, a carbonous material with multiple applications such as soil amendment and pigment for inks.
"With sustainability we can—instead of only monitoring our impacts to the environment—find ways to avoid those risks," said Rodriguez Alberto, who plans to graduate in May.
Rodriguez Alberto will remain at the Golisano Institute for Sustainability as a postdoctoral fellow to work with Professor Callie Babbitt on a new multi-university project, funded by a $15 million grant from the National Science Foundation. American University is leading the project to create
a university network and to study new technologies for recovering the energy, water, and nutrients contained in food waste. Babbitt is a co-principal investigator representing RIT.
An additional strategic goal for the Graduate School is to increase enrollment in current Ph.D. programs, Cummings added. "Five years ago, we had 76 new Ph.D. students, and then three years ago we had 97 new Ph.D. students," Cummings said. "Last year, even with COVID and the remote start, we had 90. Now we are trying to exceed 100 every year. The university is supporting that growth."
Topics