RIT faculty prepare to teach large classes in SHED using scaled-up classroom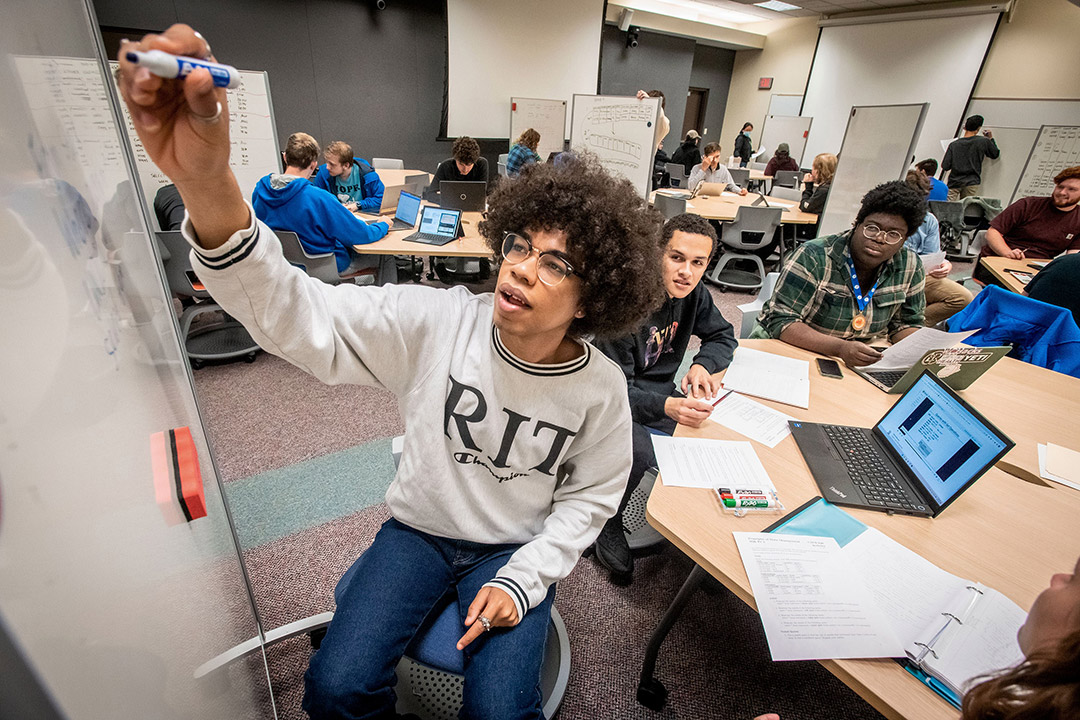 Students in an 8 a.m. principles of data management class talk among each other as they solve a data base problem. Sometimes they get up and write on a 6-foot whiteboard on wheels that doubles as a screen between tables of students in their extra-large classroom.
The room in Slaughter Hall seats 150 students and is meant to simulate the learning spaces in the Student Hall for Exploration and Development (SHED) that will hold classes next fall. The Slaughter classroom, dubbed the "betaSHED," combines three rooms to give professors and students a preview of the large-scale learning environment.
Emanuel Griffin, a third-year computer science major from Brooklyn, N.Y., said it's hard to learn when a professor stands in front of the room and lectures or reads from their Power Point slides.
"Here it's really different because you take the material and then use it on the problem," Griffin said. "You also collaborate with classmates and get feedback and learn how to do it properly. I like it a lot."
Instead of lecture-hall seating, the students sit at tables of six and function as their own cohort. Professors and teaching assistants circle through the classroom answering questions.
"You can feel how many people are here, but it's also large enough that you don't feel cramped," said Jackson Connor, a third-year computer science major from Lancaster, N.Y. "It's a nice change of pace from other classes."
The betaSHED classroom combines three sections of the same computer science class. Next fall, five large format, active-learning classrooms in the SHED will combine some multi-section classes and seat up to 150 students. Projectors, screens, and other learning technologies will enhance these spaces.
Jeremy Brown '01 (computer science) and Scott Johnson '14 (computer science) '14 MS (computer science), senior lecturers in the Department of Computer Science, co-teach the principles of data management class in the practice SHED classroom. They had long wanted to "flip" their classrooms—putting lectures on videos and focusing on activities and group work during classtime. It wasn't until the COVID pandemic forced educators to rethink how they deliver information that Brown and Johnson created their video lectures and began creating a library of activities.
The activities are tricky to create. They must challenge students without discouraging them and fill the class time. "We have spent many semesters rewriting and revamping activities that ask students to do more than look up answers in a textbook," Brown said.
Active learning means a lot of different things, Johnson said. "For us, it's more about engaging the students with each other. Instead of the students just sitting in lecture, being bored and taking notes, they are now doing lecture outside of class and then coming in and consulting with their peers," he said. "They teach each other."
This style of teaching can reduce failure rates, improve grades and attendance, create community among students, and allow for more professor-student interaction. It is also inclusive. Deaf and hard-of-hearing students in these cohorts face their peers and the sign language interpreter sits at the table with them, Johnson said.
The dynamic in Johnson and Brown's data management class creates an upbeat vibe in the room.
"I can see what the positive impacts are with everyone in the same space and having more people together, and the collaborative energy," said Uzo Ukekwe, a third-year computer science major, from Monroe, N.Y.
Key to active learning—especially in large format classes—is the prep work that takes place ahead of time. For Michelle Weatherell '04 (biology) '12 MS (environmental science), lecturer in the Thomas H. Gosnell School of Life Sciences, this means working with the general biology lecture instructor team, which includes Sandi Connelly and Emily Coon-Frisch, to plan activities and problem-solve the logistics of preparing and transporting materials needed for their large sections of general biology. This semester, Weatherell, who teaches in the betaSHED room, uses two teaching assistants to enhance learning in the large classroom.
"The students, in my opinion, seem to be more confident and comfortable with the material," Weatherell said. "I also feel that more students are asking questions above the material, and applying it outside of what we are doing."
Weatherell encourages faculty who are curious about active learning to observe one of the classes in the large room.
"It's interesting to see how instructors are using this space because everyone interprets active learning a little bit differently," Weatherell said.
Brown and Johnson have already booked classtime in the betaSHED room for the spring semester and are eager to teach in the SHED when it opens in fall 2023. They have seen the benefits of active learning and apply elements of it in every class they teach. Students with different learning styles appreciate the difference.
Nate Mount, a second-year computer science major from Westminster, Md., said the small group projects keep him focused. "Here the professors are able to move around and check you along with the TAs and it keeps you more in the mindset of the material you're looking into that day."
Courses that lend themselves to active learning can help students get the most out of a class, Brown observed.
"Students are changing," Brown said. "They aren't used to being lectured to for hours on end. Active learning is about getting them engaged."
Workshops for active learning
Workshops for RIT faculty, adjunct faculty, and teaching assistants will share strategies for adopting active learning in regular-sized classes and for the extra-large learning spaces that will be available next fall in the Student Hall for Exploration and Development. National expert Andy Gerhart, professor of mechanical, robotics, and industrial engineering at Lawrence Technological University and facilitator for KEEN (the Kern Entrepreneurial Engineering Network), will share his best practices for facilitating learning through small group collaborations. Registration is required to attend the free, in-person workshops:
The Center for Teaching and Learning is sponsoring the workshops, following a remote session Gerhart led via Zoom in September. Contact Sandi Connelly, interim associate director, at sjcsbi@rit.edu to view the recording of the earlier session.
To learn more about teaching in the SHED, go to TeachSHED.
Topics