RIT fuels employment pipeline for innovative employers
Career fair hosts 160 companies and more than 2,200 students seeking co-ops and full-time employment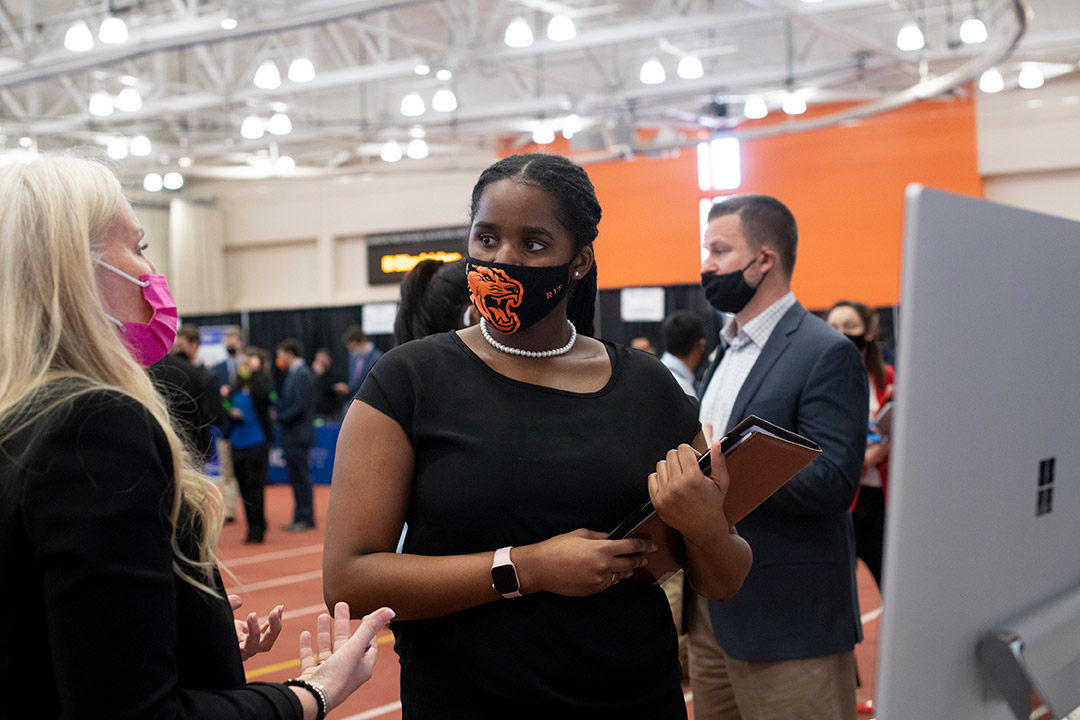 More than 2,200 Rochester Institute of Technology students donned business attire to meet with recruiters from 160 prospective local, regional, and national employers during Wednesday's university-wide career fair inside the Gordon Field House.
"I made sure I did extensive research on the companies that I wanted to talk with," said Ayanna Smith, a second-year graphic media science and technology major from Baltimore, Md., who was looking for a summer co-op opportunity.
Smith brought some printed versions of her past work as well as copies of her resume and cover letter. She spoke to representatives from five or six companies, "and each company said they wanted to give me an interview, so I'm excited about that!"
RIT's co-op program is one of the oldest in the nation, beginning in 1912. More than 5,000 RIT students typically complete a co-op each year.
And the talent they bring is obviously welcomed, as 95 percent of employers say they would offer a graduating RIT student a full-time position if one is available after successfully completing their co-ops, said Maria Richart, director of RIT's Career Services and Cooperative Education.
Some recruiters were from companies with headquarters as far away as Asia. Others, from companies such as D3 Engineering, were within walking distance of RIT's Henrietta campus.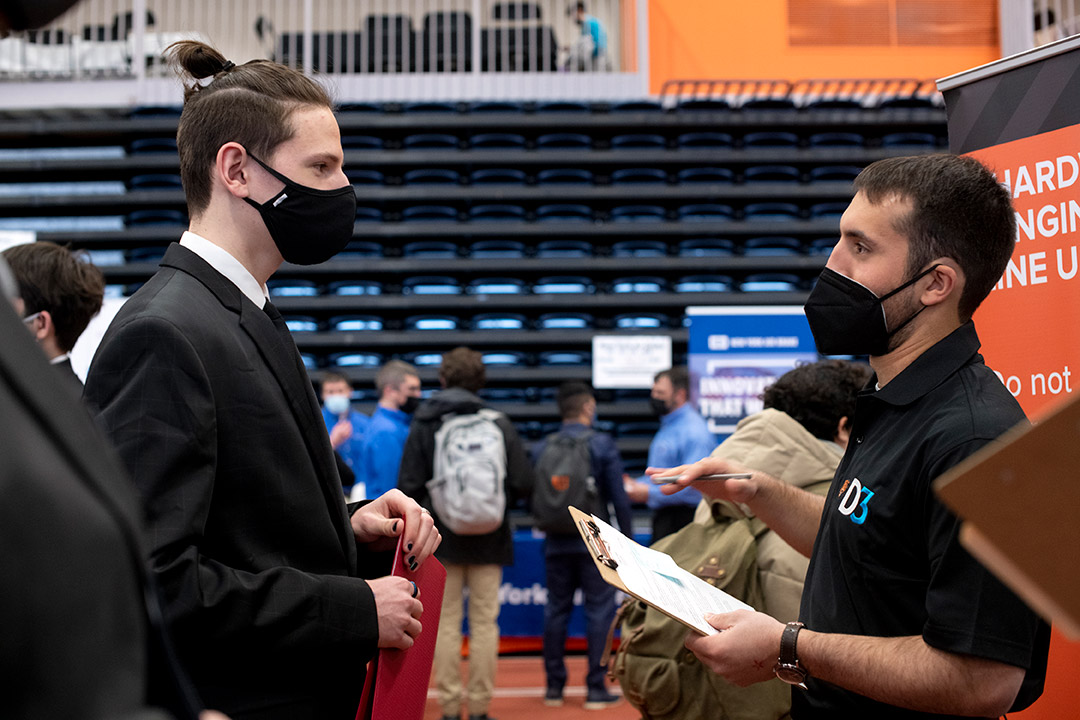 A. Sue Weisler
"We have a lot of RIT alumni working for us, and we're looking to fill more full-time and co-op positions," said hardware engineer and co-op coordinator Odysseus Adamides, an engineering alumnus and current Ph.D. student at RIT.
Founded by RIT alum Scott Reardon in 1999, the company provides engineering solutions to companies, making custom circuit boards for them. They have offered co-ops to RIT students for more than 20 years.
The connection with RIT has been mutually beneficial to the company, RIT, and its students. D3 Engineering recently made a donation to RIT's Kate Gleason College of Engineering to use by its multidisciplinary robotics club, their electric vehicle team, their multidisciplinary senior design program, and at the dean's discretion to enable students to attend conferences and competitions.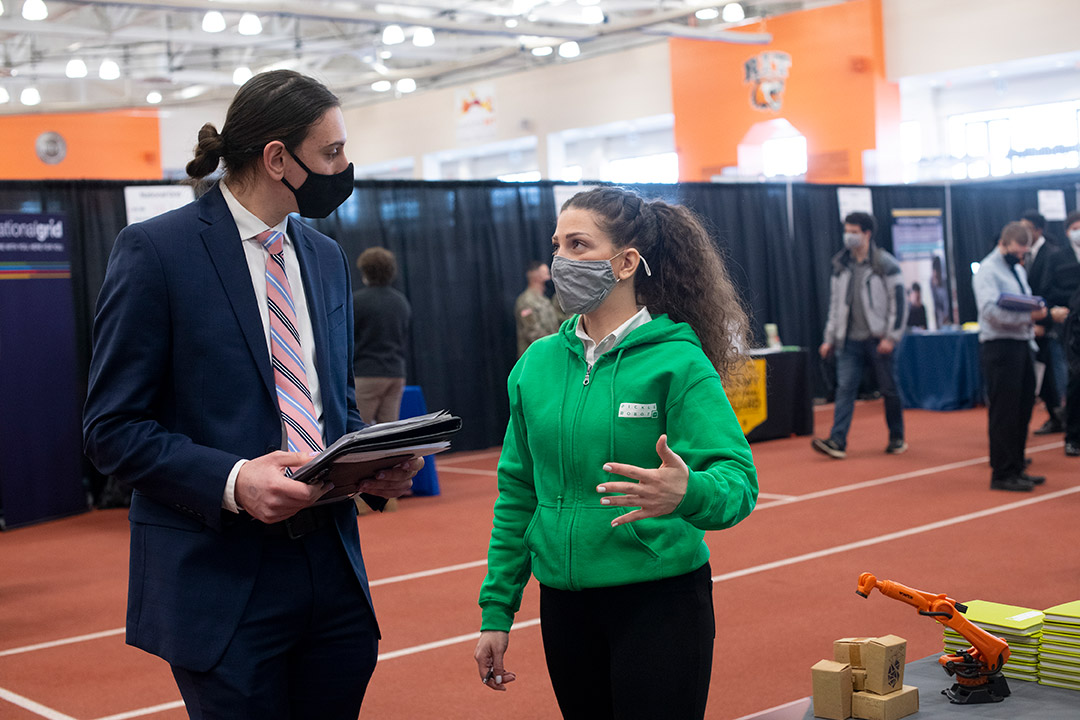 A. Sue Weisler
This was the first career fair for Boston-based Pickle Robot, a company that designs robotic arms that can unload trucks. Yara Osko, senior human resource manager for the company, says Pickle Robot currently employs 27 people, and they expect that to balloon to 200 by the end of 2023.
"We're looking to build the team and need all sorts of engineers, and those involved in AI and deployment," she said after talking with Max Morales, a fourth-year robotics and manufacturing engineering technology major from Framingham, Mass., who was interested in a co-op close to his home.
Osko said a couple of RIT alumni work for the company already, but said the reason she attended this career fair was because "two of the co-founders graduated from Massachusetts Institute of Technology and they told us to come here to RIT."
Another company attending their first RIT career fair was Airtonomy, of Grand Forks, N.D. The company, which builds drones to inspect wind turbines and other infrastructure, has a satellite office in Syracuse and was last year's winner of the GENIUS NY business accelerator competition for uncrewed systems, IoT, and big data startups. The title came with a $1 million prize.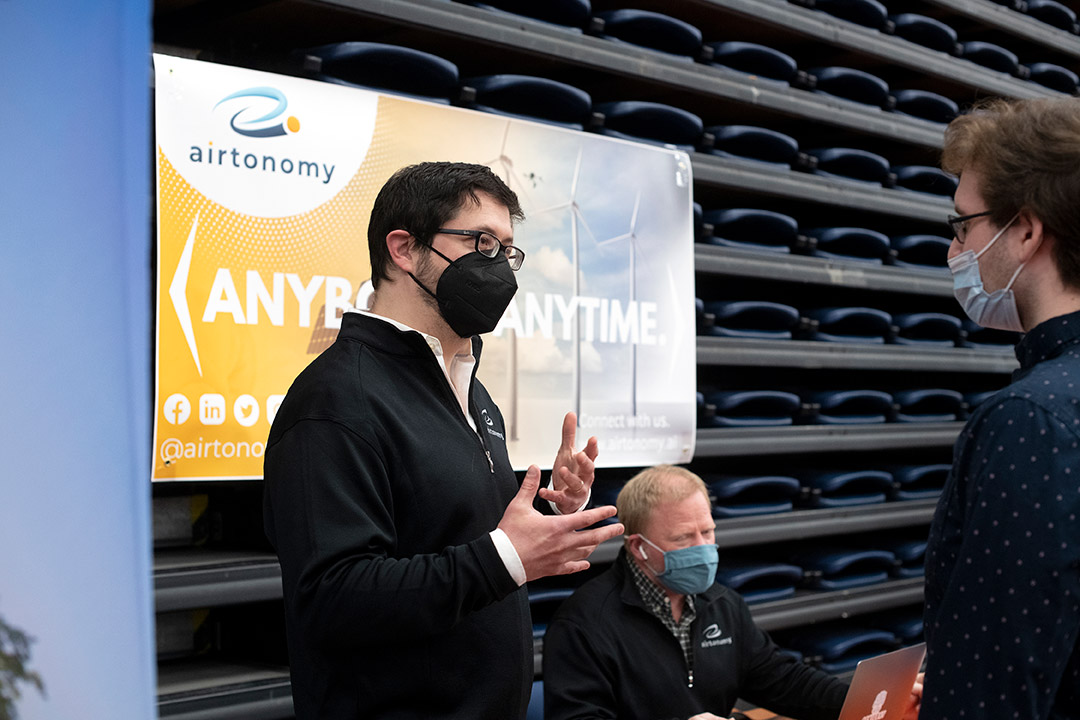 A. Sue Weisler
The company is about 3 years old and employs 29 people. "Our goal at the end of this year is to have around 75 employees," said Travis Desell, graduate program director for RIT's master's in Data Science and an associate professor in RIT's Department of Software Engineering. He plans to be vice president of machine learning for the company beginning in May as he goes part-time at RIT.
"We're in the middle of a really rapid expansion," he said. "We're looking for software engineers, people with computer science skills, machine learning skills, roboticists, and engineers who can program drones."
Being a faculty member at RIT, Desell knows his students have what the company is looking for.
"We had a lot of really good candidates show up," he said. "Being in RIT's software engineering department and running our masters in data science, I know what the students go through and that's what we're looking for. We're producing great software engineers and data scientists."
Alyssa Delaney, a fifth-year electrical engineering technology student from Enterprise, Ala., printed out 20 resumes to hand out at the fair. But she had done her homework and contacted some of the companies weeks ago in search of a job as a micro controller or a job involving coding after she graduates in May.
"I've already gotten emails asking for follow-up interviews," she said. "I feel pretty good about it, actually," she said.
Topics