April 26, 2022
by Rich Kiley
RIT graduates turn multiple job offers into their No. 1 choices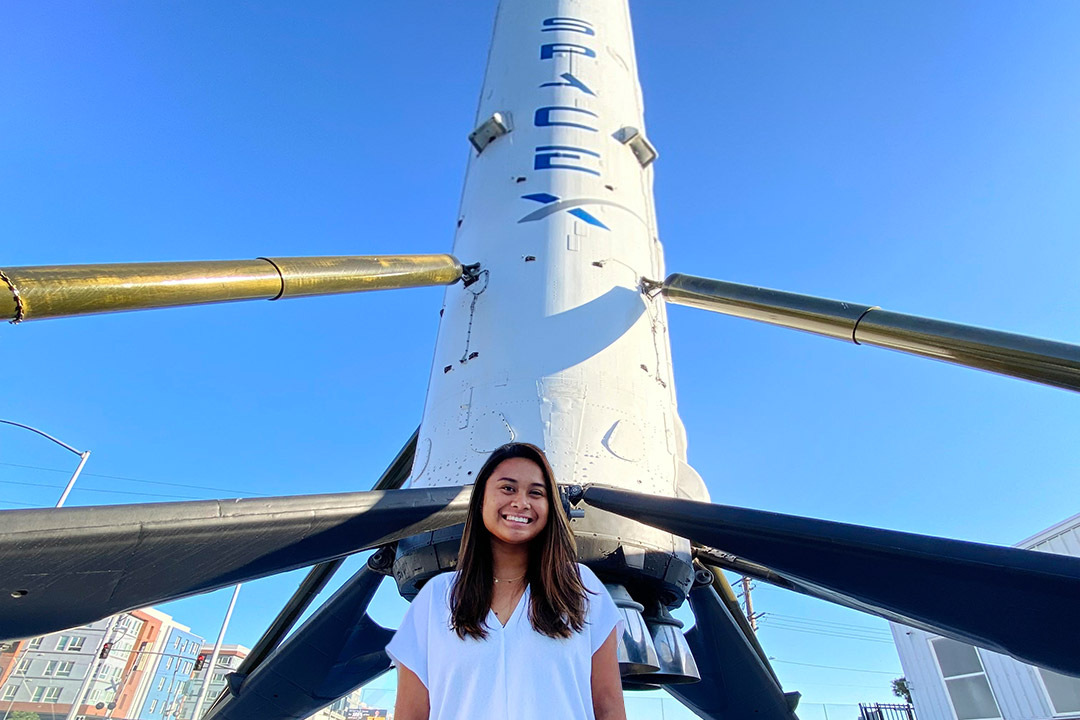 As the nation's reshuffled economy rebounds from the pandemic, Rochester Institute of Technology students graduating from a university renowned for its academic rigor combined with successful internships and co-op experiences are leveraging multiple job offers into their top choices.
Read more about the Class of 2022
RIT's graduates shape the future and improve the world through creativity and innovation. Our graduates are leveraging the power of technology, the arts, and design for the greater good. See how they are doing it and what is next for them.
The average starting salary for RIT grads also is increasing—up $2,000 to $73,280 for students earning a bachelor's degree and more than $4,000 to $87,242 for master's degree graduates over last year, according to Maria Richart, director of Career Services and Cooperative Education.
Isabella Daquita, a fifth-year mechanical engineering major from Commack, N.Y., landed a job as a composite manufacturing engineer at SpaceX, the Hawthorne, Calif.-based company founded by entrepreneur Elon Musk.
"I start at SpaceX on Aug. 1," Daquita beamed. "My team is responsible for overseeing new-make and reuse of the composite fairings that encapsulate payloads on top of a Falcon9 rocket, which includes dispositioning repair operations and executing improvement projects."
Daquita noted she "chose engineering because I really enjoy hands-on problem solving."
"This is also why RIT was so appealing," she said. "I saw the co-op program as an opportunity to get hands-on work in industry while in college."
She treated an internship she earned at SpaceX, in fact, as a "three-month-long interview," taking every opportunity to showcase her skills.
"During my final week, I told my managers that I really wanted to come back full time, and we kicked off the return process," Daquita said. "I'll be joining one of the teams I interned for."
She also leveraged her four years on RIT Hot Wheelz, a student-run performance team on campus that aims to provide women with the tools to learn and explore possibilities for future employment in a wide range of industries. Daquita started as an associate designer before becoming a subsystem lead and then a co-project manager of the team.
"It definitely helped being on RIT Hot Wheelz," she said. "Hot Wheelz, and my previous co-ops, helped me realize that I enjoy manufacturing and process engineering more than design. I'm glad I figured that out about myself before looking for a full-time job."
She also is appreciative of two co-ops she had with GE Aviation; GE extended her a job offer as well.
As an AALANA student and a woman, Daquita said it can "be difficult to work in a STEM field, where I am the minority in both regards."
"However, I appreciate that RIT has communities where I can work with people who have shared experiences," she added.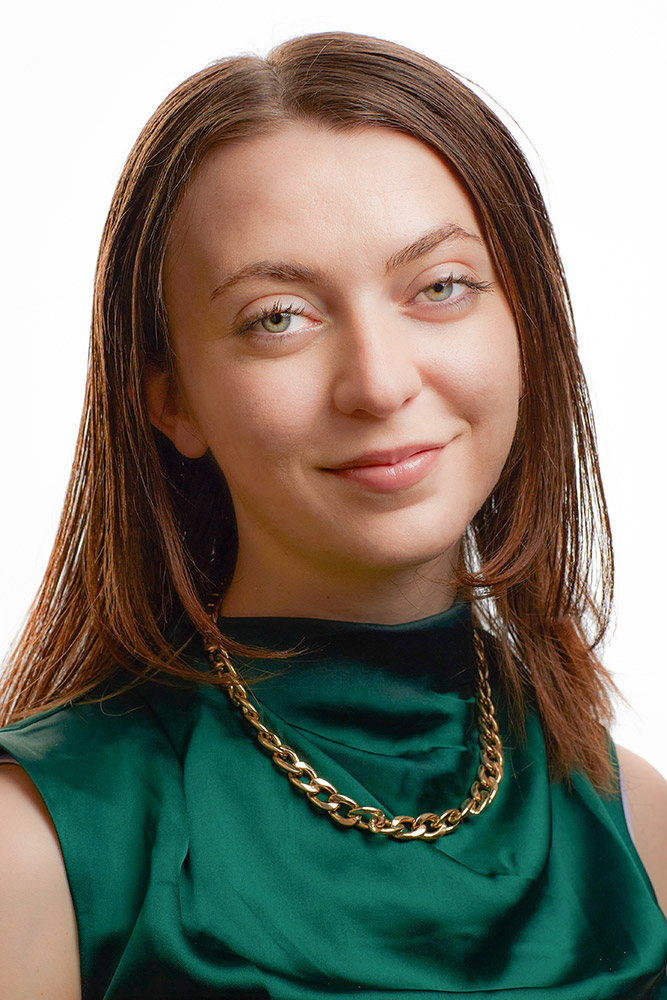 After a series of promising job interviews held over Zoom starting last fall, Emily Bishop, a senior photographic sciences major from New Haven, Conn., met on campus with Edmund Optics (EO)—one of the leading manufacturers of optics, imaging, and photonics technology in the world—and is headed there in June as a product support engineer at the company's new Cherry Hill, N.J., location.
"Some of my responsibilities will include providing product and application support, fielding custom requests and problem solving, and keeping up-to-date with existing and emerging technology in the field," said Bishop, who was drawn to RIT for its unique programs combining science and the arts.
"I originally chose RIT because I felt this school would foster my ambition," she recalled. "In high school, I wasn't exactly sure what I wanted to do because I was strong in science, but I also really enjoyed photography. It was important to me to find a school that was diverse, but also had a strong placement rating for its graduates, and RIT checked both boxes for me."
Bishop also credited alumna Kristina Kaszei '20 (biomedical photographic communications), who also works at EO, with helping her with the decision to join her new firm. "It was nice to see someone from my program doing well in the company, which pushed me to pursue EO," she said. "I think one thing that really helped me stand out as a candidate was my experience in microscopy and application of optics that would be unique to find in other more technical engineers."
Kristy Stine, a fifth-year civil engineering technology major from LaPlata, Md., weighed multiple job offers before going with her top choice—Consigli Construction in Washington, D.C.
"I am landing into Consigli's rotational program between project engineer and assistant superintendent (for construction projects)," said Stine, who begins her new position June 20. "My job responsibilities will be working on identifying new construction jobs, bidding projects, and managing the construction projects from both a field and office side for a few months."
Getting exposure to both sides of the construction business will enable Stine "to decide if I prefer being on the field side and working with the sub-contractors more directly, or if I prefer more the office side working with the engineers and architects and doing behind-the-scenes work on projects."
Stine came to RIT both for its undeclared engineering technology program as well as the Women in Technology overnight program. "I knew I wanted engineering, just not what kind, and I'm a hands-on learner, so I was drawn to tech," she recalled. "The Women in Technology overnight program helped me find people at RIT I connected with before I came here, which told me this was the place for me."
While Stine enjoyed co-ops at other companies and entertained several job offers, she said it came down to Consigli's company culture and where she believes she'll succeed best.
"I found Consigli through the RIT Career Fair," said Stine, who also recognized her time as a member and captain of the RIT Concrete Canoe Team for providing "advantages through connections with faculty and alumni" that she made.
And crediting RIT Career Services, of course.
"My career services coordinator was always there to support me when I needed to talk through an offer letter, or decide what opportunity was going to be beneficial for me in the long term," Stine said. "She is always excited to hear about all the offers I received!"
Topics