RIT to offer departure COVID-19 testing before break; additional testing ramps up next semester
President Munson says pooled saliva tests will be analyzed on campus for quicker results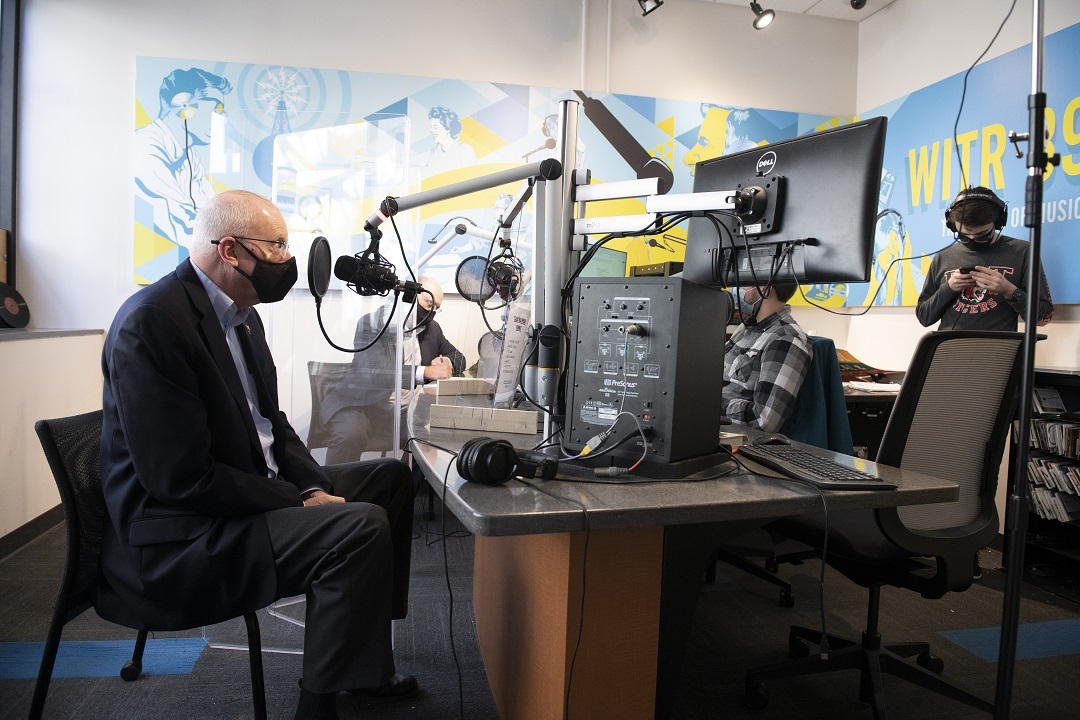 A. Sue Weisler
Rochester Institute of Technology President David Munson said voluntary, free COVID-19 testing will be made available to a few thousand students prior to their departure for Thanksgiving break to help prevent the possible spread of the virus to their families and local communities.
"I'm one who believes we have a responsibility to the bigger community and to the families of our students," he said Wednesday in his latest "Ask Munson" series on WITR-FM (89.7). "The last thing we want to do is have outbreaks on our campus and then feed that into our local community or back to your families. So we're doing our very best not just to keep our campus safe, but the wider world safe."
Learn More
RIT has a limited supply of COVID tests for students who need a test before leaving for the Thanksgiving break.
Students leaving for Thanksgiving break should visit the "end of semester" link on the RIT Ready website where a checklist for students will address everything needed to be done prior to their departure, and before they return to campus.
Munson also said new COVID testing procedures involving pooled saliva tests, with processing done on campus so that results can be known in a matter of hours, will ramp up when spring semester resumes Jan. 25. The saliva tests will be in addition to wastewater testing that has helped identify infection before it is symptomatic, and individual swab tests that have been given to RIT students and analyzed by the Broad Institute of MIT and Harvard laboratories in Boston, which yields results in 48-72 hours.
"We wanted something that was even a little faster, and something that would detect the virus at an even earlier stage," Munson said. Any students identified as positive from the pool of a saliva test will be placed in isolation and then be required to complete a diagnostic test. That test will be sent out of town and take a few days before results will be available.
Although RIT's alert level has recently risen to Orange—reflecting an increase in positive COVID cases on campus and in the community—Munson is hopeful that the campus will remain open for fall classes if everyone remains vigilant and takes the suggested precautions of wearing masks, practicing distancing, and washing hands frequently.
"We've had a couple of rough days within the last week or so," he said. "We'd like to be living in our own little bubble, but a majority of our students are living off campus. We interact with the community, we go to restaurants. In the last two weeks we've had more positive cases among students, faculty and staff than we've had in the prior weeks since Aug. 19. We just have to buckle down and finish this semester strong."
There have been no big outbreaks due to RIT students attending large parties.
"Instead, it is a lot of social gatherings, maybe a few buddies watching a football game together and they take the liberty of removing their mask for a few hours. They figure they're all close friends, and they're all trying to be safe in their bubble. But your bubble really isn't in your complete universe of friends. Your bubble is the very small set of people that you share air with every day," he said.
Looking forward, Munson said additional in-person classes —more than 1,000 courses—are being offered in the spring semester.
"We are not seeing virus transmission within the classroom," he said. "We polled the student body and what we learned was that some students wanted to see more in-person classes, and some were happier with online classes. But the students were much happier with synchronous online rather than asynchronous because they wanted to be in a live class where they could ask questions."
He said it isn't known yet whether Imagine RIT will be in-person or partially in-person on May 1, or whether it will be entirely virtual.
"We will have Imagine RIT one way or the other," he said. "We've got plenty of time to plan for it. We will get it done, but it's too early to know whether we will have Imagine either in-person or partially in-person."
The same is true for commencement.
"We're still hoping we can get that done in May. Whether we can or can't will depend on how much of the COVID-19 vaccine has been available," he said.
With the longer holiday break this year, Munson said RIT will stay in touch with students, faculty and staff in December and January.
"We want people to know they're still an important part of the Tiger family," he said. "I want to send our students away with this message: that they should really feel proud of themselves. Most everybody has done everything we've asked of you. It has kept our campus remarkably safe compared to many others. There are a lot of schools out there that have literally had thousands of cases each, and we've done better than that. And I thank all of our students for everything you've done."