RIT physician assistant alumna wins Fulbright award to conduct clinical trial in Bahrain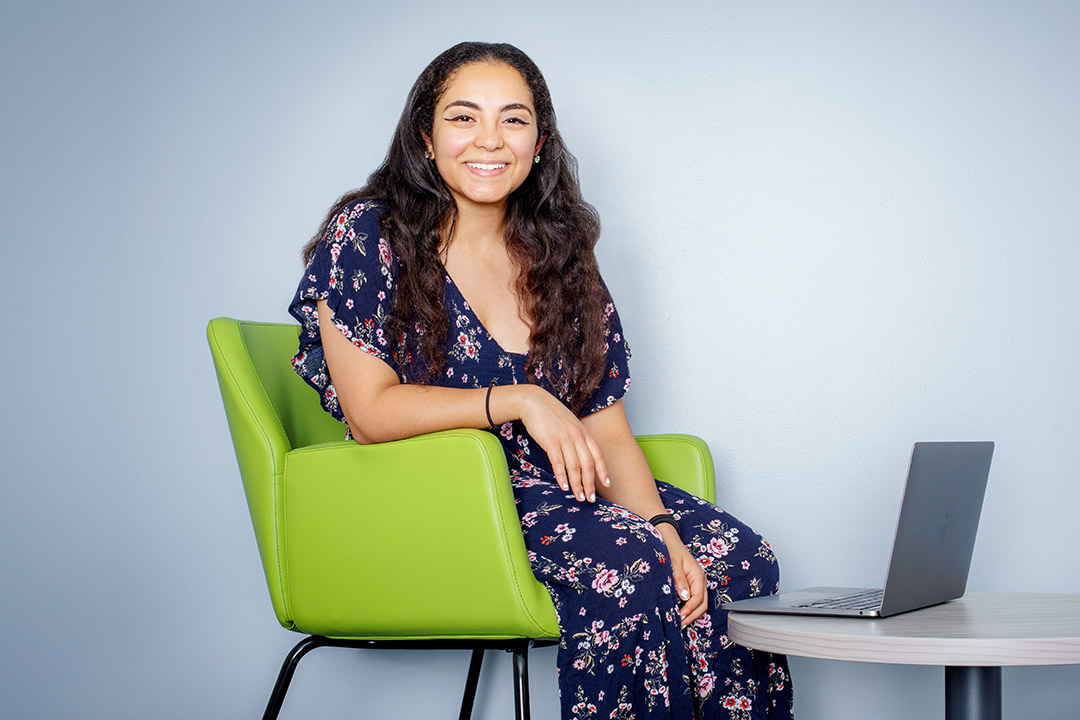 A year after COVID-19 touched Maria Morcos' family, the virus' long-term effects linger in their coughs, headaches, and fatigue, and a disturbing shortness of breath that Morcos likens to post-COVID asthma.
Fulbright honorees
RIT students, alumni, and faculty have had another successful year securing prestigious Fulbright awards to pursue immersive global experiences. Three recent graduates received awards through the Fulbright U.S. Student Program for the 2022-2023 academic year and two faculty received Fulbright Scholar Awards. Read more about the honorees >
For Morcos, '22 BS/MS (physician assistant), the impact on her family's health led her to choose a Fulbright scholarship that would add to her understanding of pulmonary health and long-COVID, and directly help people suffering from asthma.
Morcos will spend the next academic year conducting a clinical asthma trial at the Royal College of Surgeons in Bahrain. Her research will update and share recommendations with clinicians in Bahrain and the United Arab Emirates. It will be the first asthma clinical trial in the area, Morcos said.
The Morcos family took ill last spring during finals weeks. Morcos was quarantined away from her family and could do little for her parents when they developed pneumonia.
They still have post-COVID fatigue and shortness of breath, she said.
"COVID is what influenced my Fulbright," Morcos said. "Long-term effects from COVID are very scary. We had no idea what was going on. If there's anything I can do to make this better in the future for other people, I will do it."
At the Royal College of Surgeons, Morcos will be responsible for analyzing patients' symptoms on different medications and preparing a report analyzing data to assess for significant changes.
The summer before the pandemic, Morcos studied COPD at University of Michigan through a National Science Foundation Research Education for Undergraduates award. COVID postponed a summer research experience at Harvard to study asthma, which she will do before leaving for Bahrain in August.
Exploring the Arab world is another goal for Morcos, who grew up in Egypt. Her family moved to the United States when she was 10 years old and settled in the Rochester area. She looks forward to learning the Arabic dialect spoken in Bahrain.
Morcos earned her BS/MS degrees in the physician assistant program with two minors in chemistry and sociology. She sought opportunities to learn these disciplines to augment her education. "Sociology is the study of people and social dynamics and allows me to explore how groups of people interact with one another and the world, and medicine because I love the humanitarian aspects of the career path."
Morcos is also approaching her Fulbright year as a chance to try out a career path.
"I think that intensely doing research for a year will test, for me, whether it's something I am truly passionate about, or if it's a secondary interest, and how likely I would be to pursue more education in it," she said.
During her time at RIT, Morcos was a McNair Scholar and a member of the Honors Program. She was active in Black Lives Matter and was one of the students who pushed for RIT to raise the Black Lives Matter flag in the Student Alumni Union.
"I like to be socially aware of what is going on in the world, whether it's BLM or the Palestine conflict," Morcos said. "One of the main reasons I was drawn into medicine is because I wanted to see what I could medically do to help people who are refugees, immigrants coming from other countries, like myself."
Topics