RIT returns to Fashion Week Rochester with remarkable creativity
Metals and jewelry design students and alumni astonish with self-made wearable sculptures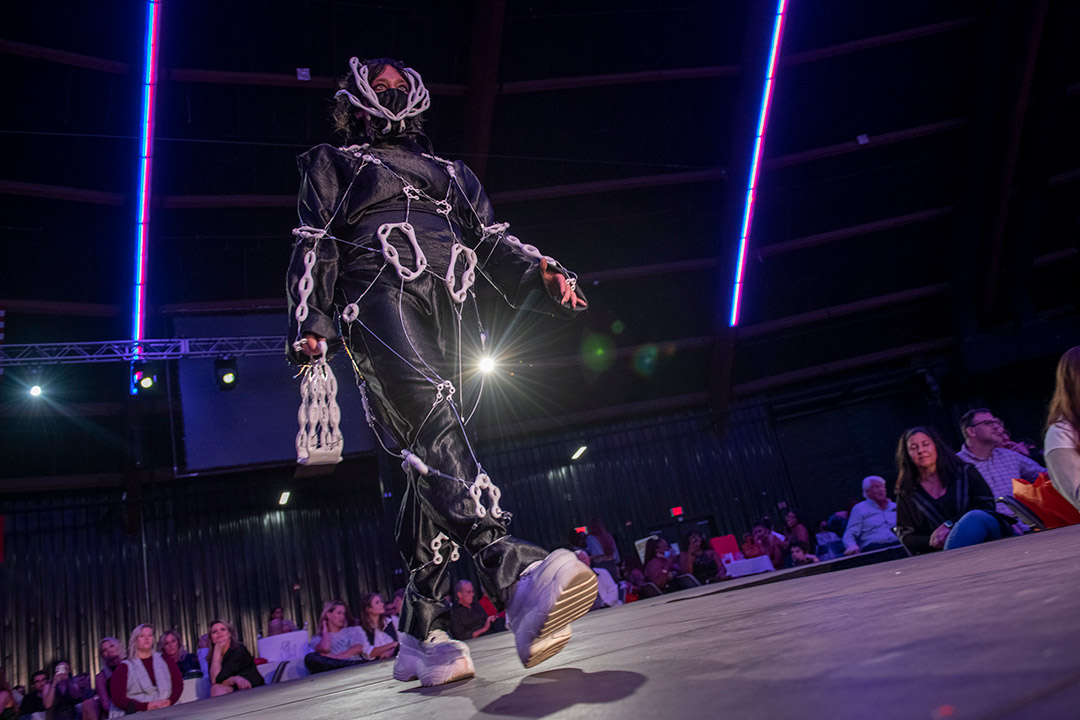 After two years away from the runway, RIT metals and jewelry design students and alumni triumphantly returned to Fashion Week Rochester Thursday night with a stunning demonstration of technology, art, and design in the form of self-designed wearable sculpture.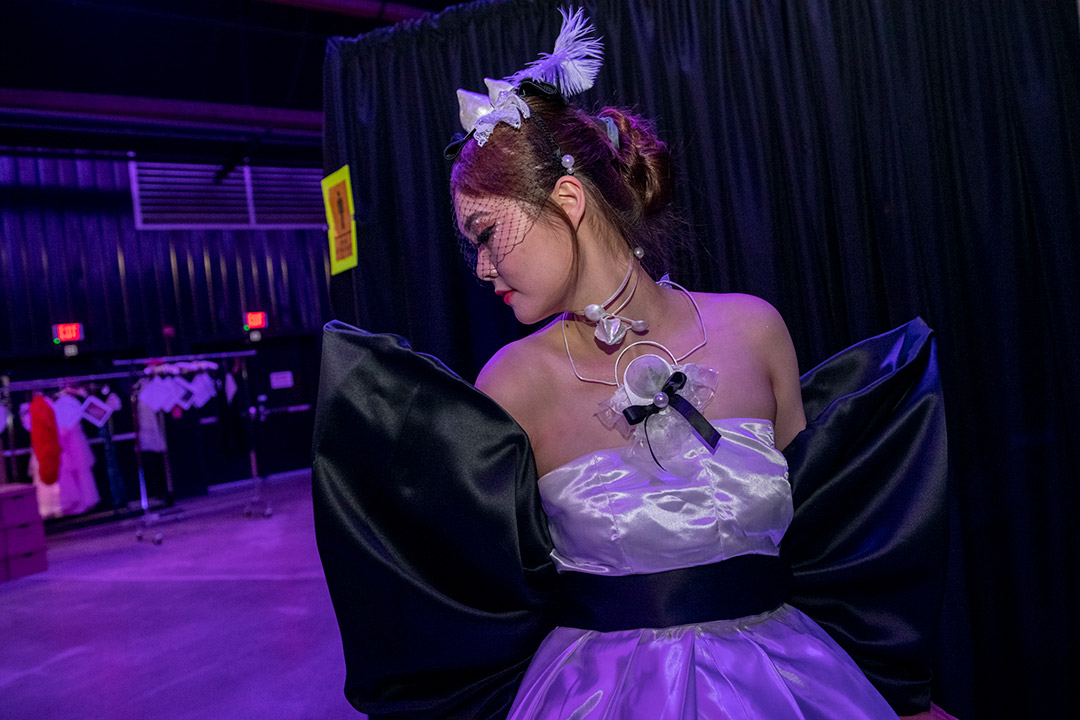 Elizabeth Lamark
The College of Art and Design's seventh year participating in Rochester's tribute to fashion is an ever-growing part of the metals and jewelry design program in the School for American Crafts (SAC), inspiring current students and alumni to make both jaw-dropping creations along with all-important industry connections.
"'Project Runway' has evolved as an important curricular activity within the college," said SAC Professor Leonard Urso, referring to his course borne out of RIT's inaugural participation in Fashion Week back in 2013.
"We've received important support from a number of professionals within the fashion world, including the fashion editor of The Wall Street Journal and the creative director of Simon Miller USA," he added.
This year, for the first time ever, Fashion Week events Oct. 12-16 are taking place at The Dome Arena in Henrietta. The venue supported the community during the COVID-19 pandemic, serving as a location for COVID-19 mass vaccinations for area residents.
The Center for Youth's largest fundraiser was one of many large public events canceled last year due to the pandemic. This year's theme, "Light the Way," is a celebration of both local and global fashions.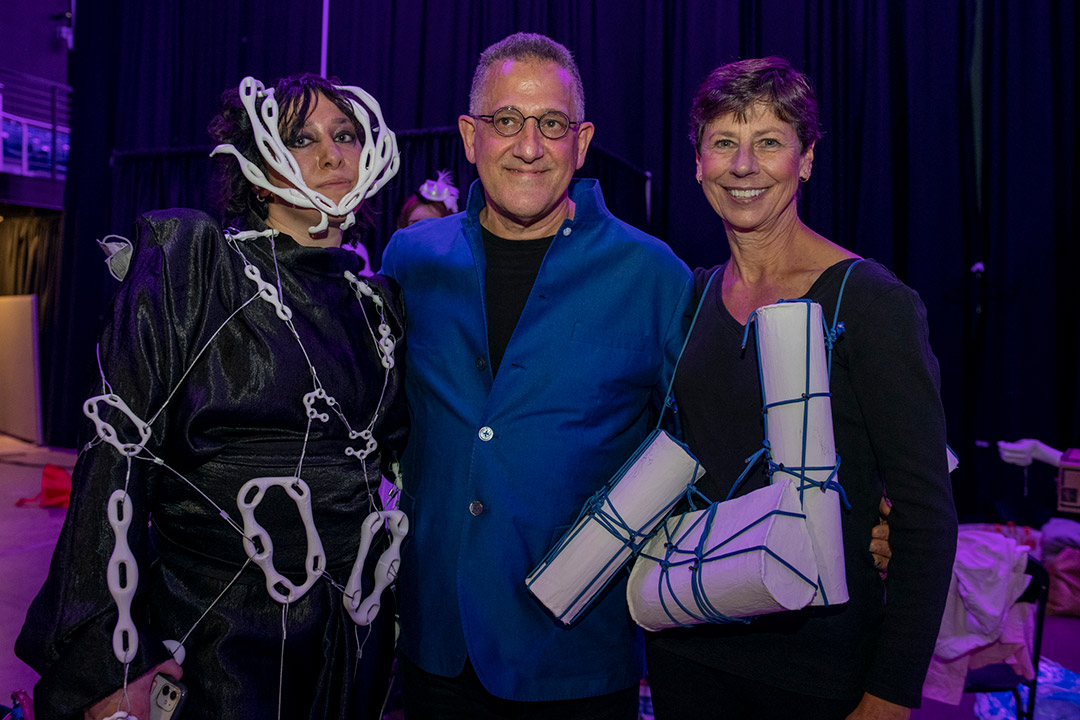 Abigail Benkovich, a second-year MFA metals and jewelry design graduate student from Rochester, N.Y., created two pieces—"both acting in opposite ways from each other," she said—for last night's Edge of Light Runway Show. The evening featured an urban gritty tone with edgy fashions from both new and veteran designers.
"I am exploring the theme of boundaries and personal space, so I wanted to exaggerate the frame of the body outward and inward to represent how someone's personal space can be defined publicly and internally," she said. "The volume coming off of the body is to visualize personal space and stress its importance to mental health."
One of Benkovich's pieces featured a blue paracord garment sculpted around a wire frame to sit off of the body and add volume around the wearer.
"The piece's aesthetics were inspired by custom Thom Browne fashion, like the red gown he showed at the 2019 Met Gala," she said. "The black-and-white 3D printed piece is inspired by bones and anatomy, which act to exaggerate the body's frame internally. It is also partially inspired by the fashion designer Iris van Herpen."
RIT has become well-known for pushing innovative creativity at Fashion Week, with avant-garde wearable pieces. This year, as in the past, students employed a wide variety of materials—some recycled—to design their pieces.
Shu Wang, a metals and jewelry design graduate student from Beijing, said the SAC program enables her to become adept at mixing materials as well as integrating modeling programs and 3D printing into her jewelry designs.
"Most of my designs start from my reaction, emotion, and expectation," said Wang, who learned to use a sewing machine to create her pieces. "I think the body and garments are the canvas for which jewelry and accessories exist."
Her series of designs for Fashion Week included jewelry, accessories, and garments inspired by the Dunhuang Mogao Caves, also known as the Thousand Buddha Grottoes or Caves of the Thousand Buddhas, which form a system of 500 temples that feature sculptures and murals spanning more than a thousand year history.
"I was deeply attracted by the colors, stories, and styles of the murals," Wang observed.
Benkovich said it felt "surreal" to design pieces for Fashion Week since "fashion plays such a significant role in my life."
"I love studying its history as well as contemporary fashion designers, so to be able to contribute to fashion in my own way feels like a dream," she added. "There's also a very nostalgic feeling to be able to show in my own hometown. I hope my work will inspire people to ask themselves what it means to them as well as start a conversation about fashion and wearable art."
Wang said she "hopes my works encourage people who are not familiar with Chinese culture to explore the culture and the stories behind it."
Urso, an internationally recognized and award-winning artist, said the showcase of RIT talent at Fashion Week Rochester allows students and alumni from regions such as India, China, Kuwait, Korea, and the United States to demonstrate their incredible creativity and talent. The program has sent dozens of graduates to Tiffany & Co. and elsewhere.
Since RIT's participation began in 2013, more than 100 metals and jewelry design students have created pieces modeled on the runway at Fashion Week Rochester. Last night also marked the fourth time in which Nancy Munson, wife of RIT President David Munson, walked the runway wearing student-designed jewelry.
Topics