April 14, 2023
by Luke Auburn
RIT scientists aim to understand the history of light production in the universe through the CIBER-2 experiment
The project team conducts the experiment's second launch at the White Sands Missile Range on April 16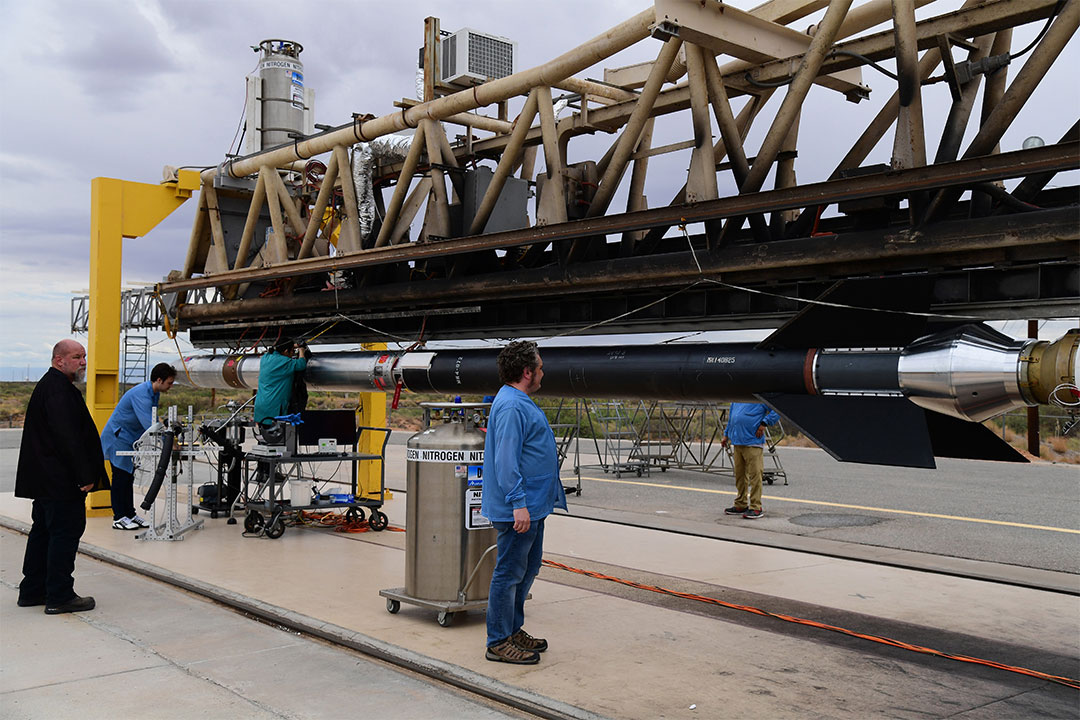 Scientists from Rochester Institute of Technology, Caltech, Kwansei Gakuin University in Japan, and the Korea Astronomy and Space Science Institute will soon launch a rocket for a short flight into space with the goal of resolving discrepancies about the sources of near-infrared light in the universe. The window for the Cosmic Infrared Background Experiment-2's (CIBER-2) second launch opens on Sunday, April 16, at the White Sands Missile Range in New Mexico.
Led by Associate Professor Michael Zemcov from RIT's School of Physics and Astronomy and Center for Detectors, the experiment aims to better understand extragalactic background light, which traces the history of galaxies back to the formation of the first stars in the universe. Scientists' previous estimates about the number of stars in the universe have varied greatly, and the CIBER-2 experiment will try to bring clarity to that number by leveraging an observational technique called intensity mapping to study the structure of the universe.
The project is part of NASA's Sounding Rockets Program, which uses suborbital rockets such as the Black Brant IX to carry scientific instruments for short sub-orbital flights to carry out experiments. CIBER-2's first launch in 2021 was successful, and after analyzing the initial set of data, Zemcov and his team have been numerous making adjustments to the payload to produce even better results.
"The first time worked quite well, and we have since been adjusting things to address minor issues like reducing noise that was too high and improving the optical focus of the camera," said Zemcov. "We're expecting to get really good data from this flight because we think we've caught everything."
For the past month, Zemcov has been at White Sands Missile Range working alongside RIT postdoctoral researcher Candice Fazar, astrophysical sciences and technology MS student Dale Mercado '20 (physics), students from Caltech, and scientists from Kwansei Gakuin University to prepare the rocket for launch.
"It has been an exciting time for us during the final leg of our deployment," said Mercado. "This CIBER-2 launch takes us above the atmosphere to trace the fluctuations in the cosmic infrared background. These measurements will provide key data in understanding how galaxies and stars have evolved over the life of the universe."
After launch, the researchers will collect the payload, recover the data from the on-board hard disk, and ship the CIBER-2 device back to Rochester. At that point they can begin their scientific analysis to understand what CIBER-2 saw.
Topics