RIT students awarded international fellowships and scholarships
Awards will be used for travel abroad cultural exchanges and research opportunities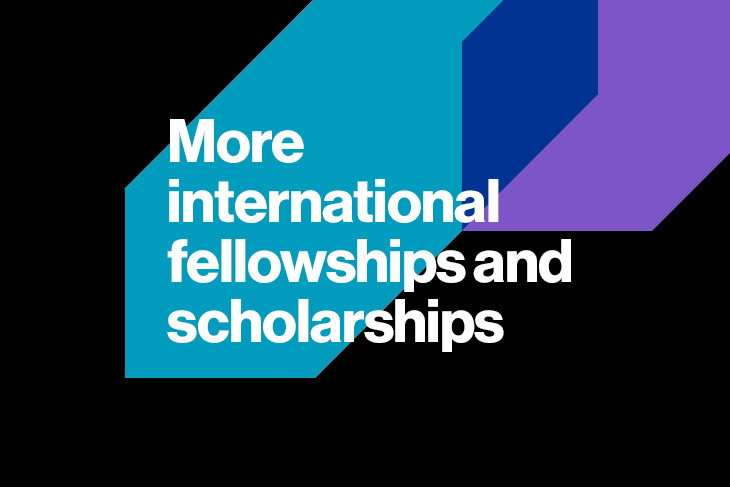 Several RIT students from a variety of colleges and academic disciplines have been awarded prestigious international fellowships and scholarships, in addition to two Fulbright finalists.
"Each year, RIT is fortunate to be able to send so many students out into the world to live, learn, and explore thanks to these nationally competitive fellowships and scholarships," said Jenny Sullivan, director of education abroad and international fellowships. "These students are using their skills and talents to make a difference in the global community. And the opportunity to learn another language, build relationships with locals and explore other values and perspectives related to their disciplines provides benefits that extend far beyond classroom measurements."
Throughout each academic year, Sullivan and her team support hundreds of students who compete for several prestigious international fellowships through intensive advising and project development, application strategy, essay coaching, interview preparation, workshops, and more.
The Congress-Bundestag Youth Exchange for Young Professionals scholarship is a fellowship funded by the German Bundestag and U.S. Department of State, which annually provides 75 American and 75 German young professionals, between the ages of 18½ and 24, the opportunity to spend one year in each other's countries, studying, interning, and living with hosts on a cultural immersion program. Benjamin Piro, a computer science student from Stamford, Conn., was awarded a CBYX fellowship, which will allow him to complete intensive German language training, followed by a semester of classes in Germany, concluding with an internship in Germany related to his field of study.
The undergraduate DAAD (Deutscher Akademischer Austauschdienst) Research Internships for Science and Engineering assists students with research in Germany. This program is an opportunity for undergraduate students to gain practical research experience and students are paired with a German university and a German Ph.D. student on research projects in the fields of science and engineering. This year's awardees are Miranda Thompson, a biology student from Rochester, N.Y., who will conduct research at Julius-Maximilians-Universität Würzburg in the multifunctionality and biodiversity of higher tropic levels; Sherry Robinson, a computer science student from Victor, N.Y., who will conduct research at Technische Universität Bergakademie Freiberg in artificial intelligence and social robotics; and Brian Nardone, a chemical engineering and applied mathematics double major from Geneva, N.Y., who will conduct research at Technische Universität Kaiserslautern in spectroscopy techniques in engineering thermodynamics and process engineering.
The graduate DAAD Research Internships in Science and Engineering was awarded to Dade Wood, a computer science master's student from Bowling Brook, Ill., who will conduct research in deep learning for computer vision and image normalization.
The David L. Boren Scholarship is awarded to undergraduate students to help fund a language intensive study abroad program for a semester abroad. This year's recipient is Kyle Kaczorowski, a computer science and applied and modern language and culture double major from Massapequ, N.Y., who will study Chinese at National Taiwan University. Aubrey Cole, an international and global studies and applied and modern language and culture double major from Frederick, Md., was selected as a Boren Scholarship alternate to study Japanese in Japan in spring 2024.
The Fulbright Canada Mitacs Global Link fellowship program gives U.S. students the chance to be part of a 10- to 12-week research summer internship under the supervision of Canadian university faculty members in a variety of academic disciplines, from science, engineering, and mathematics, to the humanities and social sciences. This year's participants from RIT are Abigail Broscius, a computational mathematics student from Florham Park, N.J., who will study at Queens University, Kingston, Ontario; Finn Cohen, a psychology student from Shaker Heights, Ohio, who will study at the University of Sherbrooke in Quebec; Noah Decker, a chemical engineering student from Schenectady, N.Y., who will study at Ecole Polytechnique de Montreal; Mikayla Fors, a psychology student from Waterford, Conn., who will study at the University of British Columbia-Vancouver; Catherine Fox, a fourth-year mechanical engineering student from Bolton, Mass., who is studying at University of Guelph; Paige Mattoon, a biomedical sciences student from Clifton Springs, N.Y., who will study at University Laval in Quebec City; and Serena Tuytschaevers, a bioinformatics and computational biology student from Lincoln, R.I., who will study at University of Sherbrooke.
In addition to the students mentioned above, two awardees declined their awards to pursue other opportunities.
Topics