RIT's Denishea Ortiz honored with Rochester Business Journal's Forty Under 40 award
Ortiz recognized for commitment to service within the Rochester community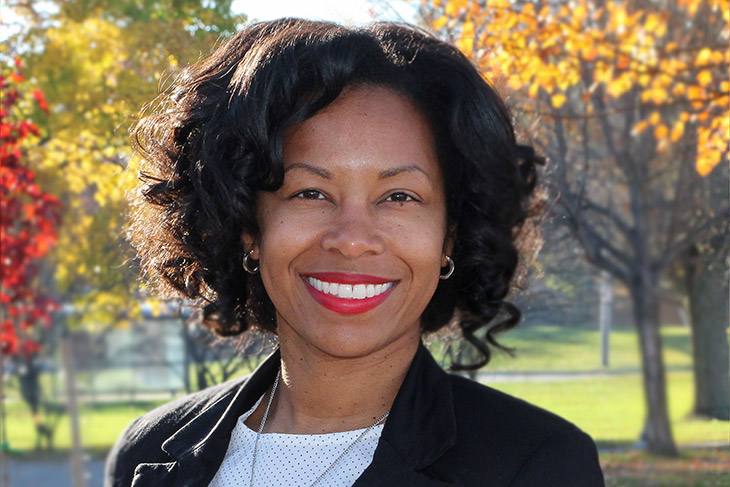 Denishea Ortiz, executive director of Strategic Marketing for RIT's Auxiliary Services, has been named a recipient of Rochester Business Journal's 27th annual Forty Under 40 award. The award recognizes young professionals and future leaders for giving back to the Rochester community. This year's virtual event for ticketed guests will be held Nov. 16.
At RIT, Ortiz is responsible for leading a marketing team that supports RIT Housing and RIT Dining, including 100 managers and supervisors, and assists the Finance and Administration division with marketing support for six non-auxiliary departments. Her duties include finalizing brand platforms, drafting communications and creating marketing materials, analyzing search-engine optimization, social media, and point-of-sale statistics, and mentoring and recruiting student employees.
Ortiz is also an RIT alumna, having graduated in 2004 with a degree in international business from Saunders College of Business.
Outside of RIT, Ortiz volunteers her time with several organizations including the Commission on Racial and Structural Equity, Causewave Community Partners, and Rochester Area Community Foundation. She also raises money for Golisano Children's Hospital, in memory of her late son, Gian.
Said one nominator: "If I had to describe her in one word, she is a real-life superhero. I strongly believe Denishea possesses the combination of talent in her given field, a passion for helping her community and, simply put, is a great person. I often wondered and expressed to her my amazement at how she is able to be so productive, thoughtful, and high energy, while also being present for her oldest son and her husband. My heart is so full continually seeing Denishea excel in her profession and in helping others."
Ortiz says this honor authenticates that others recognize the work she does and are proud of her. She credits her success to the role models and community leaders who have set the tone for being transformative in all areas of her life.
"I want to be impactful and make a positive difference in the community," she said. "As a leader in my organization, I want to instill the same in my staff and my friends and family circles. I want to do good because it feels good, and it's the right thing to do. If that encourages others to do something brave, different, or uncomfortable for the better, the community wins; the world wins. So keep at it, so the inspiration reaches beyond its original intention."
In addition to Ortiz, several RIT alumni are also recognized as RBJ Forty Under 40 recipients this year. These include Michael Condon '17 BS/MS (computer science); Stephen DeVay '10 (software engineering); Justin DiPasquale '15 MBA (business administration); Melissa Greco Lopes '13 MS (communication and media technologies); Jennifer Hungate '13 (civil engineering technology); and Sheri Watkins '19 (Executive MBA).
Topics