RIT's Thomas Warfield honored with 'Twenty-five Years Through Movement and Space,' Feb. 24-26
Production celebrates Warfield's 25-year career in dance and theater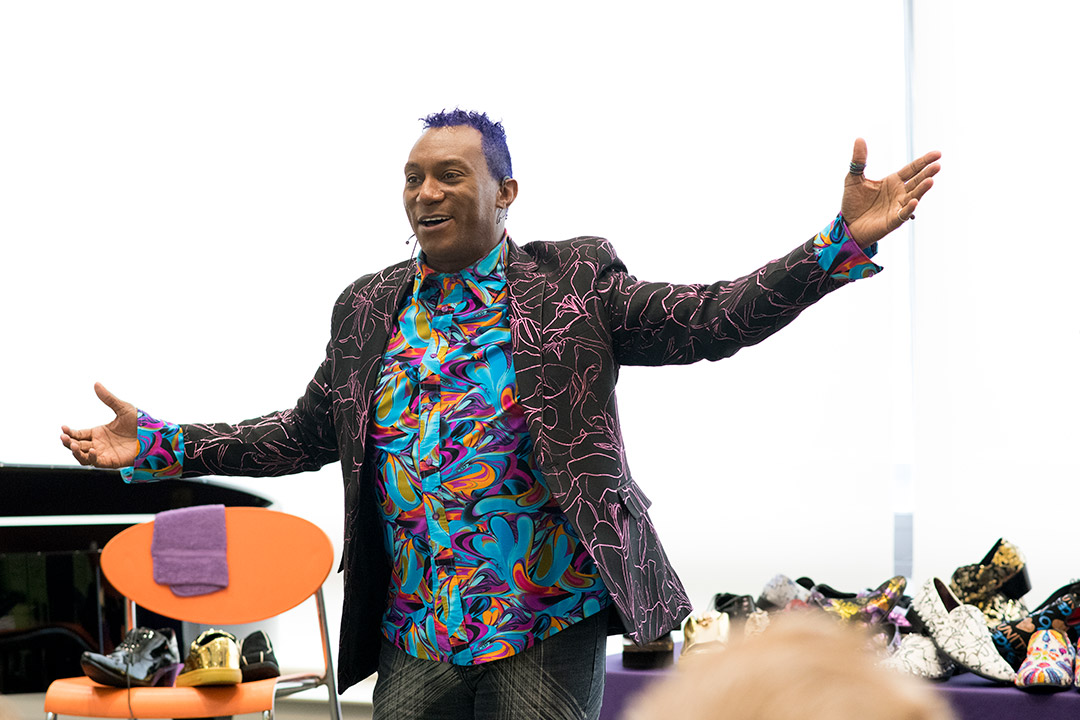 The Department of Performing Arts at Rochester Institute of Technology's National Technical Institute for the Deaf presents a celebration of the career of Director of Dance Thomas Warfield in "Twenty-five Years Through Movement and Space," Feb. 24-26.
Under the direction of NTID dance instructor Marc Ellis Holland, the production honors Warfield's 25 years as a senior lecturer and director of dance at RIT/NTID and features dances from Warfield's creative journey. The show explores the movement of life in the solar system as a journey through space. With dancers using the energy of their bodies and the power of motion to convey ideas and stories, the audience will encounter a multimedia experience combining dance, technology, and design to express the connection between humanity, the universe, and creativity. Student dancers include the RIT DanceCore ensemble.
Warfield, a Rochester, N.Y., native, has performed as a singer, dancer, actor, model, composer, choreographer, director, producer, educator, activist, and poet on stage, television, and in film in more than 100 cities worldwide. He has performed at the Metropolitan Opera, The Yard on Martha's Vineyard, a circus in Japan, in three U.S. prisons, and for Queen Elizabeth II, in addition to solo concerts. His East Coast tour of his original project, AstroDance, combined dance and astrophysics and was funded by the National Science Foundation. He has worked with director Spike Lee, composers John Adams and Marvin Hamlisch, scientist Carl Sagan, and singers Placido Domingo and Beverly Sills, and has worked with and danced in works by choreographers Merce Cunningham, Paul Taylor, Jose Limon, Robert Joffrey, Bill T. Jones, and many others.
At RIT, he has served as chair of the President's Commission on Pluralism and Inclusion and Performing Arts Task Force. He is the founder and artistic director of PeaceArt International, a global outreach organization, and former trainer for the National Coalition Building Institute. He serves as vice president of the MuCCC Theatre board, is former president of ARTWalk, founding member of the Association of Teaching Artists, and is president emeritus of the William Warfield Scholarship Fund at Eastman School of Music. He is recipient of numerous awards and distinctions including the Essie Calhoun Diversity Award from Geva Theatre (2014), the Individual Artist Award from the Rochester Arts & Cultural Council, RIT's Diversity Trailblazer Award, and the Unsung Heroes Award from the City of Rochester, among others.
"Twenty-five Years Through Movement and Space" will be performed at 7:30 p.m. Feb. 24 and 25, and at 2 p.m. on Feb. 25 and 26, in Ingle Auditorium, Student Alumni Union, on the RIT campus.
Tickets are $5 for students, youth and senior citizens (60+); $10 for RIT faculty/staff/alumni; and $12 for the general public. They are available at the RIT University Arenas box office by calling 585-475-4121 (voice), online, or by emailing University Arenas.