Rochester Game Festival at RIT MAGIC Center Sept. 10
Sixth annual festival showcases regional video games, board games, and creators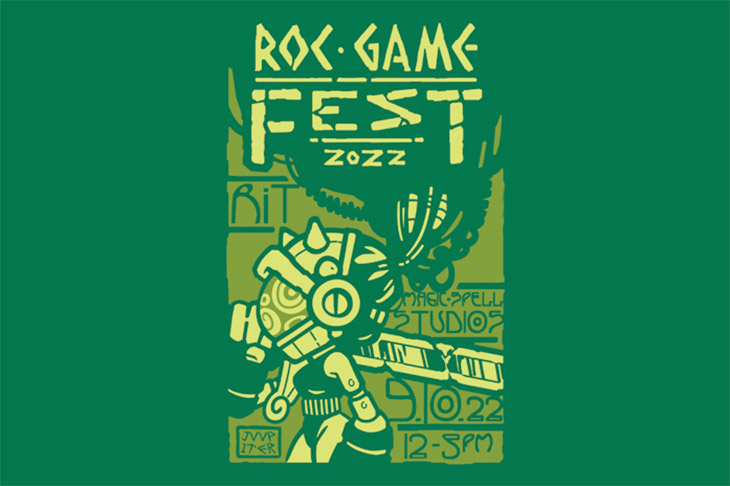 The annual Rochester Game Festival will return on Saturday, Sept. 10, to Rochester Institute of Technology's MAGIC Center. The festival is co-sponsored by Irondequoit Public Library and ROC Game Dev.
More than 30 developers, students, and faculty from Rochester and the western New York region will present their video games and board games for visitors to play. These will include That Damn Goat, a four-player party game created by faculty and students from RIT, longtime fan favorite board game creator Letiman Games, virtual reality games, and more. The games will have ratings ranging from E for everyone to M for mature.
"We just really want to showcase that RIT has an incredible game design program and that this is a career and a future for a lot of people," said Robert Mostyn, Digital Games Hub coordinator. "And we really want to give the public that knowledge that this is an industry and community, it's happening here in Rochester and in New York, and that people can support it by coming to a free event and playing games."
This family-friendly festival is free and open to the public from noon to 5 p.m. Parking is available in Lots E and F. Visitors will enter through the main entrance to the MAGIC Center. Entrance security will include metal detectors and inspections of all bags. The festival will also follow the current guidelines on RIT's COVID-19 safety plan. Masking is optional and proof of vaccination is not required.
Two food trucks, ROC City Sammich and Roll'n Deep, will be available outside of the MAGIC Center.
The festival will also include keynote speaker and RIT graduate Rohit Crasta '13, principal game designer at PeopleFun, and a panel discussion on popular and important games. The panelists will be Joe Loporcaro, an assistant professor in digital media studies and computer science at the University of Rochester, and RIT graduates Kayleigh East '21, an associate game designer at Ubisoft, and Nazaire Shabazz '20, a digital developer. The keynote speaker and the panel discussion will be in the Wegmans Theater inside the MAGIC Center.
This year, visitors will also have the option to attend the festival online through a live stream on Twitch. The recording of this stream will also be available afterward on YouTube. The stream will include the keynote speaker and the panel, as well as short interviews with each of the developers presenting games at the event.
"When I landed here in 2017, there was no indie game festival in western New York," said Mostyn. "We really just want to give these developers the chance to be in front of people at least once a year and essentially have a big party for them to showcase their creations."
RIT's game design and development undergraduate and graduate programs are consistently ranked among the best in the world.
More information can be found on the Rochester Game Festival website.
Topics