Simone Center Investor Demo Night prepares budding student entrepreneurs for encounters with potential investors
Student Accelerator program debuts advanced commercial concepts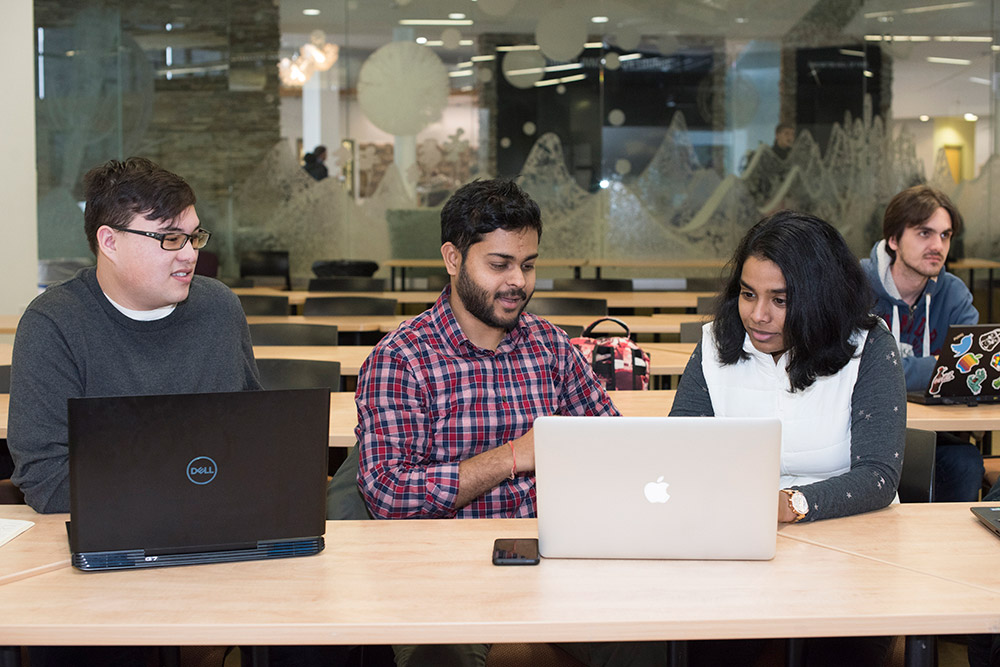 RIT student Pritam Poddar is hoping that his idea for a 3D-printer software application will one day solve manufacturing problems associated with making complex, expensive parts. But for now, Poddar is using what he has learned at RIT's Simone Center for Innovation and Entrepreneurship to take that all-important step forward – pitching the business idea to potential investors.
Four multidisciplinary student teams got the opportunity to do just that at the RIT Student Accelerator Investor Demo Night on Dec. 9, each one hoping to jumpstart its ventures and transform its commercial concepts into real companies. Startups accepted into the student accelerator are each offered a stipend, a team expense fund, working space in Student Innovation Hall and support from RIT mentors and community business leaders. Due to high demand from students, the accelerator program recently grew from a summer-only initiative into a yearlong experience.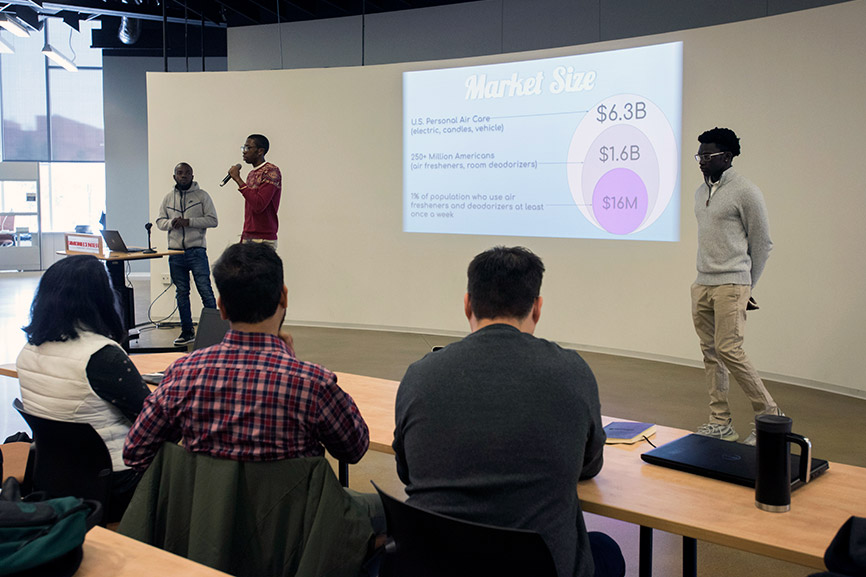 A. Sue Weisler
Before officially joining the accelerator this past fall, Poddar, a Ph.D. student in engineering, was looking for a job opportunity in industry when he walked into the Simone Center to brainstorm his seed of an idea. He decided to pursue his idea after meeting with the center's coaches.
"I thought it was amazing that they offered to pay me to find out whether my idea could turn into a successful business," he said.
Poddar and his team, including Justin Kon, an electrical engineering student from Seattle, and Chithira Pugazhenthi, an MBA student from Trichy, India, founded PrisAM, an additive manufacturing service to help manufacturers make stronger and lighter parts at lower cost. Their goal is to commercialize a technology that enables 3D printers to work effectively in a 3D space, instead of operating in 2D spaces. As a result of their technology, the printers are expected to function eight times faster, use up to 50 percent less materials, and print more complex shapes. In the last 17 weeks, the team has met with more than 250 customers who have shared challenges, and with professional coaches from Simone Center who provide feedback. 
"We have pivoted our business a few times based on customer discovery and recommendations from our coach," Poddar said. "As an engineer, I have been taught to test my engineering hypothesis and the Simone Center has allowed us to test our business by speaking with actual customers. As far as Demo Night is concerned, we were ready to pitch to potential investors. We ran through our pitches every week and polished it more than 50 times based on the customer interviews and feedback from the coaches. We were prepared."
Oher start-ups presenting at Investor Demo Night were:
Scentablez, which creates portable, on-demand easy-to-use freshener products made from organic compounds. The student team is Sam Oribamise, a business administration/finance student from Bronx, N.Y.; Namaqua Mills, a management information systems student from Bronx, N.Y.; and Adama Cisse, a management information systems student from Bronx, N.Y.
Foster Industries, developed by Adam Foster, a mechanical engineering technology student from France, is building the next generation of robotic arms through automation.  
Niche Industries Corp. has developed ATHENA, data visualization software designed for mission planning and execution of mounted operations for the U.S. Armed Forces. The student team is Jonathan Jang, a computing security student from Manhasset, N.Y.; Catherine Nemecheck, a game design and development student from Rochester, N.Y; and James McQuaid, a game design and development student from Medford, Mass.
As a result of their Investor Demo Night business pitch, Poddar said that a representative from the U.S. Department of Defense expressed interest in their technology. 
"Here at RIT, we are already working to solve global problems," added Poddar. "The Simone Center has enabled us to scale up our solutions in order to make a sizable impact on the world."
More information on the Simone Center's offerings is available on its website.